Of Governor Fashola And The Two Graduate Leaders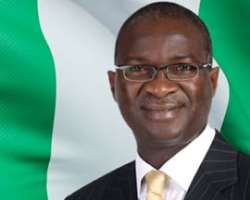 "It is only when a Mosquito lands on your testicles that you realise there is always a way to solve problems without violence" Unknown.
The other day, Governor Babatunde Fashola (SAN) took a clean sweep at President Dr. Goodluck Jonathan and his vice Arc. Namadi Sambo on the leadership of Nigeria.These two prominent Nigerian personalities are by all means reputable individuals in their own right either in or out of politics. But in Nigeria's complex political terrain, the way people tear themselves to pieces once, and while in office, leaves me wondering if these people ever think that political offices are held for maximum of eight years! So what do they become there after – friends/enemies for life? Or the kind of make belief, yet very deceitful current relationship between Otunba Bola Tinubu, Maj Gen Muhammadu Buhari (Rtd) and former president Chief Olusegun Obasanjo?
First it is unimaginable that any informed Nigerian today would ignore any article written about Gov. Babatunde Fashola, how much more a speech by him. Why?Gov. Fashola has endeared himself to the heart of most Nigerians as action Governor number one! That is no mean feat in a country which has been clamouring for service oriented administrators for ages.
Lagos remains the most populous city and state in Nigeria as well as busiest city in the Black world. Before now, the city gained prominence as one of the dirtiest the world over.it looked unplanned; the haven of men of the underworld who are noted in the city as 'Area Boys'. In fact, almost everything bad and ugly was ascribed to Lagos until few years back!
Lagos was still in that state when Sen. Gov. Bola Tinubu took over the mantle of leadership of the state when Democracy was ushered in, in 1999 through a successful and Democratic general election. As it then was in Lagos, hoodlums and cone men were kings and common men were daily victims in their hand loosing huge sum of money and valuables through their activities either in street hook-ups, in cars, street robbery and in all manner of victimisation. The maximum the security operatives could do then was look on extremelyhelplessly! To say the least, Lagos was in a state of irredeemable decay. But not so now.
Senator Bola Tinubu, before then, was famed for his involvement in NADECO activities in their war with military authorities to get Nigeria back to Democratic rule. The southwest people then, as always, have been a zone known to me as a people with quest for self-determination from the Awo doctrine. Based on these two prongs, and the quality of the man, it was therefore easy for him to have a land slide electoral win in 1999.
Fmr. Gov. Tinubu in his first term faced myriad challenges stemming from all known leadership problems he inherited. But undaunted, he trudged on. In few years, he turned the dreaded Hoodlums called 'AREA BOYS' to traffic controllers/wardens, market stall daily collectors and other state revenue agents. Then, almost everyone fell victims of the vicious uneducated tax men whose charge was first to control traffic which first compelled most motorists to better move without their cars as the fear of the area boy became the beginning of wisdom. By the second term, the group metamorphosedto what is todaycalled LASTMA (Lagos State Traffic Management Agency). None of the indicted motorist in the hay days of these traffic operators will ever forget in a hurry, their bitter experience with these men some of whom robbed with uniform. The peoples cry became so loud that government itself set up an anti-LASMA team which caught tried and imprisoned defaulting officers. Some people naturally heaved a sigh of relief while others blamed. But that is the joy and pain of decision making in leadership.
I am told that Fashola as the Chief of Staff Government House was the master planner (I stand to be corrected), for the today Lagos while Tinubu was still in officeas the Chief Executive and hence it took Fashola just waking up the next day to assume office as governor after all he knew his ropes. That is one great thing Tinubu did for Lagos and I am so grateful for it. Nigerians have been striving for continuity. Here we had it in action and of course the dividend is showing positively. I wish it can be replicated in some states today, but true leadership in a democratic setting is by election.
In Lagos state now, development is evident in most of the major streets; infrastructural developments are all over the place and even while some Lagosian would be asking for Gov. Fashola head in total rejection of his style of leadership, others and the man himself will beat his chest today that whereas there are still more to be done, he has performed credibly.
Nigeria's case in political leadershipand infrastructural development I hate to say is unfortunate if not shameful. Right from before independence, the country has paraded an array of knowledgeable men and womencapable of holding their heads in any imaginable field the world over. Put in place internationally, they excel. Given the pedigree of Nigerians at home and in diaspora, the country should be competing with the first nations of the world. But at the local level of leadership, the maximum we get from most of those in the helm of affair is failure!!!
Failed leadership is the reason for the fall of the first, second and third and same is threatening the fourth Republic! Who is to blame? Me? Or should we leave the stage to none starters because informed and educated people are failing us? But how has the leadership of Dr. Goodluck Ebele Jonathan and Arc Namadi Sambo failed Nigeria as asserted by Gov. Babatunde Fashola? These persons have pedigree. They have been around enough for anyone to confirm.
The burden of leadership is not easy for a nation enmeshed in miss-rule for over (40) years by different military governments.That is Nigerian circumstance and it cannot be wished away.The worse circumstance is that we all know where the errors are yet pretend it does not exist or look elsewhere because of our party inclination. This is not how to be a good Nigerian. No president of a country will ever wish to be remembered for evil even when that could be their middle name. Here is the paradox. General Abacha is revered today by those who served in his cabinet, ditto, President Ibrahim Babangida, Gen AbdusallamiAbubarka, Chief Obasanjo and the rest.
Anyone who had the luck to serve any military government would forever wish that the military alone have good system of governance. Why? Decisions are taken with executive fiat. Not so in a democracy! Again, people tend to compare the OBJ era with GEJ. This is misplaced. What we had during OBJ was Militocracy which I will define here as government of a people democratically elected but ruled by military force.
The military while shaking off the Boko Haram terrorist did some human damage in the North East and the heavens almost fell in criticism of their action. To date, their negative effects are daily with us, but none of the two federal houses ie the National Assembly has been able to take action on what to do because of divided interest.
Other than the insurgency, which the government is handling most effectively, where is the Jonathan administration absent? Is it in fuel supply which he has refused to increase the price? Road reconstruction? There is no federal road today which is not receiving attention or which of them is abandoned? Our hospitals typically had O/S (out of stock) as prescription from the Pharmacy departments before. Now all is quiet No thanks. The roads were haven of robbers before either day or night. Now calm has returned. This is one government which till now do not have abandoned projects – even for those not started by them.
Goodluck Jonathan and his team are involved in reconstruction of Nigeria. Today, the country has remained the next destination the world over after China in construction currently.
Nigeria imported Electrical Equipment for our power sector some years back. It took the visit of the minister of power to locate them lying fallow at Nigerian Ports Authority 11 years after order!! GEJ must be blamed for the lapses!! HabaNigerians!!!
GEJ and his team has handled the Ebola crisis so well to date, but no one acknowledges. The elections in Ekiti and Osun states went well without bloodshed. But government must not be acknowledges for their successes. When PDP won in Ekiti it was an error. APC won in Osun oh it was expected, but when the whole of south west was fraudulently overran by the same God father everyone sulked in loud silence. Aaahhh Nigerian!
Summarily, our educated leaders are not misleading Nigerians but are on salvaging mission and there is no better way of demonstrating the obvious than to drink the bitter pill of cost of reconstruction. The best option open to all is to be contributory instead of unnecessary antagonism. In the days of Cecero Bola Ige (SAN) of blessed memory, he preferred to 'Sidon look'. That was after he made series of notable efforts at correcting the ills in his small ways. Nothing can be more dishonourable than rubbishing people's work just because you are not in the same political clime. I norgree.Lagos state is in her 15th year of rebranding but despite being lucky to have been governed by purposeful leaders since the days of Rtd. Gen. Mobolaji Johnson the first military governor over forty years ago, it is not fifty percent near her dream land yet!
The two graduates at the helm of affairs in Nigeria are busy reconstructing. Leadership should be born out of the understanding of the needs of those who would be affected by it. If Lagos state with array of good leaders is not there yet fifteen years after, GEJ cannot perform better in paltry three and half years for the whole nation of which Lagos is only a part
This is my last take: Governor Fayemi lost the Ekiti election because he allowed his graduate friend and deceitful political leaders to hold sway. But former governor Fayose is returning to office because he aligned with the commoners. Governor Aregbesola repeated his win due to his closeness to the people compared with Senator Omisore are the results false? Do we have anything to learn from these?
I was an astute supporter of Sen. Bola Tinubu for his wars against the military during NADECO and against Chief Obasanjo all through his eight years especially for unjustly denying Lagos their allocation; I was a great admirer of Buhari for his wars against indiscipline and leadership style, but dropped him when he felt that I should drop my religion and become Sharia compliant.
Worse still, he promised the nation its ungovernablility if he failed in the last election; I was an unrepentant admirer of Atiku for his stand against Obasanjo for the latter's war against him With OBJ forgetting that Atiku made his presidency possible. But I left him when he jumped ship from the PDP to CAN, back to PDP and now in APC. Are his followers Mumu?
I am a consummate supporter of Dr. Goodluck Ebele Jonathan because he has provided a level playing field for everyone. The peace we have today is a function of his level headedness which some see as weakness. Again, all those clamouring for his head or seat are nowhere near being better. Their only difference is that they are not on seat. I promise they will be worse.
In truth "It is only when a Mosquito lands on your testicles that you realise there is always a way to solve problems without violence"
I am a proud Nigerian and will always be. I remain detribalised in views and apolitical in ideas while the struggle continues.
Mike Akpati is a Public Affair Analyst based in Port Harcourt
Disclaimer:

"The views/contents expressed in this article are the sole responsibility of the author(s) and do not necessarily reflect those of The Nigerian Voice. The Nigerian Voice will not be responsible or liable for any inaccurate or incorrect statements contained in this article."
Articles by Mike O. Akpati