The Dasuki In Us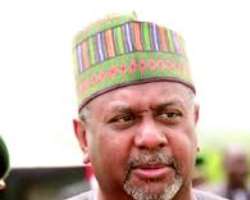 Just as 2015 was drawing to a close, the world was drawn to Nigeria through the Security Budget revelations which is presently christened Dasukigate in Abuja. The ills as revealed has been to say the least, very mind bogging. For purpose of definition, dasuki here is defined as"receving huge fund meant for a specific purpose, but disbursed to several individuals and institutions as unanimously agreed by authority".
As far as I know, the only media house that has not published a thing or two about it no matter which side of the divide they may be, are the ones certainly not in existence in Nigeria. Today, the man is being vilified and made a laughing stock as if he is the cruelest military personnel to have ever occupied such a position and fell foul in office.
Surely, that is for the time being. We will soon discover the obvious- that there are so many Dasukis among us. Why, because hardly do we have any politician or political office holder in Nigeria without a Dasuki in them. I had thought that one would have waited a while to see events unveil, but in Nigeria, we are in a hurry to criticize, judge and destroy, but never in a hurry in any way or ready to do the right thing!
Sometimes I wonder how God made us. Just imagining how much fund is flitted away minutely in a country and yet some governors are bold enough to inform us that they cannot pay paltry N18,000.00 minimum wage!
For some, the seeming war on recovery of public fund is seen as war against Goodluck Jonathan and/or the PDP. So it looks on the surface but a deeper search will confirm that it is a war against and about us - ourselves as a people first, then the system and leadership. We are all corrupt!
The other day in Ghana, the government sacked and sanctioned about 20 judges over corruption related issues. Earlier in the same Ghana, a minister of Finance was sacked for having the temerity to buy Jacuzzis for his new house! I dare say that none of their crimes may be up to about a tenth of what we have in our judiciary or the system here in Nigeria. I always laugh when we complain about corruption because most of those discussing the subject matter don't know the history or are neck deep in it. Young Nigerians of thirty-five years and below are mostly too young to decode the corruption codes. And even as I write they will not understand where we are coming from.
Time was in Nigeria, when Army Generals were being retired or retiring from service as if service to the nation had gone out of fashion. But then there were new fads - amassing large acres of land with military might and handing it over to some generals along with mouthwatering bank loans which were never redeemed. Some of them made good use of them and one was to become the National Chairman of Nigeria Farmers Association before he became the governor of his state. I am sure that his voters thought that he would have re-enacted his wizardry in farming to develop the state, but alas, he was miserably impeached from office for financial improprieties.
Another set of Retired Generals took to the boardrooms of blue chip companies and banks. Almost every bank or financial institution was then headed by a retired Army officer as Chairman. Due to mal-administration, most of the banks crashed out as they could not meet the Central Bank cash deposit requirements nor could they meet the daily demands of their customers. Where did all the monies go if not to the pockets of the same untouchable individuals? Well many innocent souls died of Blood Pressure and other illnesses yet no one was arrested but the ills continued unabated. That was a type of Dasuki.
The fight against corruption now is lousily being focused on the term of Goodluck Ebele Jonathan for fear of the known consequences that will befall its promoters should the search be extended beyond. But there lies the strength and weakness of the present government. Let us take a look at the wasteful trips our various governments have been involved in and call out the saints and Satans!
The government of Alhaji Shehu Shagari's National Party of Nigeria (NPN) was toppled in a coup that ushered in our present President Muhammadu Buhari, then an Army General with Gen. Tunde Idiagbon (late) December 31, 1983. Before then, we had the political issue of Port decongestions when the leadership then voted huge sum of money for the importation of goods like Rice, Salt, Cement etc. the government through its agencies corruptly issued import licenses to every Tom Dick and Harry to import these essential commodities. Stories had it that people even imported SAND in containers! Yes it was that bad then too. That was a type of Dasuki of those days. Where the fund appropriated properly accounted for? No question was asked. No one complained. No one was indicted and the government moved on. General Buharis' government on arrival in office, slammed everyone who participated in the immediate government before it to jail before setting up inquiry. A classic case of victimization was that of late Chief Michael Ajasin of Ondo state. Here was a man who on declaring his political interest in governing the state, donated his private school to the state! Investigated three times proved him innocent. Yet, was slammed years of imprisonment for his honesty! This is just but one of the several cases. Many waters passed under the bridge during the IBB era and these are well documented. But be it known that IBB has warned of the consequences that would visit any who attempt to stretch out their hands to his then popular "no-go areas" during his tenure. What ever happened to the N2.8 Billion Okigbo report? Am I reminding you?
General Olusegun Obasanjo, later to be addressed as Chief Obasanjo helped by some military leaders, was rail roaded in to the presidency all-expense paid through the PDP in 1999. This writer supported him because given where we were coming from, we needed that 'someone' who could talk to the military to remain in the Barracks. Chief Olu Falae, his kinsman who was running under another platform was just a simple technocrat. But what did we get? A Militocracy! Dictatocracy!! and Corruptocracy!!! Under that government, as the president, he was the Minister for Petroleum – the Nigerian Cash Cow and supervisor of the Nigerian Independent Power Project (NIPP) with its indictment of over $10billion Dollars). The chairman of the house committee on power Chief Elumelu did say then that there was nothing like NIPP!. Former president Obasanjo was invited to the house for questioning he refused to answer and the matter ended there! That was a Dasuki.
Nigeria Police bought the idea of a private company raising fund through motorists for the force through the Police Equipment Fund (PEF) and one Chief Martins (said to be an in-law to former president Obasanjo) was made chairman of the fund. Banks, the Police Force and some notable politicians received cars and gifts from the fund managers, but soon the bubble busted. Someone elsewhere took Chief Martins to court for some mischief and mismanagement of over N2billion raised and the commission earned therefrom. Sorry but, an unseen insurance gave cover to Chief Martins at the time. Ask Barr. Festus Keyamo of what became of the case. He was the lawyer to one of the parties. That was another instance of Dasukigate dead on arrival.
What happened to Petroleum Trust Development Fund (PTDF) which Obasanjo fought his vice Alhaji Atiku Abubakar to stand still in his desire to nail Atiku over corrupt practice but failed. For the two, it was kettle calling the pot black! Lawyers knew the truth but none opened up in defense of the nation because personal benefits were not involved. While the culprits smiled to their banks, the people suffered some others died!
In the Management of Odi, Zakibiam, Maitasini riots etc militarily, large funds were expended by the government of the day to execute the actions. Most of these funds went into private pockets while the common men suffered and died. Who managed the fund and how were they expended for the purpose they were meant?
How rich was Tinubu in Lagos before, during and after his tenure as governor? How come the man is so wealthy now that those who should speak are maintaining loud silence?
Other than Tam David West, how many Nigerian public officers ever went back to their former office after any political appointment? Were they free or soiled or because they were not probed?
For every political appointee, every favoritism, nepotism, tribalism perpetrated in office there is a Dasuki in it. The
Pension fund meant for the pensioner are still being pleated, while those to benefit from it are dying by day in queues and hospitals for either delayed or non-payment. Yet the heartless managers are building estates and investing stolen fund outside the shores of Nigeria.
There is a Dasuki in all our ministers hence none of the sectors are working because allocated funds for visible development have always been diverted for as long as one can remember that is why we import what we don't ever need. When your wards cannot get good training in public schools and you opt for private schools. It is because many dashikis have been in charge in our education, health, electricity, roads, and science & technology sectors that is why we have very low productivity and no innovation the list is endless. Was the imprisonment of Ibori a confirmation that he alone Dasukied as a state governor? What happened to Senator Samiu Turaki of Jigawa state after he told EFCC that the fund he was accused of was used for presidential political campaign?
But wait a minute! What did we do as followers to merit these wholesome wickedness by people we elected and trusted to lead us? Is it wrong to trust in your fellow man/woman? But they have failed us with impunity and are determined to guiding us on how they should be judged! What arrant nonsense. The gospel has been according to APC against PDP but for me, it is not about the party they belong! It is the individuals in these parties that failed us! APC AND PDP were formed by not only dead and decayed fellows, even in hell they will still display their greed and grudge or how do you justify that first republic leaders were already in enviable ministerial positions at 25-35 years of age. But no present minister at 50 years of age! No youth! Is anyone shouting? And our youths are grumbling as if they do not know what to do. They should Waite for me to ask them to arise and take their place with their voting right! Look you youth, our schools did not train you for employment. No employer is ready to employ and train you. They are waiting for people with niche and if you don't have any, the job market is long closed for you. So to change your fortune, grab the chance as told by a former Imo state governor who once advised that the youths should take the money they offer you but vote them out! It is more apt now. If you dare, then you get the future you desire. If not, keep quiet sulk. Well remember there is a Dasuki in us. It will continue to manifest for as long as we let it.
When we go to elected politicians and they give us treat in exclusive hotels and a brown envelope on our departure we are partaking in Dasuki! Because that is our share of the constituency project he ought to have executed in our community for employment purpose. Hence come the day of reckoning, we are unable to call them to question because we have like Esau, given up our birthright for a slice of bread!
We need the truth commission in Nigeria to purge every one of all these iniquities all over the place. I hate it when issues are looked at along party line in Nigeria. Today everyone carrying thief and carrying the Broom is a saint! Yesterday, every thief under the umbrella was an angel. Which government since after the civil war has not outperformed the next in fraud, and personal enrichment of the leaders at the expense of the people?
To the Buharist, it will be wrong to expect that leadership is easy. If anyone think so, try and call a family meeting of your children giving three months' notice and see how many would attend or the resolutions you would reach. But Buhari and his APC made us feel that they have done all their works, and all we needed was for them to just come and fix Nigeria! It has never been easy to fix an HIV patient back to life in a jiffy.
By the last count, former governor Sule Lamido had recorded at least 21 senior members of APC who yesterday were PDP staunch members who helped in no small way to put Nigeria where we are today. They served in various capacities as Governors, Senators, Reps, and Speakers etc etc. Have they suddenly become clean just as they became APC members or their sins are now written off because of change? Which of them left the PDP because of their interest in the nation rather than their selfish gains?
Be it known that whereas the APC has been in the public accusing the PDP of ruling the country to rots in the past 16 disastrous years, the following were part of it :- Amechi, Okorocha, Kwakwanso, Barnabas Gemade, Audu Ogbe, Atiku Abubakar, George Akume, Bukola Saraki, Timipre Sylver, Kawu Baraje, Ghali Na'abba, Aminu Masari, Aminu Tambuwal, Ngige, Kwankwaso, El'Rufai, Oyinlola, Wamako, Bagudu, Aliero, Goje, Dino Malaye, even Aisha Jummai. And they led the PDP between 3 to 15 years at the top hierarchy. "To cap it all, they all went to OBJ begging, a man who spent 8 of the disastrous 16 years as the maximum ruler of Nigeria to come and lead them on a rescue mission.'' – Sule Lamido. Ah Nigeria!!!
In the banks are notices informing the customers that fund transfer in excess of certain amount would be reported to the Economic and Financial Crime Commission (EFCC). Where were the banks as they failed in their civic responsibilities or were they conniving? There is a Dasuki in all of us!
Well this is 2016 the struggle continues.
Mike Ossai Akpati
God Is All Sufficient
08036757067
08070600454

Disclaimer:

"The views/contents expressed in this article are the sole responsibility of the author(s) and do not necessarily reflect those of The Nigerian Voice. The Nigerian Voice will not be responsible or liable for any inaccurate or incorrect statements contained in this article."
Articles by Mike O. Akpati