North-East: The Political Economy Of Haramism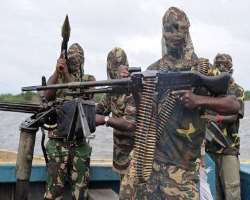 For those of us who have strong ties with the North and Northerners, no point is potent enough to dismiss the fact that Nigeria is a hobbesian state of nature where life is short, nasty and brutish. My prayer for Nigeria did not start today. As a child, I knelt beside my Mum at the Saint Williams Catholic Church in Lafia to pray for a Nigeria in distress.
The ravenous rule of the almighty tyrant late general Sani Abacha had forced the Nigerian Catholic Bishops and the entire Catholic faithful in Nigeria to kneel in prayer. What could have become of Nigeria and Nigerians if the goldmine in between the legs of Indian damsels and their tasty apple did not do a good job as opinionated in some quarters remains unimaginable?
With the current blood bath and the reign of Haramcracy in the North-east of Nigeria, who will request for my head in a plater like the biblical Herodias if I say that nature took away scorpion in Military uniform only to give us vipers as replacement. If Nigeria was in distress in my childhood and teenage years, today she is right 'inside' distress with the Haramist sons of terror dishing out the menu of death without fear or favour.
No doubt the Haramist harbingers of evil are fighting a lost battle. However, the message of this bloody insurgency must not be lost. Come to think of it, it is 'wuruwuru' that breeds 'kasala'. If the political Haramist in the corridors of power did their job well, these monsters in the north could not have had a fertile ground to grow. I am not a security expert but I do not need to pass through the Nigeria Defense Academy Jaji to tell us that we reap exactly what we sow.
Put more bluntly, the north in particular and Nigeria in general is reaping from the evil seed of corruption, poverty ,illiteracy and under development that the Northern politicians sowed. The loss of life and property in the north is not only regrettable, it is equally blamable. A lot have been written on Haramcracy. However, my interest here as a commentariat with a northern root is to draw our attention to the mother of these monsters in love with us. Boko Haram goes beyond religious indoctrination. For goodness sake there are Muslims in Cameroun, Togo and Benin Republic why is that these Haramists found joy in creating their 'Haramdom' in the North-east of Nigeria?
Boko haram came to existence the very day that tax payer's money meant for building schools, hospital, roads, industry, providing pipe borne water and other social amenities developed wings and flew into the pocket of shameless select few in the north. The northern politicians had a political free kick to transform the north into a Mecca of sort but the made nonsense of it. If Yakubu Gowon, Mohammed Buhari, Ibrahim Babangida, Shehu Shagari and the Late Sani Abacha did their job well Boko haram could have remained a fiction in the imagination of story tellers. If all Almajiris who are potential recruits and share holders in the Haramist enterprise were educated, Shakau would have been somewhere in kano, Kebbi, or katsina a rich potato, tomatoes or carrot farmer.
The words of John Kerry in 1971 when the Vietnam war was on cannot be truer here ' the country does not know it yet but it has created a monster in form of millions of men who have been taught to deal and trade in violence, and who are given a chance to die for a biggest nothing in history'. If the Almajiri boys who mockingly sang for us ( yara makaranta boko, bakalaci ba sallah-pulpils in western schools don't take breakfast neither do they pray to Allah) were encouraged or even forced to go to school like some of our Catholic and Christian parents did, hate could not have replaced love, pain replace peace and blood replace economic boom in the north-east.
James Abram Grafied validates the point raised by this writer when he penned down that 'next in importance to freedom and justice is popular education, without which neither freedom nor justice can be permanently maintained'. I pity yola, I weep for Yobe and I mourn Maiduguri the town that once sheltered my father. It is painful that these sons of terror and messengers of death are illustriously spraying pain and agony in the North. Can my three beautiful younger sisters enjoy those peaceful days I moved freely from lafia to Markudi, Jalingo to Yola and Yobe to Gombe?
Belief me or not Boko haram is first and foremost a political creation and only a political solution can eradicate the monster. Until we cut the political leg of Trojan horses masquerading in the political space in the north, the Haramists will continue to be the only cock that can crow in the north. The shameful and total failure of the military excursion despite the state of emergency in Bornu, Yobe and Adamawa states is a pointer that like the proverbial chicken, the Nigerian government has left the knife only to blame the innocent pot for the misfortune that befell it.
The talk of eradicating haramcracy without socio-political and economic justice is as good as fetching water with a basket. For peace and security to return to the north-east, popular education and justice must be exhumed from where ever the political elites buried them.
When I weep for the North-east, I am consoled by the words of Mahatma Ghandi: 'when I despair, I remember that all through history the ways of truth and love always won. There have been tyrants and murderers and for a time they seem invincible but in the end, they fail. Think of it always'
Disclaimer:

"The views/contents expressed in this article are the sole responsibility of the author(s) and do not necessarily reflect those of The Nigerian Voice. The Nigerian Voice will not be responsible or liable for any inaccurate or incorrect statements contained in this article."
Articles by Eze Martins-hassan Esomchi