OBASANJO'S RUSSIAN OPTION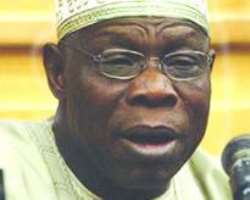 Did you know that the presidential candidate of the People's Democratic Party (PDP) in the 1999 presidential election, Chief Olusegun Aremu Obasanjo (GCFR), singlehandedly solved the problem of finding himself a running mate and surprised everyone, when he named the Turaki Adamawa, then governor-elect of Adamawa State, Alhaji Atiku Abubakar, a man who had been wanting to be president since he turned 47 years, when he got pushed forward by his late friend, political mentor and Obasanjo's former second-in-command, the disqualified Major-General Shehu Musa Yar'Adua (1943-1997), to fill the vice-presidential slot of his party? Indeed, nothing can be more intoxicating than victory. Nothing more dangerous.
Obasanjo has been Nigeria's civil war hero; the great general, and first military ruler in Africa to voluntarily handover power to a civilian government, a farmer who 'feeds' his nation, an international emissary, who once served in the Eminent Persons Group, a United Nations' Special Envoy to the war-ravaged Democratic Republic of Congo, and a member of the Africa Progress Panel, which consists of ten distinguished persons who push for 'equitable and sustainable development in Africa.' It was, and always has been a constant struggle to convince him to change his decision. He relishes the past thoroughly and tremendously, and calculates that, in relying on it, the past doesn't have to weigh the hero down. Neither should it necessarily make him timid and cautious.
On the other hand, besides his successful career as a customs officer (1969-1989), retiring as Deputy Director of Customs and Excise in charge of Enforcement and Drugs, Atiku Abubakar, younger and fresher and expected to move in a sudden new direction that will complement his new boss's somewhat boring and tame vision, was known for his large purse (Atiku reaped immense wealth from NICOTES, later rebranded INTELS), his courage (remember the 1984 53 suit cases saga), his ambition (he slightly missed being Moshood Abiola's running mate in 1993 to Babagana Kingibe), his philanthropy (notably, his $750,000 donation to NPCA in 2012), and his control of, and loyalty to Shehu Musa Yar'Adua and his political machine, the Political Front of Nigeria (PFN) later People's Democratic Movement (PDM), which the Adamawa-born politician proudly inherited at his mentor's death.
As it was obvious in 1999, and with the possible exception of those who drafted him, no one else in Nigeria had a greater connection with the past than Obasanjo, having probably understood that in the realm of power, he must be guided by reason. And since Yar'Adua, who amid international protests, was convicted in 1995 for conspiring to overthrow the military government of General Sanni Abacha (1943-1998), had served him creditably well as chief of staff when he was military head of state (1976-1979), it would be far-fetched to want to assume that any of Yar'Adua's acolytes will behave differently. As far as the Owu-born retired general was concerned, the past not only remained a corpse that needed to be exploited in line with one's whims and caprices, but that anyone who fails to embrace it, particularly a past that has done his bidding well, was going to self-destruct. Interestingly, while Obasanjo and Shehu Yar'Adua shared the same birthday: 5th March, Shehu Yar'Adua and Abacha were born the same year: 1943.
But not a few disagreed, saying it was quite wrong for the former Chief of Army Engineer (Obasanjo) to have concluded this way: that things luckily went smoothly between him and his erstwhile Chief of Staff Brigade Headquarters, should not necessarily translate to a repeat performance by any of his praetorian guards. Even his late wife, Stella, who usually had her way with the former military ruler, failed woefully to dissuade him this time around. With a certain mood of fatalism, the battle-axe could only seethe at this stubborn feeling that her husband was letting a momentary thrill or his massive ego influence and guide his choice, aware that the man would suffer this grievous mistake sooner than later. Sadly, as things stood, the egocentric ebora Owu, who had no political structure of his own and was banking on Atiku's political inheritance from Yar'Adua, simply refused to be bothered. After all, he remained a man of impulse, who expected those around him to do one thing- serve him.
In the presidential elections of Saturday, 27th February, 1999, undaunted and unwilling to yield up the shadow of the past, Obasanjo succeeded in forcing his choice on the polity, and together with Atiku, defeated, by a landslide of 62.78%, his opponent of the All People's Party's candidate, Yale University-trained banker and former minister of finance, Chief Olu Falae, along with his running mate, Alhaji Umaru Shinkafi, Director-General of the defunct Nigerian Security Organization (NSO) from 1979-1983, under the Shehu Shagari civilian government of the same period. Incidentally, it was the same General Obasanjo, who established the NSO under Decree No. 27 of 1976 in reaction to the assassination of former Head of State, General Murtala Ramat Mohammed (1938-1976), in the Friday, 13th February, 1976 abortive coup led by Colonel Bukar Suka Dimka (d. 1976).
But, while the president's party members rejoiced and gave him a big hand for this seemingly vintage choice, the First Lady seethed inside because she wanted a complete break with the past (No one told her that her husband, too, represented Nigeria's past then). She mellowed only when made to understand the huge political structure that Atiku Abubakar, who received the title of Turaki Adamawa, a title reserved for the king's prince, from the traditional ruler of Adamawa, Alhaji Aliyu Mustafa, in 1982, also brought to the ticket. Like the military general that he is, Obasanjo usually plots his way carefully and stops at nothing to have way; utterly convinced, as Greene wrote: 'The past is powerful. What has happened before seems greater; habit and history give any act weight.'
As it turned out, having the right running mate at hand became enormously helpful for Obasanjo, more so when his own Yoruba people shunned him in the 1999 presidential elections for the AD presidential candidate, Falae, another Yoruba, which meant the votes that gave the PDP victory in that election, came substantially from the rest of the country. Once in power, President Obasanjo faced his self-chosen task of getting the country off the list of world's famous pariah nations, as well as securing debt forgiveness for Nigeria, while Vice President Abubakar presided over the National Council on Privatization, and supervised the sale of poorly managed public enterprises. For the greater part of their first term (1999-2003), Obasanjo and Atiku got along fine.
Everything proceeded according to plan. It was sometime towards the end of the first term that Nigerians began to notice the center could no longer hold between the two gladiators. President Obasanjo had just rejected the 'Mandela option' of a one-term presidency and so refused to step aside for Atiku to be president, as witnessed in South Africa, where Thabo Mbeki succeeded the Madiba, Nelson Mandela (1918-2013), who was quite content with doing only one term (1994-1999). They soon straightened things out between themselves, which saw Obasanjo, still with no political structure of his own, tactically stooping to conquer his vice, who then had the backing of their Party's governors, at least until the Second term election of 2003 was won. Atiku had forced Obasanjo's hand by threatening to contest for president in his own right against him, or double with Dr. Alex Ekwueme (another southerner, who was also rooting to be president) when, at the president's carefully planned declaration, he was deliberately silent about whether or not he wanted to run again with his incumbent deputy on the same ticket. Atiku had never felt so humiliated in his political life, but for his threat, he would have been dropped. The strategist Obasanjo, temporarily weakened, chose the surrender tactic and 'begged' Atiku, so he can rise again. He embraced key skills such as cunning, patience and self-control. He ran away to fight another day. The general surrendered to later come out victorious.
After the election victory, in like manner as did Boris Feodorovich Godunov (1551-1605), who required those at the court to sign a loyalty oath to him after his election as Russian Tsar in 1598, Obasanjo demanded to no avail that Atiku pledge his loyalty to him. In 2006, the 'bitter public battle' between them, however, worsened when President Obasanjo began to play with the idea of doing an 'Oliver Twist' on everyone with his rumoured and well funded Third Term agenda, which he categorically denied later. Then, all hell broke loose.
On the one hand, by refusing to find out what makes Atiku Abubakar different from Shehu Yar'Adua, by 'yabbing,' and wishing to impose his own willpower and preference, by rhapsodizing, boasting and flaunting his power of incumbency, Obasanjo failed to realize that he was unwittingly moulding an enemy, a battler of sort, who fights back in Atiku. On the other hand, Atiku, himself, refused to appreciate the stark reality that he was up against an unforgiving and vengeful principal, who arrayed his dictatorship in the haute couture of past loyalty and released his venom via a dubious and selective anti-corruption campaign (with all the coercive instruments of state) to rope in willy-nilly his second-in-command and associates, and while at it, look acceptable to the citizens.
As the 3rd Term debacle got hotter owing to the defeat of constitutional amendment set to achieve tenure elongation for the president, and Nigerians seethed with anxiety and fear, Atiku quickly emerged as the man who could rally the people. He began talking tough and turned a deaf ear to calls on him to resign based on his apparent disloyalty to the president visa-a-vis the forfeiture of his boss' confidence. Rather, his tendency to disparage his boss grew; ditto for his ability to utter banalities against him sometimes never ceased to amaze Nigerians. On one such occasion, Atiku accused Obasanjo of perpetrating far greater corruption than he had charged him with, bawling haughtily: 'The problem of Nigeria is that of leadership and that when the head of the fish is rotten, the rest of the body rots as well.' It was a mistake, indeed! Obasanjo was all ears; here, he would gladly doff his hat to Napoleon Bonaparte (1769-1821), who said: 'Never interrupt your enemy when he is making a mistake.' It was not long before Atiku realized the enormity of his faux pas. Haba! The man wasn't even looking to denying being corrupt; he was literally turning into an Ajègbodò (a garlic eater who was looking for company).
Fact was, Atiku's hauteur had changed since joining the ACN. He started to take the strong conservatism of his boss and former colleagues in the PDP with a pinch of salt. He blatantly underrated those of them who greeted his undisguised ambition with derisive hoots, yet, was unable to find ways to sweeten or lessen the poison that his exit from the ruling party (the party had that provided him the platform to contest for the vice presidency of the country) symbolized.
From that moment forward, the Obasanjo/Atiku Armageddon grew steadily more bitter and Nigeria, like Russia under Ivan the Terrible (1530-1584), 'turned into a kind of boisterous classroom in which the pupils laughed openly at the teacher.' Atiku watched helplessly as Obasanjo launched his own 'war' out of anger and wrath, disproving Sun-tzu. He whittled down the vice president's political influence in his government, sacked most of his handlers and aides, dismantled the 'precious' PDM structure, and sent the dreaded anti-corruption czar, Nuhu Ribadu, after him. Nigerians sympathetic to the number two man reacted with dismay and indignation, but the president was past caring.
As terror fell on the country, Nigerians watched in horror as the president and vice president battle each other to a standstill and, in the process, corrupted the media, the legislature, and the judiciary, which kept churning out judicial decisions, one after another, in favor of Atiku, embarrassing and ridiculing Obasanjo and his handlers and acolytes alike. For instance, on Monday, 16th April 2007, the Supreme Court ruled unanimously that INEC, which did not include Atiku's name on the ballot because he was on a government list of persons indicted for corruption by the EFCC, had no power to disqualify candidates, in answer to the vice president's prayer before it a month earlier, Friday, 16th March. Finally, the Commission, in a volte-face informed an anxious nation on Saturday, 17th April, that Atiku Abubakar's name would, indeed, feature on the ballot.
Obasanjo himself had not meant to go this far, but for some of his cronies, who told him the story of the 32nd U.S. president, Franklin Delano Roosevelt (1882-1945), the only American to be elected four consecutive terms as well as the only U.S. president ever to serve in excess of eight years (1933-1945). He dealt with his vice president John Nance Garner IV, a.k.a 'Cactus Jack' (1868-1967), who opposed his 3rd term ambition, thinking Roosevelt would defer to the age-long two-term tradition and resist the temptation of a 3rd term, by dropping Garner and picking Henry Agard Wallace (1888-1965) as his running mate instead. At the 1940 Democratic National Convention, FDR polled 1032 votes to defeat Cactus Jack, who received only 61 votes and so, clinched the ticket, ending Garner's 46 years political career. Again, in 1944 when FDR decided to have a 4th term, he dropped Wallace, who also wanted to contest in his own right, and settled for Harry S. Truman (1884-1872), who ultimately won the presidential election with him. FDR and Truman had their inauguration on 20th January, 1945, and by 12th April, 1945, the president was dead. As expected, Harry Truman moved up as the 33rd U.S. president. That was how Wallace missed being United States' president by only 82 days.
President Obasanjo would give an arm and a leg for a story like that. But, he should have been careful to avoid himself 'to a great extent of personal and political interests and dwell more on the national interest and also draw the line between advice from selfish and self-centered aides and advice from those who in the interest of the nation may not tell you what you will want to hear,' (Obasanjo's own words in his open letter to President Goodluck Jonathan, dated Monday, 2nd December, 2013).
But even when railed at, the indefatigable Obasanjo was sure to get his quota of renown [apology to Pietro Aretino (1492-1556)]. If Atiku will not fall in line obediently like a good boy, he would find someone else who will. He was now determined, more than ever, to give Nigerians the illusion of choice and so, he began to talk openly about his south-south vision concerning succession in order to punish the north, which had split over Atiku and Buhari. When the north rebelled against the idea of a south-south president, insisting it was now its turn (after being in the cooler for good eight years) to take over the presidency, Obasanjo, who had looked too far ahead already, changed course. Didn't Cardinal Richelieu (1583-1642) say: 'if one foresees from far away the designs to be undertaken, one can act with speed when the moment comes to execute them'?
Therefore, like Odysseus, Ithaca's legendary Greek king and hero of The Odyssey, Homer's epic poem, the Owu oracle, having looked 'beyond the present', had planned his deceptions 'several steps ahead'. It was time he taught his countrymen and women a lesson. That was probably the point at which he settled for the Russian option: where the first ruler to be crowned as Tsar of All the Russias, Ivan IV, a.k.a. Ivan the Terrible (1530-1584), abdicated the throne in frustration and anger, naming Simeon Bokbulatovich (d. 1616), 'an inferior and infidel Tartar', who later became blind, as his successor, after the period of the Oprichnina (1565-1572). The Russian people considered this enthronement as the height of insult.
As Providence would have it, from the lot of his party men jostling for the office of president, on the night of Saturday 16th, well into the dawn of Sunday, 17th December, 2006, Obasanjo and his PDP delegates picked, for the April, 2007 election, the outgoing Governor of Katsina State, and sweeter still, Shehu Musa Yar'Adua's younger brother, Umaru Musa Yar'Adua (1951-2010), who polled 3,024 votes to beat his closest rival and incumbent governor of Imo State, Rochas Okorocha, who received 372 votes.
Everyone knew Yar'Adua couldn't have pulled such a stunt without the backing of President Obasanjo, who claimed he was impressed with the man's 'spotless record, devoid of any suspicions on charges of corruption', and who belonged to Shehu Musa Yar'Adua's People's Democratic Movement (PDM), a powerful political block within the PDP, which had catapulted the embattled Atiku to a great position of political power. Using the coercive instruments of state to pave the way for the emergence of his choice as the ruling party's candidate, Obasanjo easily forced other supposedly able-bodied but allegedly corrupt PDP presidential aspirants to step down and forget their ambitions. Goodluck Ebele Jonathan, governor of Bayelsa State, in place of Peter Otunaya Odili, governor of Rivers State, as earlier bandied, eventually emerged Yar'Adua's running mate. Equally, following his announcement on Saturday, 25th November, 2006 that he would run for President, the opposition Action Congress of Nigeria (ACN) also, on Wednesday, 20th December 2006, threw up Atiku Abubakar as its own presidential candidate with Senator Ben Obi as his running mate; the stage was thus set for the presidential election of Saturday, 21st April, 2007.
When the election results were announced on Monday, 23rd April, Abubakar, the 'politically ambitious wanderer,' (apology to Chief Edwin Clarke) placed a distant third with 7% of the vote (2.6 million votes), behind PDP's Umaru Yar'Adua who won 70% of the vote (24.6 million votes) and General Muhammadu Buhari, who was nominated as the ANPP candidate on Monday, 18th December, 2006, took 18% of the vote. As it was expected, both Buhari and Abubakar rejected these results as not credible and went on to challenge them, albeit unsuccessfully in court. PDP supporters were on hand to make jest saying that when Atiku was busy playing to the gallery and hoping the people would reward his gallantry, he conveniently forgot that no serious politician in Nigeria completely rely on the electorate on polling day. Many observers, both local and foreign, also criticized the election as fraught with irregularities. To calm tempers, the 'winner' quickly offered an olive branch by proposing a government of national unity, which was warmly received by two opposition parties, the ANPP and the PPA, towards the end of June 2007. With the clearance of his list of would-be ministers by the Nigerian Senate, the 13th President of Nigeria, Umaru Yar'Adua, who kept pinching himself to prove that it wasn't all a dream, thus sworn-in his new cabinet on Thursday, 26th July, 2007.
By the flawed electoral victory of Yar'Adua, a sick and dying man (a Greek gift, to say the least), Obasanjo added to his own devilish presence and relevance, having succeeded to cloak the nature of the supposed succession he had willed for his country. He knew full well that it was wrong to force it on the nation the way he did; and like Ivan the Terrible, Obasanjo even added a touch of caricature and melodrama at the hustings, calling on his beloved son, 'Umoru', not to give up the ghost yet in far away Germany. Unsuspectingly, Yar'Adua too, soon returned to the country and naively joined his mentor in his craftily designed onerous task of making the largest black democracy on earth the laughing stock of the world, for Yar'Adua's ill-fated presidency remained unprecedented in the nation's political history.
As usual, Obasanjo emerged 'victorious' from a rather bizarre 'do-or-die' power struggle to have the last laugh. After all, the goal of power, to the Machiavellian, remains the reduction of the people's resistance to him. By securing a 'hollow victory without honour and integrity' and forcing it down , Baba Iyabo 'won' over his troublesome and disrespectful deputy and triumphed (Ara ìjà leyín wà: 'All is fair in war.'- Sun-tzu) over his numerous enemies then sheltered by the opposition Action Congress of Nigeria (ACN), then Abubakar's new party.
Finally, on Tuesday, 29th May, 2007, when the triumphant general departed the Aso Rock Villa, as promised, he took with him his intransigent and arrogant vice president, who had since fallen easy prey to his now popular Yoruba coconut saying: 'The man with whose head the coconut is broken'. Atiku came away very humbled and, as they say in local parlance, recognized that for once: 'Oga na master!' And, as he hurriedly dragged a tamed Atiku toward the exit gate of the Villa on this fateful day, Baba seemed to be chuckling happily and echoing the character, T. Bagg, from the film, Prison Break (Season Four):
'We are going together,
Like traffic and weather.'
Endnote:
On Wednesday, 5th May, 2010, exactly 24 days to his 3rd anniversary in office, President Yar'Adua, whose humility, according to Otunba Gbenga Daniel, was legendary, died after a protracted illness, and was succeeded by his deputy, Dr. Goodluck Ebele Jonathan, who was then acting President of Nigeria.
Disclaimer:

"The views/contents expressed in this article are the sole responsibility of the author(s) and do not necessarily reflect those of The Nigerian Voice. The Nigerian Voice will not be responsible or liable for any inaccurate or incorrect statements contained in this article."
Articles by Ajiroba Yemi Kotun