Exploits Of Our Disabled Athletes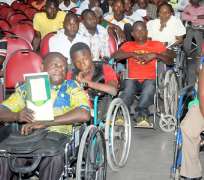 Each time our disabled and special athletes participate in the Paralympics and the Special Olympics respectively, they perform so well that they end up high on the medals table.
Now, these events are well attended, are so publicized and such victories see our national anthem being played to the envy and admiration of other nationals.
In the same vein, our female national football team regularly qualifies for the African Nations Cup and has won the trophy close to ten times bringing honour to their fatherland in no small measure.
They regularly qualify for the World Cup and do so well that they had qualified for the quarter-finals if not the semis! Still, their efforts are not appreciated. Yet female football has so much evolved that there is absolutely no difference in its quality and male soccer!
Now, the body language of our policy makers which is no less unenviable than those of ordinary citizens suggests that we do not appreciate the lofty feats of these noble men and women, considering the near-absolute lack of support we accord them!
It is on record that Paralympians were once conveyed in Molue buses on arrival at our airport....their gold medals still dangling from their necks. What a daft way to reward these heroes!
Yet, the so called able-bodied athletes....once roundly outran by a South African double amputee when permitted to compete with regular athletes....are readily sponsored, supported and encouraged though they often return home empty handed.... having won no medals at all!
Is it that the sports stadia in which our disabled and special athletes win laurels are soundproof, the attending spectators are presumed to be so selectively-blind or so selectivity-deaf as to fail to notice the exploits of our disabled athletes or grasp the import of these honours or we are just a nation of strange people?
Each member of the Nigerian senior male national football team was given $2000 for playing a friendly match against Niger Republic.
The attitude and disposition of the ordinary citizen is no less abhorrent. You see a man consumed by inferiority complex who would never miss a Chelsea, Arsenal or Manchester United football match....but never watches our local leagues.... expect our teams to do well in competitive spheres! He gives no support, yet he readily criticizes. He sows not but hopes to reap!
And how about local TV stations that would not show mere highlights of a festival as important as the All Africa Games but have no qualms about criticising the performance of athletes!
There is a way an athlete is motivated into greater performance if he knows that his countrymen are watching at home....
Dr Tosin Akindele is a medical practitioner and public affairs analyst.
Disclaimer:

"The views/contents expressed in this article are the sole responsibility of

Tosin Akindele

and do not necessarily reflect those of The Nigerian Voice. The Nigerian Voice will not be responsible or liable for any inaccurate or incorrect statements contained in this article."
Articles by Tosin Akindele