Amnesty Office under Attack by Blackmailers and Desperate Politicians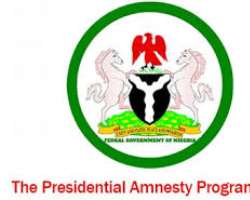 Amnesty Office under Attack by Blackmailers and Desperate Politicians
Recently, a wave of false fabricated stories about the activities of the Niger Delta Presidential Amnesty Programme has been systematically circulated.
Wabiye Idoniboyeobu Media Consultant to the Special Adviser to the President on Niger Delta Affairs and Coordinator of the Presidential Amnesty Programme in a press statement today said the recent act of blackmail "is not only detrimental to the peace and stability of the region but also a hinderance in achieving the overall success of the Presidential Amnesty Programme."
The statement reads: "It has been discovered that a group of people have been mandated to constantly circulate false information about the Amnesty Office, in a bid to cause panic and chaos amongst beneficiaries of the programme. This is evil and must not be encouraged. Blackmail and extortion has become a growing trend practiced by overambitious politicians in the Niger Delta, as proceeds from these acts, most times is their only source of livelihood.
"It has been echoed numerous times that the Amnesty Programme is a security programme and should be void of politics. This is the only way the programme can successfully achieve its mandate of the Disarmament, Demobilisation and Reintegration of the 30000 Ex-Agitators captured under the programme.
"The Programme which was launched by the Yaradua led Federal Government in 2012, is being carried on and maintained by the current administration under very different conditions. The unstable economy the world is currently facing affects not only Nigeria, but many other countries out there. The price of Oil is about a quarter of what it was four years ago and the exchange rate to a dollar is nothing to write home about. Note that over 1000 students are still in foreign Universities, sent their by the previous administration and managed by the current one. This means the office has to cater for students that are currently gulping more than 3 times the value of their fees and allowances 3 years ago with a reduced budget. This and many more are challenges facing Amnesty Office and are strategically being taken care of by the current leadership.
"General Boroh though all this, has tilted his focus to agriculture, which is the future of our Nation. An average of 100 delegates are trained and empowered on a monthly basis. if this is maintained it will be a boost to the Federal Governments aim to diversify the economy from oil dependency to Agriculture.
"Through the current hardship the achievements of the current leadership are too numerous to mention and should be capitalized upon to encourage Federal Government to do more. Backbiting and blackmail only makes us look unserious and should be avoided as much as possible."
Disclaimer:

"The views expressed on this site are those of the contributors or columnists, and do not necessarily reflect TheNigerianVoice's position. TheNigerianVoice will not be responsible or liable for any inaccurate or incorrect statements in the contributions or columns here."
Articles by Nwaorgu Faustinus