War Against Corruption: The Buhari Scandals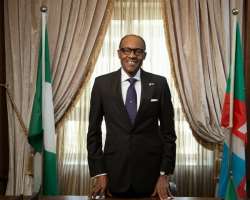 It is evidently unfortunate that certain sections of the media – print, social, broadcast – have been collaborative in fostering media trials of those accused of corruption rather than following through to ensure trials and conviction of those who looted our commonwealth. It is like some of them are on the payroll of Buhari Administration to continue the entertainment of Nigerians to distract from real issues.
It is a shame that so far, not a single person has been convicted of any corruption charge. Not a single person has been jailed so far. It seems that there is a deliberate effort to frustrate the trials so that no one would go to jail for stealing. It seems the media, especially some on the social spectrum of it, who are supposed to set positive agenda of rebirth in the war against corruption, are active conspirators and collaborators in continuous "media entertainment and trial" of the accused.
If no one is convicted, it means no one is guilty. It does not matter how sensational the stories are on the social media or any other matter for that matter. And if no one is found guilty when some could possibly be, then, of what use is the war on corruption; of what use is the relentless media reports and expositions of corrupt persons? Or is this just all about entertainment? Or is this all about the insincerity of the media itself about this war?
Journalists, we are told, are Historians in a hurry. They are so described because of what they do – chronicling our daily events as they happen. What journalists do are brought under the subject of History because when people learn of events, they are able to review the past, evaluate the present and have a guide to the future to avoid already committed mistakes.
It is imperative for the media of all spectrums to continue to interrogate the claim of integrity and incorruptibility of this administration of the All Progressive Congress (APC) and President Mohammadu Buhari. The essence of this interrogation is to see if Nigerians are getting what they bargained for by voting President Buhari into Aso Rock, especially on the issues of cleaner and better governance, transparency and most importantly, the fight against corruption.
This is the template for this piece and in undertaking this responsibility, it is one's intention to allow the evidence speaks for itself. The task in this piece is simple because it is just a chronicle of scandals that have occurred or reported in the media under the administration of "Mr. Integrity," President Buhari since he assumed office. This piece would deliberately not touch any of the scandals involving Mr. Buhari before he became the President in May 2015. Here we go:
<>1.The relentless effort by President Buhari's henchmen to get the Acting Chairman of the EFCC, Ibrahim Mustapha Magu, removed from office, by collaborating with the corrupt Senate President, Bukola Saraki not to confirm his appointment. President Buhari has refused to intervene in this matter and has given tacit approval to this heinous effort by keeping silent on the matter.
<>2.The controversy about the alleged 10 million naira wristwatch of Buhari's wife broke out at inauguration. For the wife of a president preaching probity and modesty, the optics could not have been worse. The optics were not just bad, that incident portended negative omen for the war on corruption.
<>3.There is the 9 billion naira wardrobe saga by the National Assembly members. This is a humongous amount in a country where the Federal Civil Servants have to be paid their salaries allegedly with borrowed funds. Up till now, the Buhari Presidency has not made any pronouncement on this absurdity. It has kept silent conveniently. It seemed that the Aso Rock and the Eagle Square are one and the same on this pilfering of our commonwealth. There is no leadership from the president. The silent acquiescence is very troubling.
<>4. In a document titled "I Pledge to Nigeria" released during the campaign, President Buhari made the following promise to Nigerians:
"I pledge to publicly declare my assets and liabilities, encourage all my appointees to publicly declare their assets and liabilities as a precondition for appointment. …"
The refusal of President Buhari to publicly declare his assets is part of the scandals of his era. He has been hiding under the excuse that it is up to the Code of Conduct Bureau to declare his assets on his behalf. But his failure to use his executive power to deliver on a promise he made to Nigerians during electioneering speaks volume about his transparency as President of Nigeria. Lack of transparency is corruption.
<>5.Up till the moment of writing this piece, no single Nigerian can claim to know the assets of any of the cabinet members of President Buhari and his personal staff. How do we know that our commonwealth is not being pilfered as this piece is being written? This is also another promise made by the president that he has refused to fulfill to Nigerians who voted for him. Obtaining votes via deceit and falsehood is corruption.
<>6."It was Buhari himself who said that he knew when the governor of the CBN picked a piece of paper and gave an instruction that N14bn should be withdrawn from the CBN and that money was withdrawn. That was nearly a year ago and up till today, Buhari is still retaining Emefiele as CBN governor" - Dr. Junaid Mohammed
<>7.Since President Buhari settled on the question of probing the corrupt practices during the era of former President Goodluck Jonathan alone, the President has to explain to Nigerians why he has not probed the disappearance/mismanagement of NGN 634 BILLION under the tenure of Sanusi Lamido Sanusi, the present Emir of Kano as the Governor of Central Bank of Nigeria.
<>8.President Buhari has been unable to be honest to Nigerians by refusing to explain to them how he paid the "borrowed" 25 million naira he used to purchase his party nomination papers. If he has paid, where did the money come from? If not, when will he pay? What is the interest value on the loan currently?
<>9.President Buhari has refused to follow up on the allegation of bribery by his Chief of Staff, Abba Kayri to the tune of 500million naira. He pretended and is still pretending that this did not happen.
<>10.President Buhari's refusal to sack his Chief of Army Staff, General Yusuf Buratai who has been shown with overwhelming evidence to have corruptly enriched himself.
<>11.The refusal of President Buhari to remove General Abdulrahman Bello Danbazzau from his cabinet as Minister of Internal Affairs despite having overwhelming evidence that he has not been able to account for his wealth and he has corruptly enriched himself.
<>12.Sahara Energy's $50 billion Scandal has been swept under the ground by Buhari's aides, most notably the Chief of Staff, Abba Kyari and the Director of DSS, Lawal Musa Daura. So far, Buhari has not deemed it fit to intervene on the side of Nigerians.
<>13.The failure of President Buhari to hold to account the petrol importation cabal who are reported to have bilked the country trillions of naira is also very instructive. This failure remains one of the greatest scandals of Buhari second coming.
<>14.There has been mountain of petitions against Rotimi Amaechi. Amaechi has a reputation as "one of the most corrupt members of Buhari's cabinet." Amaechi has not been able to explain to Nigerians how he got the $36 million with which he bought Jets. His name has also been mentioned by two different judges in serious acts of corruption. President Buhari could have the judges arrested on allegations, but not Amaechi on any allegations. He still allows Amaechi to remain in the cabinet.
<>15.The scandalous murder of innocent Nigerians without any action by or words of succour from President Buhari as follows:
<>-The carnage against the Yoruba people of Ketu in Lagos, where several Yoruba people were burnt alive and their properties torched with fire by the Hausa Fulani people.
<>-The Enugu massacre of Igbo by the Fulani herdsmen and the destruction of their farms.
<>-The murder of Agatu indigenes, destruction of their villages and the displacement of over 3,000 innocent people by Fulani herdsmen.
<>- The murder of over 500 Shiites in Kaduna without any consequences by Buhari's soldiers.
<>-The continued massacre of the Birom in Jos by Fulani herdsmen without let or hindrance.
<>-The murder of peaceful IPOB protesters in Onitsha by Buhari's soldiers
<>-Repeated Southern Kaduna massacres of Christians by Fulani herdsmen.
<>-The murder of the DPO, a number of his men and 62 civilians in Girei Local Government Area of Adamawa by the Fulani herdsmen.
<>16. The former NSA, retired Colonel Sambo Dasuki is regarded as the most despised human being in Nigeria today. He is alleged to have diverted billions of dollars meant for purchase of Arms. President Buhari's men have gone to court three times to have him tried in secret. President Buhari should explain why he has not been tried by now at least on one count. And why is President Buhari trying to try him in secret and not in public? Is there something Dasuki could say in public to implicate President Buhari and or any of his close associates?
<>17.The refusal by President Buhari to disclose to Nigerians how much exactly has been recouped from those who stole and who are those who returned money despite Buhari's promise to disclose their names. By disclosing the amount each person returned, it would have been easier for Nigerians to establish if the Buhari Administration is lying to Nigerians.
<>18.The padding of the 2016 budget and failure to hold the culprits accountable by President Buhari. President Buhari feels that the best punishment for those who are trying to steal Nigeria's money through budget padding is mere "redeployment" to different ministries!
<>19.The lingering scandal about whether President Buhari has a West African Examination Certificate. Rather than go to court to litigate this issue, why not just produce this Certificate for the world to see and rest the case? Didn't President Obama produce his Birth Certificate to put doubting thomases to shame?
<>20.President Buhari has not thought it fit to order the investigation of the Central Bank recruitment scandal that involves his family members. It is another proof that President Buhari condones corruption, especially when he is personally benefiting from it.
<>21. President Buhari insists that the country is broke. But he has permitted the Central Bank of Nigeria to negotiate an image laundering contract worth $95 million and equivalent of NGN42.75 million at the rate of 450 naira to $1. And this is just for 3 months only (from April 18, 2016 to July 17, 2016) with APCO Worldwide, a global communication and public relations conglomerate. Why is the need to launder President Buhari's image abroad? When did the CBN become the image launderer for President Buhari? What is the job of Lai Mohammed and the Information Ministry? What benefit could possibly accrue from a three-month image laundering job in the United States?
<>22.The Lai Mohammed's 13 million naira scandal in which the Minister of Information and Culture caused a letter to be written by his Director of Public Relations and Protocol to the National Broadcasting Commission requesting a loan of same amount. Buhari has not caused this to be investigated.
<>23.The doctoring of the Presidential Committee on the Audit of Defence Equipment Procurement in the Armed Forces (2005 -2015) to absolve the current Minister of Internal Affairs retired General Bello Dambazzau of corruption and embezzlement. Buhari refused to allow this to be probed.
<>24.The refusal of President Buhari to dispose the Jets in the presidential fleet and reduce it to two or three as he promised Nigeria. Recently, after so much pressure from the public, he tepidly agreed to sell only two out of eleven! Meanwhile the Buhari administration has spent NGN64 billion on foreign trips alone in 2015, according to the Minister of Finance, Mrs. Kemi Adeosun.
<>25."Change Begins With Me" Scandal on plagiarism of Obama's speech by the President. President Buhari assured Nigerians that he "hired" the best hands and this kind of scandalous embarrassment is what Nigerians get. President Buhari had lifted a President Obama's 2008 speech.
<>26.Buhari's protective relationship with corrupt Speaker Dogara over the padding of 2016 budget has remained in place.
<>27.In a country of 170 million people, this is what President Buhari is corruptly doing without let or hindrance. Dr. Junaid Mohammed pointed out the following:
First, the most influential person in the Presidency today is one Mamman Daura whom as you know, is a nephew of the President. His father was Buhari's elder brother;
Mamman Daura was the one who single handedly brought up Abba Kyari, the current Chief of Staff to the President. In fact, Abba Kyari knows Mamman Daura more than he knows his own father;
The Personal Assistant to Buhari himself is the son of Mamman Daura;
The SCOP, State Chief of Protocol, and is also a son-in-law to Mamman Daura because he is married to Mamman Daura's daughter;
The Minister they unilaterally chose, against the interest of the party and against the wishes of Sokoto people, happens to be the daughter of the younger sister of Mamman Daura's wife. Both of them are daughters of Sultan Dasuki, who was sacked by General Abacha;
Aisha Abubakar – Minister for Trade, Industry and Investment. Her mother is Buhari's sister."
The Aide De Camp to Buhari himself, Colonel Abubakar is Buhari's nephew – in- law. He is married to the granddaughter of one of Buhari's elder sisters.
The woman who represents Kaduna in the Federal Executive Council, she is a cousin to Kaduna State governor, Nasir el-Rufai. It is well known that el-Rufai is one of the closest governors to Muhammadu Buhari;
The Minister for the Federal Capital Territory (FCT) is the man called Musa Bello, who used to be the Managing Director of the Northern Nigeria Development Corporation, which used to be the biggest holding company that belonged to all the northern states. His only qualification to be FCT minister is the fact that his father has been Buhari's friend over the years;
There is a young man called Sabiu Yusuf, nicknamed Tunde – probably because of late General Tunde Idiagbon. He is another PA to President Buhari. He is also a grandson of another sister of Buhari;
Hadi Sirika is the Federal Minister of Aviation. He is the son of Buhari's elder sister.
Hadi Sirika has an elder sister – a niece of President Buhari. Her name is Amina Zakari. Amina Zakari, was and still a national commissioner in the Independent National Electoral Commission representing the entire seven states in the North-West. It is being claimed that Buhari knows nothing about her appointment (before he became President), it is a lie. When President Goodluck Jonathan was re-organising the INEC and he was bringing in Prof. Attahiru Jega, he reached out to Buhari and asked Buhari to nominate somebody from the North-West so that that person would be a national commissioner. Of all the people in the North-West, Buhari decided to nominate his own niece, the daughter of his elder sister- Amina Zakari. She has been there; when Jega left, Buhari was determined to make her chairman, it was because of the massive backlash that he dropped the idea like hot potatoes.
"Today, that woman is a national commissioner which means she is one of the principal election umpires. …… I have never heard of any dictator or any tyrant under any system of government whether totalitarian or fascist, appointing his own niece to conduct elections in which he was either a party or going to be a party to; Buhari has done that."
The immediate younger brother to Amina Zakari is currently the Minister for Water Resources representing Jigawa State in the same Buhari government.
The eldest sister of both of them is now the Commissioner for Education in the All Progressives Congress government in Jigawa State.
<>28.The Security appointments under the Buhari led APC government is nothing but corrupt. According to the PUNCH newspaper the following are self evident:
Army – North
NSA – North
EFCC – North
Defence – North
Airforce – North
Police – North
SCDC – North
DSS – North
NIS – North
NIP – North
FRSC – North
Fire Service – North
NEMA – North
Customs – North
Defence Staff – North
NIA – South
Navy – South and
If by any chance, you consider the Ports Administration as important to Security of the country – North.
To say the least, the claim of integrity and incorruptibility of and by President Buhari is outlandish, unfounded and bogus. This ought not to surprise those who have been guided by History in the leadership of the APC. Those who did not know or have been misled by the greatest propaganda in Nigerian history would be the ones to be surprised with what have been happening so far since President Buhari was sworn in last year.
The above list is by no means exhaustive. It would be updated continuously as Nigerians continue to ask themselves if what Buhari has given them so far is what they actually bargained for especially in his personally conduct in relation to corruption, the corruption of his loyalists, the corruption of his party and the entire war on corruption that has seen not even a single man in jail up till now.
This is just a page of History in a hurry!
"In the long history of the world, only a few generations have been granted the role of defending freedom in its hour of maximum danger. I do not shrink from this responsibility – I welcome it."
- John F. Kennedy, in his Inaugural Address January 20, 1961
Please follow me on Twitter: @OyeyemiRemi
Disclaimer:

"The views/contents expressed in this article are the sole responsibility of the author(s) and do not necessarily reflect those of The Nigerian Voice. The Nigerian Voice will not be responsible or liable for any inaccurate or incorrect statements contained in this article."
Articles by Remi Oyeyemi