MISSING CHARITY AIYEDOGBON: HUSBAND DRAGS LAGOS LAWYER, UGWUONYE TO NBA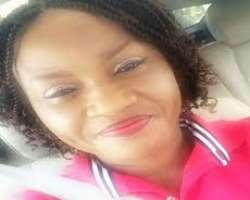 …MAY SUE FOR DEFAMATION
Destiny Ugorji
Ex-husband of missing Abuja business woman, Charity Aiyedogbon, Mr. David Aiyedogbon has dragged Maryland/Lagos- based Lawyer, Emeka Ugwuonye to the Nigerian Bar Association (NBA) over what he described as unprofessional publications against his person.
A letter dated 22nd August, 2016, captioned: "Petition against Emeka Ugwuonye for Unprofessional Publications and False Allegations", addressed to the General Secretary of the Nigerian Bar Association, urged the professional body to investigate the matter and invoke appropriate disciplinary actions against the lawyer.
Confirming the development, reliable sources in the NBA National Secretariat, who spoke on the grounds of anonymity, acknowledged the Petition, assuring that it is receiving adequate attention.
One of the sources said: "I can confirm to you that the NBA National Secretariat is in receipt of a Petition by Mr. David Aiyedogbon against a lawyer, Emeka Ugwuonye. Necessary actions are being taken and the matter will be investigated thoroughly."
Acknowledging receipt of a letter from the NBA on the matter, Lagos lawyer, Ugwuonye made a post on his Facebook group, Due Process Advocate (DPA) on the 9th of October, 2016 expressing concerns over the development.
"…the camp of Chacha's husband and children have not stayed quiet at all. They have mobilized against me in ways, some of which are listed here. The last of their efforts was to report me to the Nigerian Bar Association."
"Mr. David Aiyedogbon did not take kindly the fact that I named him as my suspect for the killing of his wife. He has taken various steps to silence me, and I list below the various steps he has taken to punish me for blaming him for his wife's death."
"Since August, 2016, it has always been rumoured that Aiyedogbon has been trying to use the Nigerian Bar Association to get at me. I did not want to respond to mere speculations about the Bar. That was why in all my communications prior to now, I never adverted to the threats of using the Bar Association against me."
"Two days ago, however, I received a letter from the Nigerian Bar Association containing the petition Aiyedogbon wrote against me. The Bar asked me to defend myself against the allegations of Aiyedogbon."
It would be recalled that Mr. Ugwuonye posted severally on the DPA, claiming to have evidence of the involvement of the missing Chacha's ex-husband, David Aiyedogbon in her sudden disappearance.
"I now have overwhelming evidence that Mr. David Aiyedogbon killed his wife, Chacha. David has an idea of the kind of evidence at my disposal."
In another post, he said: "this is the headless and dismembered body of Charity Aiyedogbon (posting a corpse on his DPA Facebook handle). DPA has been able to identify this as her body within the limits of resources at our disposal."
Continuing, on the 28th of June, 2016, he asserted: "To reciprocate the gesture, I will describe David as a low-life and cold-blooded murderer of his own wife. The only reason I would not go further to describe David in the most despicable language that he rightly deserves is that I would rather focus my argument on points that would lead to justice for Chacha."
Impeccable sources say Mr. Aiyedogbon's lawyers may be headed to the Law Court to seek redress against Mr. Ugwuonye for accusing him of being responsible for the disappearance of his estranged wife.
In an earlier reaction to Ugwuonye's allegation, Mr. David Aiyedogbon washed his hands over the disappearance of the woman and wrote his accuser, through his lawyers, demanding an apology, failure which he would institute a suit against him for defamation of character.
The letter titled: "Defamation of the character of David Aiyedogbon; demand for apology," signed by his lawyer, Obiora Ilo and made available to newsmen, expressly states: "It is our instruction to demand an unqualified apology from you to our client through our chambers for the defamatory publications you have made of and concerning our client."
Disclaimer:

"The views/contents expressed in this article are the sole responsibility of the author(s) and do not necessarily reflect those of The Nigerian Voice. The Nigerian Voice will not be responsible or liable for any inaccurate or incorrect statements contained in this article."
Articles by Chike Duru