Edo State Is Fast Becoming A Police State Under The Watchful Eyes Of The Machiavellian And Mephistophelean Governor Of Edo State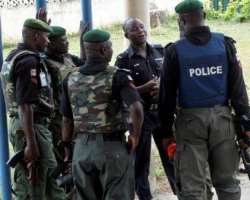 My dear state must be salvaged from the luciferic and satanic hands of some political monstrous apparitions and fiends of the talakawa that are interested in consigning our State to economic harakiri and political sepulchre.
Imagine innocent protesters in Ovia North East were maliciously arrested and charged to court for conduct likely to cause a breach of the peace which is completely bailable but were absolutely aghasted when the Ministry of Justice headed by Henry Idahagbon signified his interest of taking over the matter from the police and the charges were amended so that the suspects can be remanded in prison custody because of their political strength in Ovia North East. Is Henry Idahagbon now presiding over Ministry of Injustice and oppression?
This callous act of oppression is an open invitation to executive rascality, gambadoism and dodoism which must be pooh poohed by rational homosapiens.
If we must chase away the demons and vandals in power, all hands must be on deck to make it a huge success. Adams Oshiomhole cannot continue to use his agents to oppress and intimidate opposition.
In the words of Dele Giwa "Any evil done by man to man will be redressed, if not now, then certainly later, if not by man, then certainly by God, for the victory of evil over good can only be temporary."
I am calling on the Emperor to desist from his act of despotism,fascism, totalitarianism and agberoism and should not beat the tom tom of anarchy as power is transient and transitory.
Disclaimer:

"The views/contents expressed in this article are the sole responsibility of the author(s) and do not necessarily reflect those of The Nigerian Voice. The Nigerian Voice will not be responsible or liable for any inaccurate or incorrect statements contained in this article."
Articles by Marxist Kola