July 29 1966 On My Mind: Did General Aguiyi-Ironsi Deserve To Die? Part Three: Quashing The Coup Or Carrying Out A Coup?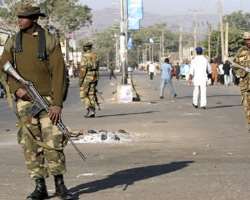 In recent years, asmore Nigerians begin to pay close attention to the country's chequered past,the nature of Ironsi's ascension to power has come under scrutiny. The originalgeneral perception is that the rump of the civilian cabinet voluntarily handed overpower to Ironsi as an interim measure to deal with the January 15 coupplotters.
The hand over, though unconstitutional, was voluntary. Or was itsomething else?To answer this questionit is important to examine available historical sources and accounts, includingeye-witness reports.According to FrederickForsyth, in the afternoon of the coup day, Ironsi asked the Acting President,Dr. Nwafor Orizu, to appoint a Deputy Premier from whom he could take validorders.
The substantive President, Dr. Nnamdi Azikiwe, was outside Nigeria andthe Prime Minister, Tafawa Balewa, was missing, having been kidnapped byIfeajuna in the early hours of the day. But the politicians procrastinated intothe next day. When Ironsi met the cabinet, or what was left of it, he told thempoint-blank that unless he was in charge, he could not assure his men's loyaltyand prevent war with Nzeogwu. Clearly, the politicians had been thoroughlydiscredited by their misgovernance which led to the coup. Quite a number of theofficers who did not support or participate in the coup would not have accededto a return to the status quo.But the story justmight be different.
On the same January 15 1966, Ironsi met several topcivilian and military officials at the Police Headquarters, Moloney Street,Obalende, including Alhaji Tako Galadima, the Minister for State in charge ofthe Army; Alhaji Ahmadu Kurfi, the Permanent Secretary of the Defence Ministry;police Inspector-General Kam Salem, and British and American military attaches.At this meeting, Ironsi was suspected by the Northerners present but just thennews of Ahmadu Bello's death came in.
Ironsi broke down in tears and told themthat he no longer knew which of his officers he could trust.The General's meetingwith the Council of Ministers/Cabinet was also at the Police Headquarters onthe same day. Naturally, only a few of them had the courage to be present.These are the highlights of that meeting:1 Ironsi was givenwritten orders to find the Prime Minister and end the rebellion.
Galadimasigned the orders in his capacity as acting Defence Minister since his boss;Inuwa Wada (Murtala Muhammed's influential uncle) was not in Nigeria at thetime.2 Ironsi was mandatedto protect the Parliament building.3 The British werewilling to give military assistance but insisted the request must come from thePrime Minister.4 The cabinet now metDr. Nwafor Orizu, the Senate President and Acting President, to appoint aninterim Prime Minister.
They recommended the most senior Northern People'sCongress (NPC) Minister, Alhaji Dipcharima. But Orizu, an Igbo and member of theNational Convention of Nigerian Citizens (NCNC), the NPC's partner, made itclear that he had to confer with NCNC members to know if Dipcharima would beacceptable to them. Hence, the Ministers were to go home and await furtherdevelopments even as he, Orizu, would consult with Azikiwe who was outsideNigeria at that time, first for medical treatment and later on a cruise for convalescence.
Over the years thequestion has arisen: what was the actual reason for Orizu's reluctance toappoint Dipcharima, a Northerner? NPC-NCNC infighting? Coercion from Ironsi?Adherence to constitutional provisions? Collusion with Ironsi to give the Igbo power at the centre? It shouldnot be forgotten that Ironsi came to Orizu's house when the cabinet was thereand told him and Dipcharima the need for a Prime Minister who would give thearmy legitimate orders.
There was a valid precedent in 1964 when, followingconstitutional clashes between President Azikiwe and Prime Minister Balewa, themilitary were faced with the challenge of whose orders they would obey. It tookconstitutional interpretations by legal experts, including the Dean of Law,University of Lagos, Professor Gower, to clear the air: the army would onlytake orders from the Prime Minister, the head of government though theofficers, upon their commissioning into the army, swore an oath of loyalty tothe ceremonial President in his capacity as the commander-in-chief.
Whether the meeting wasan avenue for Ironsi to strong-arm the politicians is what this writer cannotsay. But inasmuch as the circumstances were very auspicious for Ironsi to dothis, it should be remembered that he was a man without political ambition, afact attested to by even Northern officers who knew him.
Chief Richard Akinjide,an NNDP (Nigerian National Democratic Party and Western Region's ally of theNPC) Minister in the cabinet and a lawyer, made these observations in 2000about that meeting and the next one Ironsi had with the cabinet on 16 January: 'Underthe law, that is, the Interpretation Act, as acting President, Nwafor Orizu hadall the powers of the President. (Implication: Orizu had no need to contactAzikiwe before appointing a Prime Minister). The GOC said he wanted to see allthe cabinet ministers. And so we assembled at the cabinet office. Well, I haveread in many books saying that we handed over to the military. We did not handover.'Ironsi told us that ''youeither hand over as gentlemen or you hand over by force.''
Those were hiswords. Is that voluntary hand-over? So we did not hand over. We wanted anActing Prime Minister to be in place but Ironsi forced us and I use the wordforce advisedly, to hand over to him. He was controlling the soldiers.'The acting President,Nwafor Orizu, who did not cooperate with us, cooperated with the GOC. Dr. Orizuand the GOC prepared speeches which Nwafor Orizu broadcast handing over thegovernment of the country to the army. I here state again categorically as amember of that cabinet that we did not hand over voluntarily.
It was a coup.'If it was a coup whostaged it? Definitely it was not the Ifeajuna/Nzeogwu coup which had failed inthe South where Lagos, the seat of the federal government, was located. Thereis evidence of a meeting between Ironsi and a number of military officersbetween January 15 and 16 1966. Present were senior officers such asLieutenant-Colonels Yakubu Gowon, Victor Banjo, Hilary Njoku, George Kurubo,Major Patrick Anwunah and Commodore Joseph Wey of the Navy. These officers werethe key men of the group that rallied round Ironsi when he mobilized againstthe coup.
It must be stated here that almost all of them, perhaps except Gowon,had no love for the civilian government. According to Ademoyega, Banjo activelysupported their coup but was unable to participate because the plottersdisagreed with his view that the revolution should have a wider militaryfoundation and an initial political base.This group of officersmost likely represented the military who wanted Ironsi to take over. Theirargument was not without merit.
First, many military officers had strongfeelings against the ousted civilians, including those opposed to the Januarycoup. Second, the air of instability, uncertainty and potential war created bythe coup demanded a strong response. The GOC, as the country's most seniormilitary officer, was one effective rallying-point.
Clearly, those elements thatwere wavering in following his lead would be brought to heel if he had thepowers to deal with the situation. One may argue that the cabinet had empoweredhim to deal with the rebellion. But whatof supporters or sympathizers of the Majors who may be tempted to carry outanother coup to achieve what their heroes could not? Or even officers who wouldwant to restore the ousted government? Or officers who might have anothertotally different agenda?
It was a diceytime for all parties, not least of all Ironsi. Given the military ideal inwhich the most senior officer takes charge and unifies command, all eyes,including eventually Nzeogwu's, must have looked to the bluff, apoliticalcommander. Also, at this time, some of the Southern-based coup plotters, namelyMajors Anuforo and Ademoyega, were still scheming on how to retake Lagos fromthe loyalists. Major Obienu's non-cooperation ended their plan and theyretreated to the North.Ironsi's meeting withthe council of ministers in the cabinet office on 16 January 1966 was decisive.
The reality checks here are: could the civilians have said no to Ironsi? No,not when he was in full charge of the national instruments of coercion and theywere not sure of emerging from the meeting alive. Then did Ironsi's actions atthe meeting show him as a power-hungry soldier? While interpretations are diverse, this writer, on the basis of accountsby eye-witnesses and subsequent developments, is inclined to say no.Shehu Shagari, thefirst civilian executive president of Nigeria from 1979 to 1983, was the Ministerof Works under Balewa. He belonged to the NPC and was one of the few survivorswho attended the two meetings.
His gripping account in his memoir 'Beckoned toServe' is significant:'I was about to breakthe Ramadan fast on Sunday 16 January, when all ministers were asked to reportat the Cabinet Office at 6.30p.m.m. The whole premises were surrounded bysoldiers in battle order that some of us initially hesitated to enter. In thecabinet chamber were Major-General Ironsi, Bukar Dipcharima and Ibrahim TakoGaladima.
There were no officials present.'Ironsi admitted to usthat he had been unable to suppress the rebellion, which he said was gettingout of hand. He stated that the mutineers were in control of Kaduna, Kano andIbadan and had killed two regional premiers, Sir Ahmadu Bello and ChiefAkintola. They had also murdered a number of his best officers, includingBrigadiers Maimalari and Ademulegun, the Commander of the First BrigadeHeadquarters in Kaduna. Ironsi was full of emotion and even shed some tears.
When we asked him about the whereabouts of Sir Abubakar and Chief Okotie-Eboh,he said he still did not know but averred efforts were still being made tolocate them. At this stage Mbadiwe (the NCNC Minister of Trade) broke down andkept crying: ''Please where is the Prime Minister?''' When we remindedIronsi if he needed to avail himself of the British pledge of assistance, hereplied it was too late as the army was pressing him to assume power. Indeed,he confessed his personal reluctance to take over because of his ignorance ofgovernment; but insisted the boys were adamant and anxiously waiting outside.He advised it would be in our interest, and that of the country, to temporarilycede power to him to avert disaster.
Accordingly, we acceded to his requestsince we had no better alternative. Ironsi insisted that the understanding bewritten.'Surprisingly, therewas no stationery to write the agreement; and all the offices were locked whileno official was around. Alhaji AGF Abdulrazaq, the Minister of State for theRailways (former NPC legal adviser), MANAGED TO SECURE A SCRAP OF PAPER ONWHICH HE DRAFTED A STATEMENT WHICH WE ENDORSED. That was the so calledvoluntary hand-over of power by the Balewa government to Major GeneralIronsi! It was agreed that the statementwould be typed and Dipcharima would sign it on our behalf. We were then advisedto return home and await further instructions.'Dipcharima of the NPCand Mbadiwe of the NCNC signed the statement.
Abdulrazaq confirmed Shagari'saccount in an interview with 'This Day' newspaper on November 12 2007 asreproduced by Max Silloun in his book 'Oil, Politics and Violence.' Accordingto Abdulrazaq: 'I was the only one who took notes at the meeting. Ironsi toldus Major Nzeogwu had taken over power and threatened that if we didn'tcooperate with them they would kill all of us.'
The statement signed by Dipcharima and Mbadiwe stated that the hand-over was voluntary. All the politicalparties issued statements pledging support for Ironsi and the armed forces. Allthese developments do not detract from the fact that Ironsi's take-over wasillegal since there was no constitutional provision for it. But thecircumstances gave the cabinet no choice. To the best of this author'sknowledge there are no documented accounts from Orizu or Dipcharima of whatactually happened during their meetings with Ironsi.
Till evidence to the contraryis available, it is unlikely to conclude that Ironsi capitalized on thecircumstances caused by the coup to seize power. He had to deal with the cardsas they fell.
Henry Chukwuemeka Onyema is a historian, writer and Chief Creative Officer of 2-4 henritz writing agency, Lagos., Nigeria. Email: [email protected]
Disclaimer:

"The views/contents expressed in this article are the sole responsibility of the author(s) and do not necessarily reflect those of The Nigerian Voice. The Nigerian Voice will not be responsible or liable for any inaccurate or incorrect statements contained in this article."
Articles by Henry Chukwuemeka Onyema