Re: Pendency Of The National Grazing Reserve Bill At TheNational Assembly: Setting The Records Straight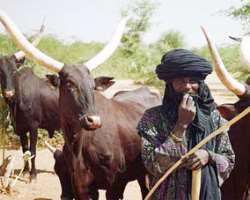 God bless ADF and its leaders for the critical role it is playing and the immense gap it is filling at this time.
I have sent the DSP the video of the debate on the bill in the chambers of the HoR. Let he himself decide whether or not the HoR is part of the National Assembly he was talking about.
But beyond all these, there are two critical realities we must face as a people.
1. We must recognize and agree as a people that politics has to do with base. Your base is your fall back position. Ö tulu unu, ö tulu ugba, your base is your final hope.
I am of the view that most of our politicians have their political bases outside Aniigbo. This puts our representatives in critical dilemma when Igbo interests are challenged: to help the interest of their bases and remain politically correct or help the Igbo cause and fall out of favour. It requires sheer wits to take the correct position.
That is where what we are doing in ADF becomes maximally critical. We have to create a base that is resillient enough for our representatives to depend to take Igbocentric actions. It is our duty to provide them that leverage.
The undoing of Ohanaeze is the real or imaginary issue of compromises bordering on the pecuniary. ADF should create and work with a structure that is imperviuos to easy percuniary influences. Therein lies our relevance. And therein lies the resillience of the critical base we must provide.
The Political Desk in ADF must begin to work, in concert with other Igbo interest groups, to ensure that all persons elected in Aniigbo in 2019 begin their political journies now from Aniigbo. Not from Sokoto or from Minna or from Ota or from anywhere outside Aniigbo.
In fact, in places outside Aniigbo where Ndiigbo have critical electoral mass, they can select and support indigenes of such a place who will owe their political success to Ndiigbo. That way we begin to amass non Igbo voices that support Ndiigbo. He who pays the piper dictates the tune.
Can we justifiably, today, beat our chests and say, for instance, that Ekweremadu owes his present DSP position to Igbo political sagacity. I think we cannot. The base of that his DSP position is outside Aniigbo. One can further ask: is there, today, an enduring Igbo political machine that no amount of money from outside Aniigbo can sway? I believe there is none!
2. ADF has to assume the responsibility to create the necessary political rallying point in Aniigbo. I am not advocating that ADF should go into politics. No. Not at all. What I am saying is that ADF should do the intellectual work that will make Aniigbo the political base of all our elected and appointed political representatives. If not totally in 2019 let it be total in 2023, if there is a Nigeria by then.
It is our duty. It is part of the intellectual work we are called to do.
Nothing above exonorates our reps from truly representing us. What we are saying here is that we have a part to play in helping them help us.
Ndeewo nu!
Okechukwu Chukwuemeka

Disclaimer:

"The views/contents expressed in this article are the sole responsibility of the author(s) and do not necessarily reflect those of The Nigerian Voice. The Nigerian Voice will not be responsible or liable for any inaccurate or incorrect statements contained in this article."
Articles by Henry Chukwuemeka Onyema