Fashola, NDDC Commit To The Rehabilitation Of Umuahia Ikot EkpeneRoad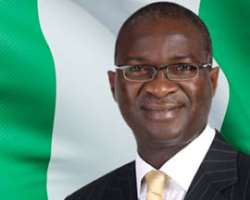 The Minister for Works, Power and Housing, Babatunde Fashola has re-iterated his ministry's commitment to alleviating the pains of commuters using the Umuahia Ikot Ekpene road. The Minister stated this in a letter signed by the Coordinating Director Highways(Planning & Development) Engr. Bala Danshehu, and addressed to the Representative of Ikwuano, Umuahia North/South Federal constituency in the House of Representatives Hon. Samuel I. Onuigbo.
Fashola, who noted that "the road had completely collapsed and needs reconstruction" stated that in the meantime, "the Federal Roads Maintenance Agency(FERMA) will be directed to commence repair of the road within the available budgetary provision for it, in the Agency's 2016 budget".
While the repairs can only provide temporary respite,the minister, fully aware of that, assured Hon. Onuigbo that "preparation will be made towards total reconstruction in 2017 with the possibility of providing Rigid Pavement(Concrete Road) due to high volume of heavy goods vehicles plying the road".
In the mean time, Hon. Onuigbo who was at the offices of the Niger Delta Development Commission in Port Harcourt on Monday, confirmed that the Agency sent one of its engineers to inspect the road and report back to the Director on Project Monitoring and Supervision for necessary action. Honourable Onuigbo also stated that the issue was brought up during the budget defence of NDDC before the House Committee on NDDC on Tuesday afternoon, in Abuja.
"With all of the commitments made by the Minister, and the NDDC, I am confident that in the following weeks, the rehabilitation of the road will start, so that the road will become motorable again, pending full reconstruction in 2017" Onuigbo concluded.
Disclaimer:

"The views/contents expressed in this article are of (the) AUTHORS (or Contributors or Columnists) and do not necessarily reflect those of NigerianVoice. NigerianVoice will not be responsible or liable for any inaccurate or incorrect statements contained in this article."
Articles by Nnaemeka Oruh