Dear President Yoweri Museven, Release Doctor Kissa Besigye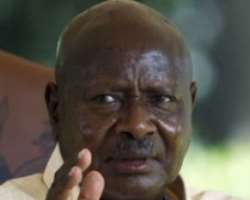 Dear President Museveni,
I am writing to you about Dr. Kissa Besigye. I am writing to you in my capacity as an east African citizen, an African, a human being and a darling of the rule of law with total respect to a democratic virtue of obeisance to fundamental human rights.
At most I write to you as your son, given that I recently discovered that your son Muhozi was born in the year 1974, this is the year in which I was also born. Thus you being a father to my Bakoki , an age-mate, then our Bantu ethics dictate that you are my father and I am your son. Thus read this letter the way you could read the letter from General or Field Marshal Muhozi.
Elder Museven, we as Africans and eastern Africans, are a hundred percent aware that you are tackling a very complex question and hence a phenomenon of African politics; the question of big tribes and possibility of electoral democracy in the process of African political socialization. This is the silent vice that has often crushed the head of young democracy in the eastern Africa in particular and Africa in general.
For example in Sudan the sixty five tribes have been ruled for a whole century by one big tribe of the Arabs, and now in the Southern Sudan, the two big tribes of the Tinka and the Nuer have corruptibly shared all public offices and political offices as they sternly exclude the sixty four tribes of Southern Sudan. In Kenya one big tribe of the Gikuyu have been reigning and having one of their own as the president ever since Kenya became a modern state from colonialism.
This has given the Gikuyus in Kenya a leeway to commit all types of crimes and all manner of social vices, from corruption to bank robbery, land grabbing to tribal animosity, prostitution to forgery of academic titles, Election rigging to embezzlement of the government funds financed by the issuance of the Eurobond. They have been doing all these scot-free because the state power is their protégé and it is manipulated in rhyme with the tune of their ethnic sentimentality.
This is also the case in Rwanda, Burundi, Nigeria's Biafra, as well as in Uganda. We know that the community of Buganda is psychologically in a neurotic love with themselves. They have a king or kabaka which they worship by kneeling before his stole as if there is no president and Uganda national flag to venerate; they still believe that a president of Uganda must be a Muganda. This is wrong version of ethnic nationalism. We know that a Muganda person cannot recognize a Teso, a Choli, a Lango, a Gishu, a Samia, a Musoga, or even a Munyangole or a Munyarwanda to be the president of Uganda.
The bagandas do this on false assumption and self-conceited political skullduggery that they are many in numbers and hence they command an ethnic tyranny of numbers, therefore their mother tongue should be an official language of Uganda and their sons and daughters must be presidents of Uganda. Indeed they are a living text of the Arrow of God in which Chinua Achebe decried the curse of big tribes swallowing small tribes.
It is only in Tanzania that Mwalimu Nyerere unified the people of Tanzania into a philosophy of Tanzanian nationalism but not ethnic nationalism. He did this without lynching terror and brutality to the people of Tanzania .Thus President Museven please; brutal treatment of Doctor Besigye by reasonless detention and all manner of abuse you have employed will not solve the question of tribes and democracy in Uganda.
Terror and violence against the unarmed civilians as a theory of power is only a right in the pages of The Prince, a book by Niccolli Machiavelli which I am told by my Ugandan friends that you are ever reading it every evening before you go to sleep. State violence to the unarmed citizens is not a political value of today. Thus Mr. President kindly discard it.
Mr. President remember Dr. Besigye was your competitor for the office of the president in the previous general elections. But you viciously used guerrilla tactics and state machinery to foozle and falsify election results in your favour. By all definitions Besigye would have been the president of Uganda by now. Thus Mr. President you don't have any moral basis to argue for the lawless detention of Besigye on the grounds that he has a secret plan of effecting a coup d'état against your junta.
This argument is politically illogical. Why? Because the military machinery in Uganda is beautifully your property, they are all hired from the ethnic communities that are loyal to you. Thus if a coup d' etat happens in Uganda then it is not the mistake of Besigye but the rotten incompetence of your askaris given that they probably come from one community and again they are headed by your son.
Mr. President I am happy you have a good understanding of history of the communist thought and even as well as history of socialist military actions. You have read about Josef Stalin how out of mad love for power he had to kill his wife and sentence his in-laws(relative to the wifw he had killed) to Siberia for a jail term going beyond ten years, you are aware that Napoleon Bonaparte died a shameful death in prison on the Island of St Helena, You are aware of Che que Vera and how he killed his fellow revolutionaries, he did these through the Cuban state support under the auspice of Fidel Castro, you are also aware of Id Amin Dada, and Sani Abacha how he stupidly got driven by politics of sadism and fear of competition to brutally kill Ken Saro Wiwa and Massoud Abiolla,you are also aware of Mobutu Seseko and his humiliating deqath on a boat in the sea near Rabat, the self-denigrating drama Louis XVI and his queen Marie Antoinnette before the guillotine after the mass actions at the Bastille, Adolf Hitler and Benito Mussolini in company of their mistresses under the context their brutal style of dictatorship, abuse of human rights , political tyranny in connexion to the disillusionment in their unceremonious ending.Mr president change your style from a selfish megalomania in politics to an elder who respects human life , this will be your brilliant effort to eschew the brutality of history which occurs first as a farce and repeats itself as a tragedy.
Each and every school girl on earth wants you to release Dr. Besigye, it is better if you did it yesterday. You can borrow an example from Kenya. President Kenyatta and Raila Odinga are able to meet, talk, and even hold a parallel celebration of public holiday. This is classic. Because President Kenyatta knows that violence against an individual or a group only begets further violence, it begets no winner, it distorts the truth, and it makes both the parties to look small fools. And of course this must be the spirit to guide future politics of Africa.
(Alexander Opicho
Lodwar, Kenya)

Disclaimer:

"The views/contents expressed in this article are the sole responsibility of the author(s) and do not necessarily reflect those of The Nigerian Voice. The Nigerian Voice will not be responsible or liable for any inaccurate or incorrect statements contained in this article."
Articles by Alexander Opicho