Flashback: What I Told Gov. Rochas In 2011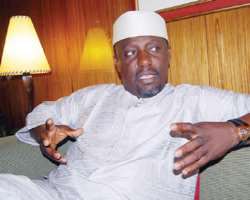 This article was published in 2011 as a pointer to our present situation. It was published with the title, "AS THE MESSIAH (ROCHAS) ASSUMES OFFICE." As you read this think back!
A new calendar of leadership is opened for Imo people, a new age has begun, the new era is dawn, beautiful dispensation has started and the new mazzaroth is invoke, heralding new political philosophy, ideology and principles. Hopes are high, expectation is on increase. Oh! Our minds are ruptured from an assumed swamp of the perigee of Ohakimism to the apogee of Rochasim.
Imo state was like Palestine, a nation constantly experiencing attacks by, and wars from her neighbours, subjugated by one foreign authority or the other and placed under colonial bondage. In the case of Imo her "ignoble experience" was initiated by the immediate past government led by Chief Ikedi Ohakim. The above is the view of the majority in Imo state. What an Error! Now that Ohakim is no more and a new governor (Rochas) has assumed office, are our problems over? Never!
The political debate of Palestine at the time of the birth of the Messiah (Christ) was completely and entirely subsumed in unvocalized nationalism, internal scheming for political independence and the assertion of statehood. The dominant influential and most articulated political groups were the Chief priests, Elders, Scribes, the Pharisees and the Sadducees.
Among each group, radicals, zealots fanatics and fundamentalists sprang up and occasionally stirred up political, religious, cultural and social tension and controversies. At the time of the birth of Christ, Palestine was a political vassal of Rome. As a result, much was politically expected form Christ Jesus, at least to free his nation from political bondage; alas they were all disappointed consequent upon the spiritual mission of Christ. That greatly contributed to His crucifixion.
In Imo state, a similar situation played out. Many influential and un-influential people stirred up political tension to the extent that Ohakim nearly lost focus. They are the same people that crucified him at last. Ohakim never did well for Imo people at the initial stage, due to political distractions occasioned by high level litigations. I remembered when I was on a mission to give Ohakim a proper sense of direction with my pen. This mission, called criticism metamorphosed to various technical articles published in my column (Philosophical Reflections) in the Sun newspaper and in the internet and other local print media, attracted the wrath of the then governor who consequently took various measures to deal with me.
I was never afraid until I started receiving various threatening calls and text messages, some of which I published. I was never afraid of Ohakim and his men who thereafter nicknamed me "Professor from hell". Like Aristotle, "No one loves the man whom he fears". My love for my state together with my zeal to advice Ohakim, made me continued. Though, I was not alone in this mission. Late Maximus and Mr. Ikenna Samuleson were all with me and each had their own lot too.
In the words of Edmund Burke, "No passion so effectually robs the mind of all its powers of acting and reasoning as fear". Fear is the parent of cruelty. I was not worried neither afraid of Ohakim thus, I continued in my mission. Like Shakespeare, "His flight was madness; when our actions do not; our fears do make us traitors". When Ohakim realized that he needed people like us and not praise singers in order to perform, he embarked on serious projects that today Imo people including our present 'Messiah' Rochas can in all sincerity attests to the fact that Ohakim delivered the dividend of democracy in a short period.
One leader of (thought) opposition in the state recently sent me a text message that extolled Ohakim. He said, "…do you know that I was shocked to truly notice that Ohakim did employ 10,000 workers…" I am very convinced that as the revelation of the good he did is gradually coming, so shall many of us be shocked on the bad ones too; which however authenticate the reality of liberty in politics-but such revelations must be based on facts. Our former governor, we wish you well in your future endeavors. But we still love and respect you.
Now let us welcome the harbinger of scholarship, the father of philanthropy, the husband of the windows, the man of the people, great Owelle Rochas Anayo Okorocha to the political stirring, to take Imo people to the land of promise. Dear Rochas, your victory in the inconclusive election held in Imo state, calls for celebration and deep sober reflection over the load you are about to lift. I am very convinced that this load is certainly heavier than your shoulders.
I have seen the same people who surrendered Ohakim and who led the mission for his defeat and failure clustering around you. Rochas take note-Na the same people. Like Maurren Potter would say, "Politicians are like nappies. They should be changed often-and for the same reason". Though you are all the same after all, you enjoyed some privileges in Ohakim administration.
As you take the mantle of leadership, I wish to re-mind you of one Igbo proverb that says, "The fowl should carefully watch how the guinea-fowl is slaughtered in case of the future". If you surround yourself with the same people who misled Ohakim, you will not escape from their subtle manipulations because na the same people. Do remember that the same people who rejoiced and celebrated the birth of Christ-the king, were the same people who on the day of his judgment shouted crucify him, crucify him!
I humbly advice that like David of the Bible poised against Goliath, Samson against the Philistines, Gideon against the Midianites, Jephthah against the Ammonites, you should take the bull by the horn to lay off those evil royal fathers and bad-blood politicians who will always clap for you even when you do the wrong things and will again turn to mock you in defeat the way they did to Ohakim.
The existence of such people in your cabinet shall consequently agitate every element of my human fabric and must make me to pick up my pen as usual. Yes, if you will appoint them into various offices, they will end up staining your integrity and this will however contradict your Christian doctrine, tenet and up-bringing. So we expect you to think and listen to the inner voice within so that you will not fail. I believe in what you can do, at the same time I'm very afraid of your possibility to deliver owing to high expectations. We are watching!
Owelle, Imo people will expect you to build rail-way in the space, invoke the nation of America into Imo, get wives for all young boys and husbands for all the young girls, build for all the fatherless and motherless, share money from house to house, replace there Keke na pep with sutra-modern vehicles, settle everyone together with free medical services etc. How will you do the magic? Human beings (including Imo people) are very difficult to govern.
We know you! I know you made promises with the thought of not winning the election, now that destiny has given it to you, much more is expected. You have to think, work hard and employ good heads and hands to be able to reach your goal.
Your Excellency, please do not paint big pictures of your little achievements. Ohakim was a show man, and it appears that you love same too. Remember, you are the Messiah of Imo state, therefore, you must not sleep while others are sleeping, you should not eat while others are eating, and you should not abandon APGA to PDP because it will amount to biting the finger that fed you.
Learn from Ohakim's mistake so that you will have moral justification to have rescued Imo. Maintain accountability, fairness and equity like Aristotle would say, "The only stable state is the one in which all men are equal before the law". Don't exercise the philosophy of the German proverb that "The only real equality is in the cemetery"
As the eagle that you are floating in the air of eternal reliability, do spread your wings wide so that those of us who are your "good enemies" may benefit. I have given you a sincere advice from my heart as my contribution to your messianic political regime. Welcome to Imo Government House.
Disclaimer:

"The views/contents expressed in this article are the sole responsibility of

Nathan Protus Uzorma

and do not necessarily reflect those of The Nigerian Voice. The Nigerian Voice will not be responsible or liable for any inaccurate or incorrect statements contained in this article."
Articles by Nathan Protus Uzorma