University Of Missouri President, Timothy M. Wolfe's Resignation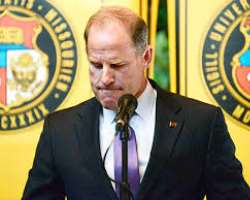 For Wolfe the "Crime of being a White Male, "brought him Resignation, Not Jail Time Which is for the "Crime of being a Black male."
The American media is filled with reports that some right-wing television, radio and broadcasting personalities, who are mostly Whites, are not happy with the sudden resignation of the University of Missouri President, Timothy M. Wolfe.Wolfe, resigned in response to a wave of protests, by many students and faculty of all ethnic backgrounds as racial tensions continued to paralyze one of the university's campuses known for a series of racist incidents in recent months.
Wolfe was seen as not taking complaints of anti-blackness seriously, resulting in an African-American student going on a hunger strike, and a group of Black Missouri football players threatening not to play in an oncoming game until he resigns.
Now some in the conservative media are criticizing the resignation of the President claiming that he was forced to resign because of the "crime of being a white male." A view that smacks of racial overload, as his resignation, in his own words was to allow healing of minds to take place at the university.
If history tell us anything, just for being black in America, signaled lack of "white privilege" and some of the consequences included getting sacked from a job, imprisonment, and getting lynched or killed.
America has certainly moved forward in terms of race relations, but race remains an issue and the message here from the president's resignation, is the need to keep pushing out racism from universities and where ever it shows itself across America.
Also, in a school whose undergraduate population is 79 percent white and 8 percent black, in a State that is about 83 percent white with nearly 12 percent black; racial tension can be reduced by introducing the students and faculty to curriculum focused on anti-oppression education, comprehensive diversity training, black community friendliness/empowerment, and creating ethnic awareness and inclusion curriculum in all the departments as well as mandating faculty/staff to fully partake in anti-racial discrimination orientations.
Dr. John Egbeazien Oshodi, a Florida based Forensic/Clinical Psychologist. [email protected]
Disclaimer:

"The views/contents expressed in this article are the sole responsibility of the author(s) and do not necessarily reflect those of The Nigerian Voice. The Nigerian Voice will not be responsible or liable for any inaccurate or incorrect statements contained in this article."
Articles by John Egbeazien Oshodi, Ph.D.