Buhari And Nigeria's Looted Funds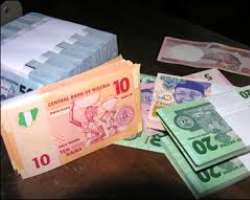 Soon after Buhari returned from the USA and announced the commencement of the process of recovering looted funds from officials of the immediate past administration, there have been sustained media attacks on both the President himself and his administration by persons who suspect they may be directly affected or on their behalf, by recruited mercenaries.
These multi- pronged assaults on efforts at recovery of huge funds looted and stashed away in foreign banks have been so unrelenting that they could not have just happened by. It is therefore not out of place to conclude that they are flowing from the barrel of well oiled campaigns directed at the very heart of anti corruption crusade as represented by President Buhari. In other words, just as Buhari is busy planning effective strategies towards recovery, the perpetrators of the frauds and their agents on the other hand, are also locked in efforts to thwart whatever would be thrown at them.
They have no choice but to fight the battle as this is not just any battle; it is the battle of their lives to save their necks and their loots. They cannot afford to spare any weapon in this battle. It is therefore not surprising that they have engaged the best hands that money can buy as 'consultants 'to plan and execute well laid out strategies against Buhari and his government.
Not only is the sheer magnitude of the sleaze funds estimated at over $150 billion within the past ten years mindboggling, it raises a lot of questions as to what manner of humans would commit such level of heist against their country and her people. Also very troubling is the fact that these conscienceless thieves (as if thieves have conscience) have ferried huge national wealth stolen by them to countries where they are used to further improve the economy of the receiving nations while leaving us in the doldrums.
During the immediate past administration of Goodluck Jonathan, corruption was promoted as a state policy; thus the more you steal the better the chances of your being given more national assignments of higher responsibilities. To make matters worse, the administration ignored every call for action against corrupt officials claiming the reports were exaggerated and of political in nature. It became necessary that something has to give in order that Nigeria and its citizens might survive what would follow. And true something gave: Jonathan lost the Presidential election thus bringing to an end the dream of a man whom nature placed what the Christians would call unmerited favour along his paths but who frittered it away on the altar of both incompetence and "I don't give a damn" attitudinal disposition.
It is very curious that a nation in such distress as Nigeria is at the moment would have some of its citizenry taking up arms against the President who in fulfillment of his campaign promise of fighting corruption has taken up the gauntlet. Shouldn't Nigerians be appreciative of Buhari for showing readiness and capacity to tackle corruption headlong? Are we a nation of such double standards blinded by our base sentiments of ethnicity and selfishness that we care not where the nation heads?
To think that important religious and political figures have led themselves to be used against the collective interest of Nigeria is all the more depressing.
People like Ayo Fayose of Ekiti state and Godswill Akpabio of Akwa Ibom state have openly declared their stands – no probe should be allowed. And this is understandable. They have a stake on the flip side of the coin. They have pending petitions awaiting the attention of the anti-graft agency, EFCC against them. So if they are up in arms against probe and recovery of loots, one would spare some level of understanding. But what is a man like Rev Father Hassan Mathew Kukah doing in the midst of devourers of Nigeria's common wealth? Shocking. Why is Prof Ben Nwabueze who all along has been known to speak in favour of good and responsible governance doing taking sides with the people on the other side of the divide?
It is now clear that the war against corruption must not be left to President Buhari alone. It should be the battle for the generality of Nigerians who want the country to survive. The entire citizens must rise up and join hands with Buhari to reclaim Nigeria from the clutches of death; we, the masses have to be as resolute in pursuing the course marked out by Buhari against looters just as the plunderers have been and still are against the will of the people. We cannot afford to take our eyes off the target.
We should fight this battle as if our whole life depends on it; and it sure does. Part of the reason we have found ourselves in this mess is our complacency. Nigerians tolerate too many indulgences by their so-called political leaders. We excuse them their greed, their malfeasance and their insatiable lust. It's time to wake up and crowd out their voices in the arena of self discovery. Never again shall we be on the sideline clapping for those who have poisoned us, condemning our entire existence and that of our children to dying slowly but painfully.
If it means taking to the streets in protest, let us be ready and willing. If it means buying pages of newspapers and Television slots to let our anger be registered, let us leave no free space. If it means challenging them in the law courts, we should stand ready. This is indeed a battle call to save Nigeria. Let us all be a part of it.
Eyenisong.

Disclaimer:

"The views expressed on this site are those of the contributors or columnists, and do not necessarily reflect TheNigerianVoice's position. TheNigerianVoice will not be responsible or liable for any inaccurate or incorrect statements in the contributions or columns here."
Articles by Eyenisong Ibibio