Re: Akwa Ibom's Version Of Thanks To Akpabio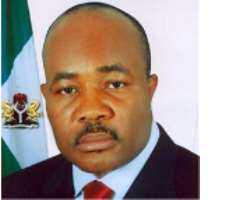 Joe,
Thanks for this beautiful write up. What I enjoyed most in the article is your application of civil language in making your points. Even though one could see how much you suppressed your anger, you were largely able to pass your message across without easy resort to hurling of insults at your perceived targets. I commend you.
I would however attempt an abridged response to your opinion as to the position of Akpabio in the history of Akwa Ibom state. In doing this, I am not unmindful of the current travails of Senator Godswill Akpabio and would not want to add to it; I would rather have waited till a more conducive time but since you have brought it up now, I feel this issue is weighty enough not to be ignored in its entirety.
One undeniable achievement of Godswill Akpabio is that he advertized Akwa Ibom state better than any previous governments did. No matter which perspective you look at things from, the fact you cannot take away from Godswill Akpabio is that he was and still is a very controversial figure in Nigerian politics. Controversies, as you already know, are necessary ingredients for advertisements. Thus authors would court critics who would create controversy around the subject of their book(s).
The more criticisms the book gets, the more his trips to the banks. And this was what Akpabio did. He made sure you do not ignore him. He does whatever comes to his mind in order that you recognize his presence or his interest. Doing whatever came to his mind would not be bad but more often than not, he applied crude and unconventional methods.
Early in his administration, he recognized the importance of publicity and went all out to court the friendship of the media. I mean he spared no effort in making sure he had favourable side of news, reviews and publicity. Akpabio thus became a product; he advertized his "achievements" so much so that you would not forgive yourself if you did not visit Uyo, Akwa Ibom state- the land of "uncommon transformation". And behold as you make your way into the city of Uyo, you would not fail to smile in appreciation of what Akpabio called his "uncommon transformation". If you came by air, the well paved Oron road welcomes you. If you were visiting by road from Ikot Ekpene end, or from Abak road, as soon as you arrived at Goodluck Jonathan flyover or Ekom Iman junction, the state is a "beauty" to behold. He did a few strategic repackaging of Uyo metropolis. And that was all he needed.
But beyond and beneath this seeming transformed city lay debris of unimaginable proportion; not only is Uyo in ruins, Akwa Ibom state as a whole also is, specifically in economic terms. What is a city worth when the lives of its citizens and inhabitants are not worth a penny? What is beauty in the face of insecurity and deprivations that characterized Akpabio's tenure?
Akpabio's government had set out to open many leisure spots particularly within Uyo; how were the citizens to enjoy these places when there were no real economic activities going on in the state safe for a few construction jobs? These jobs were rightly given to multi-nationals with their lopsided personnel system. The trickling effects, as would be expected, were very minimal as the companies would have to repatriate its funds. Employment creation was only in the news media. Only the skewed civil service job recruitments were undertaken and to what effect when compared to those looking for jobs?
You were openly partisan and too patronizing in your assessment of Akpabio's administration as you failed to mention even one thing he did not do right or where he made "genuine" mistakes. He sure wasn't a super hero, was he? Of course, you admitted this much when you said: "These submissions may sound parochial but are the truth." This statement sums it all up; your submissions really sound and look every inch parochial.
I heard you mention: "The flyovers, the Stadium, the Tropicana entertainment galleria, the pipe jacking technology, the hanging bridge and the colourful water fountains combined to turn the State into a delightful cynosure."
And I ask: really? What was the original concept of Tropicana entertainment centre? What were the touted economic benefits? Have they been met? How much is the cost of the project to date? In what ways are Akwa Ibom people drawing benefit from this? Tropicana is a dead project; it serves no useful purpose other than offering idle youth the opportunity of going to kill boredom in the cinema house only to return home to face the grim reality of their lives – deprived and denied the right to self esteem. I hate to remind you that Tropicana was originally designed to hold 25 storeys five star hotel complex now reduced to 14 or 15? There was to be international conference centre, water fountains and lots more, and was initially billed to cost N33 billion. At the last count we hear it has grossed the N100 billion mark.
Tell me, Joe, which of the structures in the original design are there in the galleria? The same thing goes for e-library which you probably forgot to mention. You also talked about pipe jacking technology; a project that was to eradicate flooding in Uyo. We were told that two minutes after heavy rainfall, the whole town would look like it never rained! Today, Uyo is submerged in flood anytime it rains. You dare not attempt to drive through Babangida avenue and its environs. Abak Road, Atiku Abubarkar and Ikot Ekpene roads are more like "periodical rivers" than streets/roads whenever there is heavy down pour. How can you take pride in a project that the state is believed to have wasted over N16 billion without achieving its set objectives? And you call for us to thank and celebrate the initiator and executioner of this project here? How laughable. As for hanging bridge and water fountains, I can only say wao! These were indeed uncommon projects. By the way, did you not notice that all state government contracts were shrouded in secrecy such that the costs and sometimes the components of the project were hidden away?
Here you go again: "their status (Akwa Ibom people) from the fetchers of wood and drawers of water to boardroom players, managers, policy and decision makers."
Can you mention the boardrooms and industries that we have become active players, managers and decision makers in as a result of Akpabio's interventions? At the Federal level where he was a key voice, what appointments did Akwa Ibom people hold and what contracts or other political/economic benefits came their way considering our unwavering support for Jonathan's administration? Perhaps you are dreaming of Akwa Ibom that is to come; not that we already know of.
Joe, it would serve us useful insight if you were to tell us how much Attah's administration received in comparison to Akpabio's. But I leave out the comparison because the basis would be flawed on account of deliverables in relation to capacity. Akpabio's administration received well over 3 trillion Naira in its eight years as against Attah's N542 billion. To whom that much is given, it is not out of place to also expect much. Have you forgotten Ngozi Okonjo-Iweala pointedly accused Akpabio of not using one tenth of its share of Federally derivable revenue in the state? Was the governor able to counter that allegation? To convince me and others in this train of thought, march the revenue against the projects (expenditures) and let's see what you come up with. I don't want to bore the readers with facts that Akpabio's achievements were over-bloated.
I cannot end this piece without mentioning the fact that during Akpabio's tenure, hundreds of Akwa Ibom people were kidnapped, tortured and most of them outrightly murdered in gruesome circumstances. A governor under whose watch his citizens were murdered in droves during his reign of terror cannot go for one to be praised. The state was handed over to thugs, cultists and agents of destruction. And they visited the people with enough dosage of their pills. Perhaps the families of the victims of murder, kidnap and physical brutality should be the ones to say it loud and clear: 'Akpabio, thank you very much'.
Something else. I ask you sir, how much is Akwa Ibom debt profile left by Akpabio in spite of the state's stupendous revenue within the last eight years? Should we also clap for that as a part of his successful duty tour?
As if these were not enough, we are still today plagued by his inappropriate actions which when brought to the fore have continued to diminish not just his person and achievements but the entire Akwa Ibom state and its people. We are now known for uncommon scandals upon scandals of no mean proportion.
I tell you what: Akpabio had the rare opportunity of writing his name in gold; even the gods favoured him. He had everything going for him; the human capital and the resources to have excelled and the goodwill of the citizens. He frittered all away. He fluffed the chance to become great on the altar of hate, vengeance and vain glory pursuits. Soon after he got to the position of governor, he appeared to have kicked God away from his life; trusting rather in his self created fame. The result was his alienating the masses who were ready to lay their lives for him. How did he pay them in return?
Even the construction and rehabilitation of roads that he vigourously pursued were priced way too high, above what could pass for world record in cost per kilometer.
At the end of his tour of duty, uncompleted projects adorn the state. Some of them are:
Tropicana Entertainemnt galleria – uncompleted
E-library – uncompleted
Akwa Ibom airport – uncompleted
20th anniversary hospital - uncompleted
Four point hotel, Ikot Ekpene – uncompleted
Pipe jack up drainage system – set up committee to study why project failed
Pipe jack up drainage system, phase 2 – uncompleted or abandoned
Ibaka deep seaport – abandoned
Petrochemical plant – abandoned
Akwa Ibom refinery – abandoned
31 industries to be spread all over the LGAs in the state – vanished even after alleged N20 billion budgetary allocations.
Need I mention more?
Joe, all the above mentioned uncompleted or abandoned projects as listed here are open to your verification. And you expect Akwa Ibom people to give a standing ovation to Akpabio?
Please spare us this praise singing or is it 'Akpabiolatory'?
Disclaimer:

"The views expressed on this site are those of the contributors or columnists, and do not necessarily reflect TheNigerianVoice's position. TheNigerianVoice will not be responsible or liable for any inaccurate or incorrect statements in the contributions or columns here."
Articles by Eyenisong Ibibio