Buhari Will Pull Nigeria From Decay---- Alimikhena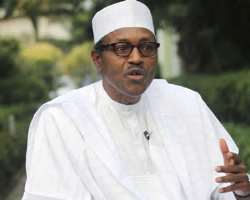 The Edo North Senator Elect Major Francis Alimikhena has express optimism that the Nigeria president has the capacity to pull the nation out of its current rust and decay which we have found ourselves as a country today. The Senator in waiting started this after the inauguration of the Buhari government in Abuja. Adding that Buhari's contribution to the political history of Nigeria are legendary. History don't lie. As Buhari take over the leadership of Nigeria, the first thing I want him to know is that He is not in competition with Jonathan. Whatever Jonathan was as a former president is now a history. So I want our new president to stay focus and not listen to distractors who are more concern about their personal interest. Buhari need people who will help him to paddle the nation beyond the level of corruption that has cripple the nation to a corrupt free society.
Alimikhena however, caution Nigerians who are always in a hurry to catch in on any mistake of their leaders to be weary of their ways. We must learn to operate as one nation. We should be speaking the language of oneness and unity rather than waging war to win peace. According to him, Buhari will instill confidence in the unity and oneness of this country. As we enter a new era, our language should be language of peace, Unity, not language of division or violence. The Edo North Senator Elect and only APC Senator in the South South said the task ahead for Buhari is challenging and daubting but it is surmountable by our collective effort and cooperation of all Nigerians. Alimikhena pleaded with politicians to give Buhari a chance to hit the ground running rather than too many courtesy visit that will affect the time to attend to the serious national challenge that is confronting the nation today.
While assuring the people of Edo North of effective representation, Alimikhena said as soon as the 8thsenate is Inaugurated next week he will swing into action and ensure that he deliver his campaign promises of providing revolving leon to farmers and traders as well as his ongoing scholarship programme which he has initiated over twenty years ago. The 8th national Assembly are resuming with renew vigor and determination in ensuring that the dividend of democracy did not stop at the elite but go down to those that needed it most. I am a senator elect to represent my people and not myself and one of the major programme I have put in place is the town hall meeting. It is the best form of talk back and feedback mechanism that I must carry out as many times as possible in various local government withing my zone. I made a vow to my people that I will not executing any project without seeking their opinion and I must keep that vow by carrying them along in all my activities. Misrepresentation is only possible when you live your people in the dark.
BENJAMIN ATU
08038847596
[email protected]
Disclaimer:

"The views/contents expressed in this article are the sole responsibility of the author(s) and do not necessarily reflect those of The Nigerian Voice. The Nigerian Voice will not be responsible or liable for any inaccurate or incorrect statements contained in this article."
Articles by Benjamin .A. Atu