When APGA Wants To Rig Abia Guber Election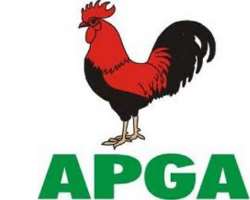 One Ifeanyi Amanze will not stop to expose himself to public ridicule where he was looking for "stomach infrastructure". In an article he titled, "Alex Otti, Ochendo And The Election Thieves In Abia State", he wanted to debase Governor Theodore Ahamefule Orji and the PDP in the state for the praise of the phony candidate of APGA, Alex Otti, who came into the party through the backdoor.
Against what Amanze wanted to mislead the world with, there was and will never be anytime that the governor or the party that he leads will rig election because one Otti is contesting. What Amanze failed to realize was that Otti is a political neophyte who will never win in any elections in the state except through rigging as his party did in the last governorship and House of Assembly elections. The prompt response of Abia people who shouted hoax helped to checkmate them. Otti's evil deeds were exposed to the international community.
It wasn't true that Otti was leading Dr. Okezie Ikpeazu (PhD) in 11 LGAs in the state out of 17 LGAs in the last guber election. This is the make-believe story of the looser's agent who will stop at nothing to bark and bite like a mad dog he is because of the clear defeat APGA was experiencing in the hand of the PDP in the state.
The theft election materials that the state experienced in the hand of the APGA in the state in the last election were unprecedented. Otti and his party indeed acted true to who they were – desperados. Otti and the APGA were said to be in fraudulent activities while the election lasted. But today, the brain drained Amanze is writing garbage as usual to cast the governor and the PDP against the people.
While we await election in the areas that INEC have announced as inconclusive, it will be advisable to warn Otti and his hack agents like Amanze to desist from inglorious electoral activities as such will not pay them well. They should refrain from ballot snatching here and there. "All of these are now public knowledge of course."
Hart writes from Lagos
Disclaimer:

"The views/contents expressed in this article are the sole responsibility of the author(s) and do not necessarily reflect those of The Nigerian Voice. The Nigerian Voice will not be responsible or liable for any inaccurate or incorrect statements contained in this article."
Articles by Madubuko Hart