NIGERIANS SHOULD THANK GOD FOR JONATHAN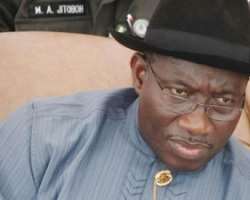 'Weeping may endure for a night but joy comes in the morning (psalm 30:5)'.
Through sickness we know the value of health; through death we know the value of life. Everything in life is being decided by fate and most times these things happen so we can understand how reckless and careless we have been. Bad things happen to us so we can start to appreciate the good things we took for granted and make adjustments. If Jonathan says he is the most criticised president I won't doubt him and I agree with him but not the most criticised in the world.
What we see of this Jonathan's administration is at best described as a joke. The FG under GEJ has been reduced to nothing but joke. I can't understand and haven't seen where the first lady is more powerful than the president. Where the first lady has a say in political appointments and matters. Just look at the mess she made of herself on live television immediately after the Chibok abduction. We've always known that there is God but she gave it a new meaning 'diariz God o.'
The way the federal government has been reduced to a child's play even outsiders don't take the FG serious. Senator McCain of the US once referred to Goodluck Jonathan as '...some guy named Goodluck Jonathan'. It's in this country we have learnt to refer to our bosses as 'Oga at the top'. In this administration we have learn the easiest way to be at par with the great Nelson Mandela is to hold a 13 hours meeting with ASUU. In this government we have now known that stealing public money is not corruption (do you want to argue with the PhD lecturer?). In this government we have known that if any mount of dollars is missing in Nigeria, we should ask the Americans because its their money so they will know. In this government we have also known that the easiest way to be like Jesus Christ is to be an incompetent and an under achieving president. In this government we've known that power is not improving because of saboteurs, ASUU strikes are political, Boko Haram is sponsored by the opposition to discredit the president. And before I forget we have a First lady that speaks better english than the Queen of England.
President Goodluck Jonathan, a PhD holder and lecturer before becoming president has just only one ex-student as testimony that he was a lecturer and that is his wife Patience Jonathan. She said he (GEJ) took interests in her because she was very brilliant in school. If that is the case then that tells us a lot about the man and I will not say more than that.
Most of these administration transformation is on being televised no concrete proof. They say 125 Alamajiri schools have been built in Kano, Kaduna and other places but there are no documents to show where these schools are situated and testimony of students who have attended or attending the school now. Even those who live in these areas have not seen the schools, they too are asking where are the schools located. Just recently, a campaign poster of Goodluck Jonathan was caught to have shown achievements of the Kano state governor, Kwankwaso as GEJ's achievements in Kano. They make a lot of noise about how this administration has transformed our schools but their children school abroad. The way they have advertised the rehabilitation of the railways you will think the country's major means of transportation is Railway. But what we have are 20th century trains and none of these people have travelled on these trains, they rather fly in their private jets.
While our lawmakers here have gone on recess and are partying hard this season, their counterparts in the UK parliament declared a no-food day on Christmas day in solidarity of the Chibok girls. It is clear for anyone to see that the government has forgotten about the girls and they intend not to bother themselves about it all. We all not saying they should always be brooding or carrying a sad face in solidarity of the chibok girls but we want to see sincere efforts being employed in rescuing the girls. While the Boko haram are killing Nigerian soldiers at the war front, the Nigerian Army is also killing its own soldiers at this crucial time there-by giving the advantage to Boko haram.
If we didn't have Goodluck Jonathan as president, we wouldn't have known the real meaning of good governance. If Goodluck wasn't the president, there wouldn't be this public outcry for change. If Jonathan wasn't the president, we won't in this age be clamouring for General Muhammadu Buhari for president. If Ebele wasn't the president, many Nigerians wouldn't have stood up to their collective responsibility towards Nation building. If Goodluck Jonathan wasn't the president, people won't have to go online and to search his previous works. They've found no article or book written or co-authored by Goodluck Jonathan, no ex-students association have come out for him, now people really doubt the veracity of his PhD. But it's rather too late, they should have done that before 2011 elections when I was screaming with my soul out that this man is not the man and can't make a good president, now they are seeing reasons why.
Therefore we should be thankful to God (especially GMB and the APC) that HE made the shoeless one our president. This has made us to appreciate more the opportunities that we missed and our reasons that have been clouded by ethnicity, religion and sentiments. They want to make this election based on ethnicity and religion but we Nigerians have to resist that and insist that it's based on relevant political issues.
VICTOR (@inkrediblesmog) TERHEMBA is a talent manager, social media strategist, political commentator and aspiring politician from Lagos state. Email: [email protected]
Disclaimer:

"The views/contents expressed in this article are the sole responsibility of the author(s) and do not necessarily reflect those of The Nigerian Voice. The Nigerian Voice will not be responsible or liable for any inaccurate or incorrect statements contained in this article."
Articles by Victor Terhemba