Serious Allegations Of Cameroon, Chad Arming Boko Haram Is Act Of Terror And War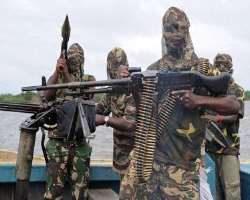 Very serious allegations have been made against Nigeria's French neighbors, Cameroon and Chad, of them arming and financing Boko Haram in the process of freeing a few abducted citizens and foreigners. [Ref: http://saharareporters.com/2014/10/11/cameroon-paid-boko-haram-400k-ransom-plus-arms-and-ammunition-secure-release-deputy-prime].
These accusations which were first made public by SaharaReporters based in New York and which we have now had substantiated from other sources, have serious ramifications on the regional relationships of Nigeria, Chad and Cameroon and other involved foreign nations.
When SaharaReporters first broke the news of the release of the hostages on October 9th , Cameroon lied, as published in the media, that no such release had been effected. Cameroon's Communication Minister, Issa Bakary claimed the reports in the media were false. SaharaReporters' sources were proven to be accurate as two days later Cameroon has fully announced as carried in all global media, that indeed the hostages have been freed.
It is unfortunate and serious that Cameroon's statements can no longer be trusted as they have been caught lying on serious regional security matters on too many occasions recently. It can be recollected that Cameroon falsely claimed to have killed late Boko Haram terrorist leader, Abubakar Shekau (his double), not knowing that the Nigerian army actually had a video tape of him when they caught him alive, before they – the Nigerian army – killed him.
There is no justification for the provision of cash, arms and ammunition by Cameroon and Chad to Boko Haram to use to kill innocent Nigerians, Cameroonians and other foreigners. This act Nigeria's neighbors stand accused of is an act of terrorism and a declaration of war.
In view of the allegations against Cameroon and Chad we call on the Nigerian government to:
Immediately summon the Cameroonian and Chadian envoys.
Immediately upon review, temporarily severe all non essential ties with these nations.
Refer these nations to international and African unity bodies for thorough investigation towards concrete and serious comeuppance.
Refer these neighbors to the UN Security Council for necessary action.

Dr. Peregrino Brimah; http://ENDS.ng [Every Nigerian Do Something] Email: [email protected] Twitter: @EveryNigerian
Disclaimer:

"The views/contents expressed in this article are the sole responsibility of the author(s) and do not necessarily reflect those of The Nigerian Voice. The Nigerian Voice will not be responsible or liable for any inaccurate or incorrect statements contained in this article."
Articles by Perry Brimah, Dr.