Nigeria @54 and Boko Haram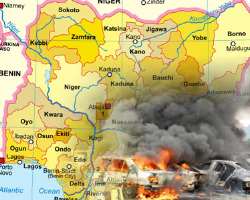 As Nigeria marks her 54th Independence Anniversary as a Sovereign Nation October 1st 2014, I watched and listened attentively to the usual live broadcast of president Jonathan, hoping there will be a change in this Independence Day broadcast, it was almost same Speech we are used to but this time around, he talked about the successful celebration of the Centenary Celebration January this year, the National Conference that just ended in controversy and his government's commitment in ending terrorism and other forms of terrorism.
Mr president in evaluating his government, read out an external report which is becoming an anthem in President Jonathan's government, "following the rebasing of our economy, every international monetary and ratings agency now acknowledges Nigeria as the largest growing economy in Africa with a Gross Domestic product of $510 billion which also places us as the 26th largest economy in the world".
It was heartbreaking to listen to president Jonathan's speech without acknowledging the late courageous and patriotic heroine Dr Ameyo Stella Adadevoh who prevented a national catastrophe by sacrificing her life for Nigeria to curb Ebola and the Chibok girls controversial adoption still in captivity for more than 170 days.
On the 24th of September 2014 at the World's leader's UN conference, president Jonathan said that Boko Haram insurgents are being sponsored outside Nigeria and called for International support to Countries on the frontline of Terrorism and War, President Jonathan challenged the International community to act now and put a stop to this global menace of terrorism and that the deadly sect has killed 13, 000 Nigerians in the Country's North East zone in the past 5 years.
Back home in Nigeria the two major opposition parties People's Democratic Party (PDP) and All Progressive Congress (APC) have on numerous occasions accused each other of sponsoring insurgency in the country.
Federal government has even said severally they know the Sponsors of Boko haram and will soon publish their names, we have waited for months to see this names published but its not forth coming, now Mr president is telling the World Boko Haram sponsors are outside Nigeria, who is deceiving who? There's more to this Boko Haram than what Federal Government is telling us, Federal Government knows the real sponsors of Boko Haram, they re in their government like president Jonathan once said. The Boko Haram sponsors are yet to be unmasked because if this sponsors are revealed, it will spell doom for the ruling People's Democratic Party in 2015. it is better they manage it like they are doing right now, for their own selfish reasons, by managing it innocent citizens are dying, our children and women are being displaced, our girls are being rapped and kidnapped, soldiers are dying in their numbers, which has led to mutiny and the conviction of 12 soldiers recently for execution.
Last month an Australian negotiator Dr Stephen Davis who had spent four months in North East Nigeria negotiating for the release of the Chibok girls abducted by insurgents April 14th this year, in an exclusive interview with a foreign media, insisted that Boko Haram commanders told him a top CBN official was involved in funding the insurgency in Nigeria. According to Dr Davis one of the biggest suppliers of arms and military uniforms to Boko Haram lives in Egypt and receives money sent by political sponsors, the former Chief of Army Staff Gen. Azubuike Ihejirika and the past governor of Borno State now a Senator, Ali Modu Sheriff were also accused of sponsoring Boko Haram.
With such claim by the Australian negotiator and without concrete defence from the Federal Government to denounce such claims, it shows there's more to Boko Haram and its sponsors than what the Federal Government is telling us.
Another incident that led to suspicion of the Federal Government in the war against terrorism was Mr president Jonathan's security meeting on September 8, 2014 with its Chadian counter part Ali Derby. The pictures of Ali Modi Sheriff, president Jonathan and the president of Chad Idris Derby went viral on internet and the photograph sparked outrage with Nigerians lambasting the president for travelling with Ali Modu Sheriff despite calls for his probe, the authenticity of such meeting was put to questioning.
In a statement the opposition, All Progressive Congress (APC) accused the president of exhibiting a shocking act of indiscretion by hobnobbing with an alleged Boko Haram sponsor, but mr President's Spokesman Reuben Abati in a press release denied the photograph claiming Senator Sheriff was not among the delegates that went to Chad but rather he was in Chad when president Jonathan visited and decided to go the Airport to welcome president Jonathan, the said picture was snapped at Ndjamena Airport not the president of Chad's residence as claimed.
We always pretend to the World that we are fighting and winning the war against terrorism while we have achieved little, whenever it comes to security issues, no one should be trusted nor spared, everybody is a suspect and nobody or group should be exonerated, this issue of main party accusing the opposition of sponsoring Boko Haram and misquote people out of context thereby inciting people for political gains must stop and all the alleged sponsors of Boko Haram insurgents should be exposed and made to face the law, mr President should not ignore the battle against terrorism on the altar of political expediency, we are tired of terrorism and insecurity and nobody or group should be above the law. The earlier we find a solution to this menace as we celebrate our 54th Independence Day Anniversary as a sovereign Nation, the better for us all as a Nation.
Unjoerated Onwukeme an Idealist wrote from Enugu.
[email protected]
Disclaimer:

"The views/contents expressed in this article are the sole responsibility of the author(s) and do not necessarily reflect those of The Nigerian Voice. The Nigerian Voice will not be responsible or liable for any inaccurate or incorrect statements contained in this article."
Articles by Unjoerated Onwukeme