N123B FRAUD: AUDITOR GENERAL DISOWNS MEDIA REPORTS, CLEARS ORONSAYE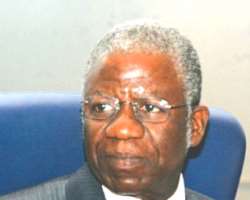 David Olanrewaju
The office of the Auditor General of the Federation has dissociated itself from media reports alleging that his report indicted Nigeria's former head of Service, Mr. Steve Oronsaye in a 123billion Naira fraud.
In a full page disclaimer published on page 28 (ii) of ThisDay; page 51 of The Nation; page 60 of Daily Sun and page 14 of Daily Trust Newspapers of Friday (today), the Auditor General frowned at what he described as malicious and character assassinating publications against the former Head of Service.
"With rude shock and disbelief, our attention was drawn to an online publication by Premium Times of September 15, 2014, with the misleading caption: "Investigation: Auditor General's Report indicts Ex-Head of Service, Oronsaye, for N123 Billion Fraud".
"Paragraph 5 of the said publication alleged that the Auditor-General submitted an audit report, which indicted an ex-Head of the Civil Service of the Federation, Mr. Stephen Oronsaye, for N123 Billion fraud, to the government in 2012, without corresponding action from the Government."
"A similar story was also published on page 12 of ThisDay Newspaper of Tuesday, September 16, 2014 and on Page 5 of Daily Trust newspaper of Wednesday, September 17, 2014."
"These publications, in all ramifications are an embodiment of mischief and misrepresentation of facts of the matter"
"In the light of this ugly development, the Office of the Auditor General for the Federation totally and vehemently dissociates itself from the malicious and character assassinating publications by Premium Times, ThisDay Newspaper and Daily Trust Newspaper and also condemns its intention," the disclaimer reads in part.
Efforts to reach Mr. Oronsaye for comments on his next line of action for the malicious publication proved abortive, as his lines could not be reached.
Sources close to the former Head of Service however revealed that he may be considering dragging the affected newspapers to Court for a multi-billion Naira suit.
Further investigations revealed that the malicious publication may have been sponsored by those opposed to the Bill for the establishment of the Nigeria Financial Intelligence Center being supported by the former Head of Service, in his capacity as Chairman, Presidential Committee on the Financial Action Task Force.
Available information show that the Economic and Financial Crimes Commission-EFCC is the only agency opposed to the Bill, out of over twenty stakeholders.
EFCC sees the NFIC Bill as offensive, as its success amounts to her losing control of the Nigerian Financial Intelligence Unit, which is its highest source of foreign donor support.
All other stakeholders are in total support of an independent Financial Intelligence Center for Nigeria.
Disclaimer:

"The views/contents expressed in this article are the sole responsibility of the author(s) and do not necessarily reflect those of The Nigerian Voice. The Nigerian Voice will not be responsible or liable for any inaccurate or incorrect statements contained in this article."
Articles by Chike Duru