Delta Guber 2015 And The Indomitable Obarisi Omo-Agege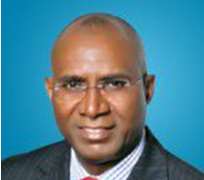 For a long time, I was one of those that was wondering what the Urhobo leaders were afraid of that has prevented them from joining the race for 2015 governorship. This issue perturbed me as I watched candidates from other zones, storm the streets of Delta on their consultation visits to all the twenty-five (25) local government areas (LGAs).
During the senatorial bye-elections, I wrote a piece on the Dilemma of the Urhobos, which was a sequel to my piece on the "Collective Agenda of Urhobos." So last week, when I was informed that Obarisi Ovie Omo-Agege has started consultation, I was delighted, not just as his friend, but as a friend of democracy. Thereafter, I was over-wrought with ambivalence when I started pondering his electability. I went and read my piece from last year before my 3-months sojourn in America and compared it with my article during the Delta-Central senatorial by-election. After that, I decided to look closely at his profile, in comparison to other candidates. I tried not to be biased based on his pedigree and the fact that his father, Justice James Omo-Agege was a close friend of my father, the late Otota of Ughelli, Chief Barr. Ekuogbe Akpodiete. Both distinguished jurists were trailblazers and foremost Urhobo lawyers in the post-independence Nigeria.
Back to Obarisi Ovie Omo-Agege profile. First, his age is an advantage. A governorship aspirant is required to have attained the age of thirty-five years. Obarisi was born on August 3, 1963 in Orogun, in Ughelli North Local Government Area of Delta State. This distinguished international lawyer is 50 years young, meaning he can both relate to our disenfranchised youths and still sit with our elders to move the state forward. This clearly qualifies him as a man of the people.
Last year, some of us felt he was the "shoe-in" candidate for the Delta Central Senatorial seat that became vacant after the death of Senator Pius Ewherido. Although, he did not get the primary ticket from the Peoples Democratic Party (PDP), he showed his sportsmanship by utilizing his own personal resources and structure to deliver the zone for PDP.
For those of us who want a godly leader who is responsibly married, I was refreshed when we sat down one day to eat, and this married father, led us in blessing the meal. I later learnt he was a devout catholic.
I have always been concerned about politicians without the requisite education. Section 177 (d) of the 1999 Federal constitution states that "A person shall be qualified for election to the office of Governor of a State if he has been educated up to at least School Certificate level or its equivalent."
As for Obarisi Omo-Agege, he is not lacking in this regard and can never be accused of forging any certificates as was the case with some politicians. He started out at St. George's Grammar School, Obinomba, where he demonstrated rare diligence, discipline and leadership qualities at this early age. He later moved on to University of Benin, where he bagged a Bachelor of Laws degree in 1985 and was thereafter called to the Nigerian Bar as a Solicitor and Advocate of the Supreme Court of Nigeria the following year. He proceeded to distinguish himself internationally at Tulane University Law School in United States of America with an LL.M (Master of Laws) degree in 2002. Barr. Omo-Agege is definitely an intellectual that should understand the legal nuances of governance.
I am also aware that his Philanthropic gestures have empowered countless Urhobos and Deltans. Ughelli alone is kept beautiful through his foundation. Additionally, I could probably sum up his personal philosophy as: to zealously serve my people with integrity, including selfless and progressive leadership that would turn the people's fortune for good.
I know his vision for Urhobos and all Deltans include rewarding excellence, guaranteeing our well-being, protecting our cherished values; attracting development to our areas; award scholarships; creation of jobs and employment for our teeming youths; revival of moribund industries; attracting private investors and ensuring no one is marginalized.
I have summed up his strengths to include approachability, astute lawyer, experience, respectability, diligence, discipline, Servant-leadership, & pedigree.
I understand that Obarisi has pledged to use his wealth of experience to benefit Deltas as a governor with his pan-Delta agenda. So, what exactly is his wealth of experience? Professionally, he worked at Directorate of Criminal Investigations and Intelligence of the Kwara State Command of the Nigerian Police Force, from 1986 to 1987 as part of his National youth service and thereafter as a lawyer with PAT OKUPA & CO, Benin City (1987-89). where he cut his legal teeth as litigator in private practice over a wide-ranging areas of specialization including criminal defense, corporate banking and commercial litigation. In all of these areas, he acquired appreciable expertise and vast experience. He later became a Partner in AGEGE & CO, Lagos (189-90); Foreign Associate in LAW OFFICES OF CHARLES O. AGEGE, California USA (1990-92); senior partner in AGEGE & ASSOCIATES, California USA (1992-96); and Partner in AGEGE & ESIN (1996-99). He is a seasoned businessman with several companies in his kitty.
Today some politicians look at elections as a do or die affair and perpetually want to remain in office mainly because they do not have a profession to return after office. It makes them desperate and you know desperate men do desperate things. No one can accuse Obarisi Omo-Agege of not having anything else to do except politics. This is refreshing for our democracy.
Politically, he is well experienced. He was a PDP Aspirant, Ughelli Federal Constituency of the House of Representatives in 2002 before he was made Executive Assistant to the Governor of Delta State, Chief James Ibori the following year (2003). In that capacity, he was saddled with responsibility for formulation, implementation, coordination of government policy, monitoring and appraisal of Executive Council decisions to ensure compliance with administration set goals, pre-qualification of and monitoring of state project vendors. He also acted as the Chief Liaison Officer, PDP National/Headquarters and Presidency relations, a position that enabled him to develop a network of contacts and friendship across Nigeria. He moved on to become Commissioner for Special Duties in Delta State in 2005 with the additional responsibility to oversee the privatization program of the state government. He successfully supervised the privatization of African Timber and Plywood in Sapele. As Commissioner for Special Duties, Omo-Agege was credited with the development of a robust and dynamic policy in the area of conflict resolution. His unique ability to adapt to tricky situations manifested in the prompt release of hostages and recovery of large catches of small arms from youths involved in communal conflicts in the state. Also his proven ability to manage and complete projects to the highest standards ensured the successful completion of all projects of the Ibori administration.
In 2006, he threw his hat into the PDP Governorship race and was a formidable candidate. In fact, he was a leading candidate for the People's Democratic Party gubernatorial nomination, securing the highest delegates among the Urhobo aspirants which included Late Senator Pius Ewherido, Chief Charles Obule, Chief O'tega Emerhor, Chief Napoleon Gbinije, Olorogun Kenneth Gbagi and Chief Oscar Ibru. He lost to the current governor, Dr Emmanuel Uduaghan who was subsequently elected governor in 2007.
He became the Secretary to State Government in 2007 and brought an unusual dynamism and development stride to the affairs of Delta State. In his capacity as Secretary to the State Government, he strengthened the office of project monitors that still stands seven years after he left office to ensure full execution of government projects.
Throughout his political life he built up a reputation of looking after the interest of his constituency. In 2002, he presented a powerful position paper on the development of the Urhobo nation. While in government he promoted the Urhobo cause whenever the need arises. He played a major role in the constituency delineation and census of 2006 to ensure that the outcome of the exercise was beneficial to the Urhobo nation. He ensured adequate and strategic representation of the Urhobo nation on the Board and Management of the Delta State Oil Producing Development Commission (DESOPADEC) and other vital Parastatals.
In recognition of his selfless service to humanity in general and the Urhobo nation in particular, Omo-Agege was conferred with numerous traditional titles including the Ugo of Mosogar, Obarisi of Ughelli, Obarisi of Orogun, among others.
He was a Governorship Candidate in 2010 rerun and general elections of 2011. Since we do not necessary want a neophyte in Government House, Asaba, while also making sure that the doors are locked to some people that have kept us in political bondage, Obarisi Omo-Agege is well suited to pilot the affairs of Delta State.
The race for 2015 Delta State Government House has now taken an interesting turn, with the entry of the indomitable Obarisi Ovie Omo-Agege.
*Rev. (Prof.). A.O.A. Akpodiete is a public affairs analyst and writes from Asaba, Delta State. Contact him on 08138391661 or [email protected],
Disclaimer:

"The views/contents expressed in this article are the sole responsibility of

Prof. Alex O. Atawa Akpodiete, Esq.

and do not necessarily reflect those of The Nigerian Voice. The Nigerian Voice will not be responsible or liable for any inaccurate or incorrect statements contained in this article."
Articles by Prof. Alex O. Atawa Akpodiete, Esq.