Abia Counting Its Gains And Losses In Governance By Uche Agoru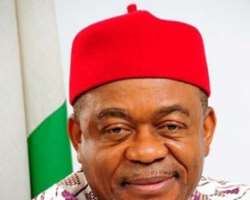 Abia State Government, Governor Theodore Orji
To all Abians its a known fact that from the creation of the state the state has experienced poor leadership most of the leaders we have had are leaders who instead of moving the state forward rather chose to enrich them selves, families and friends most of them drew the state backwards to the extent that we can't point at any reasonable thing they left for its citizens, all the milads that were posted to take care of Abia rather chose to take care of them selves and their pockets.
Ogbonnaya left in a hurry due to a military coup and today we can't point at any thing he did as a Governor then came Orji Uzor Kalu who had all the opportunities in the world to write his name in gold but rather chose to pocket the state and its resources for the period he held sway as the chief executive of this state, the state instead of developing were deteriorating the ambassador newspapers died while sun was was smiling to the bank daily, golden guinea breweries and modern ceramics died while SLOK group was waxing strong Ariaria market instead of developing, was used as the head quarters of bakassi freedom of speech was lost and every body in the state were taxed to maintain bakassi.
Our general hospitals were used as places were corpses of those who were extra judicially killed were dumped, all the state owned ministries were squatting in rented buildings, the state was engaged in an ego war with the federal government which turned the state into a pariah state amongst the comity of States, people were being killed or kidnapped for just talking and politicians were reduced to mere houseboys at nweke street for the sake of getting appointments the list is endless.
Then came T. A Orji whom for the first four years couldn't act in his capacity as a governor because of the over bearing and high handedness of Odiukonamba and OUK and in his second coming he decided to make a difference By first of all liberating Abia from the devilish influence of OUK and Okija politics, the security challenges the state was facing was tackled and brought to an end and today Abians are enjoying them selves without fear if being kidnapped or killed.
This state today can boast of a modern Secretariat were civil servants can work in a serene environment. New and modern markets have been built at Ubani, Ohiya and Ikotekpne roads there by decongesting the once unpleasant traffic situation that we used to experience at the state capital investors are now coming into the state to partner with the state government which will automatically give rise employment for the Abia youths.
New roads have been opened up in rural areas even some villages who were finding it difficult to connect to sister communities can today access those communities with ease our youths are being empowered without turning them to thugs.
In the health sector new health centers have been built and equipped across all the LGA,s in the state and the Abia general hospital at Amachara has been rebuilt and heavily equipped, a new ultra modern diagnostic center has been built in Umuahia and Aba with the cost reduced to the extent that every Abians can afford to be diagnosed and treated no matter your status.
The judiciary which prior to this administration has been sitting in leaking roofs and under the trees are now delivering judgments in a cosy, conducive and well built and designed courts the state never had an entertainment center but today there is a new and ultra mordern conference center with a capacity of 9000 guests almost completed.
Schools are being rehabilitated and new buildings erected with modern laboratories.
The Abia civil servants go home monthly with 20.100.00 naira minimum wage as against the federal govts 18.000.00 naira minimum wage.
Its an open fact that the state never had a govt house from creation and all other leaders never thought it wise to build one but today Ochendo is building a govt house in Abia.
Hotels are springing up in every part of the state and the states IGR is increasing daily due to influx of all these private investments.
The Abia environmental protection agency never had an administrative building of its own despite the huge funds it attracts for the state until Ochendo came in and built a magnificent office complex for the Agency and today you and I had seen the improvement in service delivery as it relates to ASEPA.
In the area of transportation Abia line is now strengthened with new buses thereby forcing the transportation fare down to an affordable rate.
In Agriculture liberation farms has been established in different parts of the state and Abia youths are being sent abroad for training in modern agriculture.
The state govt is today making efforts to build airport and seaports.
I can go on to recount the achievements of this administration which is visible for all to see.
I also know that criticism strengthens governance but while criticising it will only be fair if we can be objective enough to recognise the areas which the government has done well and move away from personalizing issues and name callings.
It will be fair enough if Abians can encourage the govt to to do more and partner with them for more improvement in service delivery and move away from sectionalism so that incoming govt will start from where the present government had stopped.
Long live Abia State
Disclaimer:

"The views/contents expressed in this article are the sole responsibility of the author(s) and do not necessarily reflect those of The Nigerian Voice. The Nigerian Voice will not be responsible or liable for any inaccurate or incorrect statements contained in this article."
Articles by Nnaji Obed Asiegbu