STELLA ODUAH'S INDISCRETION SPAWNS VITRIOLIC ETHNIC EXCHANGES BY FREDRICK NWABUFO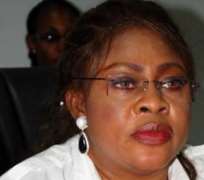 The raging kerfuffle precipitated by the indiscretion of the Minister of Aviation, Stella Oduah in the purchase of two BMW armoured cars of which worth is put at a squinting 255 million naira as pellucidly revealed the canyon of divergences of Nigerians as regards their thinking, biases, dispositions, views and opinions on tenuous issues of national reckoning . To a large extent, the pantomime has expose the discordance of the so called oppressed class in Nigeria; that is, their inability to unite in a noble cause of condemning and ratcheting up pressure on the government for condign actions to be taken against the Minister throws up trenchantly the bric-a-brac of disharmony and conflict of sentiments among the downtrodden in Nigeria.
The disunity among the common people who have been robbed excruciatingly in view of Stella Oduah's perceived banditry has its provenance in tribalism. Nigerians are torn by tribal sentiments and considerations on this gob-smacking issue. A gross percentage of Igbo people see the self-concocted concoction of troubles of Stella Oduah, the Minister of Aviation as a poisonous potion ladled out to the public by the "venomous" Yoruba media in a bid to pull her down and discredit her for the good works she has been doing because she is Igbo. In fact, a good number of Igbo people conceive it as a continuation of the tribal war of contumelies smouldered by Femi Fani Kayode's outburst against the Igbo. Once again, the real issues which are profligacy, extravagance, insensitivity and corruption have taken irrelevant spaces while tribal jingoism is now the main sport. It is now a fratricidal war of verbal torpedoes between the Yoruba , a pockect of other ethnic nationalities,and the Igbo.
Tangentially, on the Yoruba side is a claim that there is a "Biafranization" of Jonathan's government. On the Igbo side is a rigid and fierce opposition of any attempt to run down Igbo officials in Jonathan's administration. So the Igbo-Yoruba conscienceless battle of words and wits continue while critical issues that concern the rabble in both groups are summarily ignored.
Of consequence is the sticky heat that has been generated by Stella Oduah's indiscretion. While some Yoruba people have excoriated the Minister on the pedestal of tribe, saying that she is profligate and extravagant because she is Igbo; it is in the nature of the Igbo to be profligate and extravagant, Some Igbo people have been busy exhuming cases and files of Yoruba persons accused of corruption like Dimeji Bankole, Patricia Eteh and Adenike Grange so as to deliver ferocious counter attacks. It has been a torrent of vitriol, and the main issue has been seemingly stomped.
The unfortunate dimension the smearing scandal of Stella Oduah's "armoured pleasures" has taken is an unsavoury commentary on the national conscience against corruption. If all Nigerians cannot forge a common front against a minatory evil as vile as corruption, then the vaunted fight against it is a mere fah-fee. Nigeria will remain in the thrall of corruption as long as ethnic bias takes precedence over corruption pronged issues that are as putrid as vivified national corruption itself.
Again, the case as shown that when it comes to corruption there is selectivity of ethnicity. In that, Nigerians are wont to condemn corrupt people when such people are not of their extraction, and they defend them if they are of their extraction. Ethnic attachments always suffuse the thinking in corruption categorisations in Nigeria; a situation that has effectuated Stella Oduah to be seen as a victim of tribal antagonism and prejudice by some Igbo persons.
As a matter of fact, Stella Oduah's vulgar purchases smack of corruption, insensitivity, profligacy and extravagance. Her actions should be seen as such. Nigerian "Ethnic warriors" should sheathe their drawn swords and confront the issue for what it is- gross insensitivity, corruption and profligacy of a government official. The outpouring of accumulated vitriol from crimson bile will not bring a lasting solution to the problem of government corruption, careless and senseless spending. It will only divide us more for the vicious rape of the government as a divided people are a conquered people. The barter of ethnic vitriol should cease for a dawning of untainted reason to break down Stellagate.
Fredrick Nwabufo. Email:[email protected] 08167992075
Disclaimer:

"The views/contents expressed in this article are the sole responsibility of

Fredrick Nwabufo

and do not necessarily reflect those of The Nigerian Voice. The Nigerian Voice will not be responsible or liable for any inaccurate or incorrect statements contained in this article."
Articles by Fredrick Nwabufo