June 12 is 7305 days old: Synopsis of an eternal wound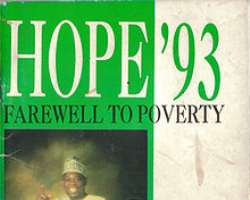 The day was Saturday June 12, week 23 of the year 1993,
the event was the much-awaited presidential election.
Social Democratic Party's Moshood Kashimawo Olawale Abiola on one hand;
National Republican Convention's Bashir Othman Tofa on the other.

A massive turn out of voting peaked months of a glamorous electioneering;
MKO called his Hope '93; Tofa's mantra I remember not.
Buoyed up by a clear weather,
millions on Nigerians from North, South, East and West earnestly rose to the occasion.
In unison, they spoke in one voice lifted and one man above their shoulders.

They were certain of what to expect; eyes set on black and white TV sets,
while ears stretched up to the length of the transistor antenna.
For women: costly shoes were retrieved from the angle of diminutive rooms
…dance rehearsals on already.
For men, liquor and freshly tapped palm wine were placed within reach
…certitude of stupor-drinking was in no doubt.

Hours later voting ended, an official confirmation would not come forth; not a single word
Speculations flew round like missiles in wartime, as tension progressively muster.
"What has befallen us? Individuals asked one another in local dialect.
What could have gone wrong? Our man, a Southern Muslim, seemed to have bagged this one.
He trounced his Northern Muslim opponent right in his Northern state.
He triumphed at the national capital, Abuja; he conquered the military polling stations;
he cleared over two-thirds of the states; nearly all votes swung his way.
This is an unprecedented feat – christening it Historic is sarcasm.
And yes, our people and even the 'White Men' rate it as the freest and fairest ever."

Finally, information springs from the Aso Rock.
The announcer was General Ibrahim Badamosi Babangida, occupier of the seat of power.
The speech he read would mean one thing:
"The election is cancelled", which to the people means, "Our hope is cancelled".
The dancing shoes were threw back in, the liquor and palm wine set aside.
Doom overshadowed the land.

The mighty ones would not heed the voice of majority of the electorate.
Rather they put us through another traumatic era known as General Sani Abacha
MKO went round the globe; "Help me get my stolen mandate", he cried to world heads.

By 1994, daring the odds and consequences, he returned home.
"I am the President of Nigeria" he declared at Epetedo area of Lagos Island.
"What!" Abacha lamented, "Arrest and lock up the bloody civilian", he ordered.
The gun-trotting Sojas wasted no time; the job was done within hours.
MKO's charge was treason.
Four years in solitary confinement, call it insult upon injury.
On surveillance round the clock were more than a dozen sentinels.

Plea by Pope John Paul II, Archbishop Desmond Tutu, and others could not help
And then a lifeline was later tabled:
"Years have gone by, give up the fight and regain your freedom. Oh, whatever your spent, you will get twofold", they said to him.
"No I will not, I am determined to fight to finish", he replied.

Tuesday July 7, week 28 of 1998 AD.,
five years and twenty-five days after his mandate was brazenly seized, he died.
The circumstance surrounding the sudden demise has since not been established.
Some say poison was mixed with the last cup of tea he was served,
others say he was beaten to death.
Shortly before his departure,
an American delegation including today's powerful Susan Rice visited him.
They have maintained sealed lips.

We cannot question the Almighty God,
but we can request answers from human beings.
The questions were asked long ago,
and those who know it entirely responded.
They will not allow us access.

The custodians of evil should not slow down,
we have been hurt so much that hurt can hurt no more.
I find solace in the end of our existence,
in that look we will all give account to how we spent our time here.

To my namesake, Bashorun Moshood Kashimawo Olawale Abiola,
we may never be as generous as you were.
But we are continuing the struggle to ensure that,
those who use our collective wealth to purchase things as cheap as toothpicks
do the right thing for the good of the people you sought to serve.

Continue to rest in peace, the President we never had they never allow us have.
[email protected]
@WaleOdunsi

Disclaimer:

"The views/contents expressed in this article are the sole responsibility of the author(s) and do not necessarily reflect those of The Nigerian Voice. The Nigerian Voice will not be responsible or liable for any inaccurate or incorrect statements contained in this article."
Articles by Wale Odunsi