Would you marry a challenged person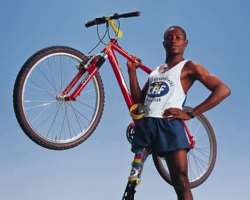 Studies in Ghana indicate that between 5 and 10 per cent of all Ghanaians are physically challenged. We also hear that one in four Ghanaians has a mental challenge of a sort. We are, therefore, talking of millions of Ghanaians with challenges, but who must be in relationships because all human beings are born with instinct to be in a relationship.
The problem is that studies show majority of people are averse to get into a relationship with a challenged person. It is also known that most people would rather be in a relationship with a physically challenged person than with the mentally challenged.
Relationship with a challenged person
Attitude is the underlining problem. It is known that the Ghanaian culture sees the challenged as a bad omen, and sometimes as a visitation of a bad god on the parent or community. The Akans call him "asuo ba" or son of a river god. The physically challenged, from birth, is given little opportunities and motivation to develop fully. Society creates hardships, sometimes deliberately and sometimes unintentionally for the challenged in Ghana.
A family may frown at any attempt by an able-bodied member to marry a challenged person. Many people, therefore, fear opposition to get into relationship involving people with special needs no matter how talented he or she may be. Our negative attitude affects the challenged who develop low self-esteem and less worth, especially in the area of love.
How people see themselves affects how they see others and how others see them.
Will you marry a challenged person?
"Disability is a lifestyle and not a handicap. Attitude is everything. You are only handicapped if you refuse to use your God-given talent. Marriage is, therefore, not a bar to the challenged and being physically challenged is not an obstacle to ambition.
Have you heard of Hellen Keller? She was visually and hearing impaired American, who was trained by a visually impaired woman to speak using tadoma, a method of touching the lips and throat of others as they speak and finger spelling alphabetical characters. Hellen learnt to read English, French, German, Greek and Latin in Braille. She graduated from College Magnus cum laude and became a famous speaker all over America, Europe and Asia, and also authored many books.
God never makes junks. The Akans say "when God makes a visually impaired person, he gives him a stick." The physically challenged has talents to love and be loved.
True love goes beyond physical beauty. It is about identifying a need in someone and feeling privileged to help. Beauty should not come from outward adornment such as braided hair and wearing of gold jewellery, but it should be that of inner self, the unfolding beauty of quiet spirit, which is of great wealth in God's sight.
If you find a physically challenged person you love, go after them. You should, however, be realistic. Appreciate the challenges and your ability to handle them. There are always problems in all relationships and there are solutions to all problems.
Recently, we heard an expatriate married a Ghanaian woman crippled from head to toe. Let your spirit be willing to accept hidden treasures in unlikely places. Go where your heart leads you. That is where you find true love.
Credit: John Boakye (Email: [email protected], 0208181861)
Source: The Mirror