FOOD & DINING IN GHANA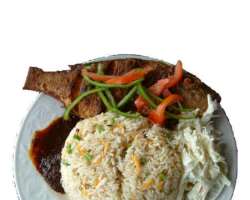 International food is available in most large hotels and many restaurants serve a range of local traditional foods. In Accra there are also restaurants serving Middle Eastern, Chinese, French and other European cuisine.
National specialties
• Kenkey, hot peppers and fried fish, eaten mostly in the Accra region.
• On the coast, prawns and other seafood are popular.
• Akyeke, cassava couscous served with avocado.
• Fufu, pounded cassava beans, yam, plantain or rice, usually accompanies traditional soups (palmnut, groundnut), Kontomere and Okro (stews).
• Fante fante, popular in the central regions is a palm oil stew with small fish.
• Akrantee, bushmeat.
• Green snails.
• Nkontomire, yam leaf soup.
National drinks
• Pito is a beer brewed in the Northern region made from millet.
• Zom koom, toasted millet flour in water.
• Palm wine.
• Coconut juice.
PLACES TO DINE
Tandoor Indian Restaurant
659/1 Angola Street,
Behind State House,
Osu,
Accra
Tel: (233-21) 778760
Email: [email protected]
Yan Can Cook
55B Avenor Link,
North Ind. Area,
Accra
Tel: (233-24) 360395
Fax: (233-21) 779675
Le Bouquet
Off Ring Road,
Osu,
Accra
Tel: (233-21) 772417
Fax: (233-21) 761458
La Chaumiere Restaurant
P.O. Box C2281,
Cantonments,
Accra
Tel: (233-21) 772408 / 772970
Fax: (233-21) 772970
Ristorante Primavera
Labadi Beach Hotel,
Accra
Tel: (233-21) 772501
Hinlone
Labone,
Accra
Tel: (233-21) 772782
Fax: (233-21) 776554
Beverly Hills
Asylum Down,
Accra
Tel: (233-21) 224042
Diplomat
Labadi Beach Hotel,
Accra
Tel: (233-21) 772501
Elbis Restaurant
56/4 South Liberia Road,
Tudu,
Accra
Tel: (233-22) 2718
Makaira
North Labone,
Accra
Tel: (233-21) 778266
Club 400
Ringway estates,
Osu,
Accra
Tel: (233-21) 223723
Tropicana
Sunrise Hotel,
North Ridge,
Accra
Tel: (233-21) 222201
Sole Mio Ristorante
P.O.Box 14992,
Osu,
Tel: (233-21) 784015