Shift 2015 Elections And Fight The Boko Haram War-Group Tells Jonathan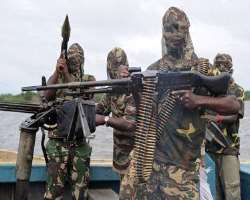 A group, New Foundation of National Understanding (NFNM),which has retired military officer and activists amongst their fold, has called upon Nigeria's President Goodluck Jonathan to postpone the 2015 Presidential elections and prepare for war against agents that wants to invade Southern Nigeria using Boko Haram.
The group alleged that there is a plot by some few disgruntled politician and religious extremists of northern extraction to extend the reign of terror of Boko Haram to the South East, South West and South West, causing disaffection among Igbos and Yorubas while Boko Haram takes over the entire South on a religious agenda. The Group claimed that their petition is already before the President and Commander-in Chief as well as Heads of Security Agencies.
The leader of the group and a retired military officer, Mr Chris Okigbo explained this when he led a delegation on a courtesy call on the Director General of Igbo Mandate Congress (IMC) and chieftain of General Association ofall Igbo Christian Organizations and Ministers(GAAICOM), Rev Obinna Akukwe at Awka during the weekend. Mr Okigbo informed the Igbo Mandate Congress leaders that Boko Haram was meant to be another pogrom against the South in angst over the emergence of Ebele Azikiwe Jonathan as President of Nigeria.
According to Mr Okigbo," There cannot be presidential election when the military wings of enemies of Nigeria are annexing christian territories in the North and gradually coming down south. Their grand design is to gradually occupy territories and prepare for massive invasion of Southern Nigeria". Pointing accusing fingers at key northern politicians as sponsors of Boko Haram, The leader of the group said that "any attempt to assassinate President Jonathan will result to civil war; in fact the President should impose a state of emergency on the nation if the murderers do not stop the killings, and postpone the elections till calm returns"
Mr Okigbo described Obasanjo as a coward who failed to divide Nigeria when he had the opportunity. He said that he was among the people that held several meetings with former President Obasanjo at Otta Farms since 1988 and many times later and discussed on how Nigeria will be divided and when the Ota farmer got the opportunity, he danced to the tune of the North, and mortgaged the future of Southern Nigeria. Speaking on Boko Haram, Mr Okigbo said that "I even discussed the issue of emerging northern terrror group with Obasanjo several times when he was the President, especiallyin 2006 and 2007, and he failed to take precaution until we have this problem of Boko Haram at our hands".
He also claimed that before 2011 when Boko Haram became an albatross, he had already personally informed other key Yoruba leaders like General Akinrinade, Adebayo and Prof Wole Soyinka of the emergence of a northern terror group and their intentions to invade Southern Nigeria on a religionist expansion. Mr Okigbo also claimed that his disagreement with the late Biafra leader in 1982 was because he opposed the attempt by former President Shehu Shagari and his then Political Adviser, Chuba Okadigbo to force Ikemba Nnewi Dim Odumegwu Ojukwu to mortgage Igbo future by joining the northern party called NPN. He named some key Igbo collaborators with the northern establishment to occupy Southern Nigeria and claimed that he was the one that thwarted the earlier plot by the north to invade Benin and Yoruba states in 1983 a fact he claimed Obasanjo and Ojukwu had sufficient intelligence on.
Mr Okigbo told Rev Akukwe that he had discussed this issue with key Igbo leaders and that soon a public position will be taken on the development. He asked Rev Akukwe to ''use his influence as a stakeholder among the Christian Community in the South East especially CAN and PFN to bring this issue to the knowledge of church leaders'' In his response the DG of Igbo Mandate Congress lamented the dearth of Igbo leadership after the demise of Ojukwu and according to him " at this juncture when charlatans have taken over Igbo leadership, the absense of Ikemba is greatly felt''
He begged the group not to ''disrupt elections in 2015 and play into the hands of looters of government treasury whose incompetence is glaring ''and promised to set up a study group over the weighty issues contained in the petition and forward its findings to key church leaders and Igbo political figures. He asked Mr Okigbo and group to exercise restraint as God has not finished with a united Nigeria yet.
Commenting on the matter, the Assistant Secretary General of Ohanaeze Ndigbo , Barrister Emejulu Okpalaukwu said that Ohanaeze Ndigbo leadership is aware of the petitions and documents and will only comment on the issues when the need arises, He advised Igbo leaders to shine their eyes so that events of the past do not repeat again.
Disclaimer:

"The views/contents expressed in this article are the sole responsibility of the author(s) and do not necessarily reflect those of The Nigerian Voice. The Nigerian Voice will not be responsible or liable for any inaccurate or incorrect statements contained in this article."
Articles by Obinna Akukwe