BY IREYIMIKA OYEGBAMI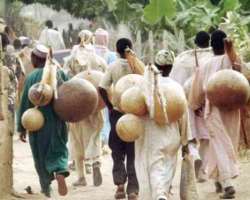 'Going to Argungun' by Nathaniel Ajibola won during last year's competition. Photo: OYASAF
Foundation invites entries for photo competition
The Omooba Yemisi Adedoyin Shyllon Art Foundation (OYASAF) has invited entries for its annual photo competition. The contest, open to professional and amateur photographers, is to create a platform for the development of photography as an art medium in Nigeria.
Photographs which promote the tradition and cultures of Africa, but specifically Nigeria, are what the organisers want.
At a press conference on Wednesday, March 17, patron of OYASAF, Yemisi Shyllon, explained why the foundation introduced the competition. He said it is to unite photographers and aid them in networking. The competition, he added, will help build a photography bank on the arts, people, crafts, and customs of Africa and complement the work of OYASAF as a pioneer private art and antiques centre.
Areas of interest
Shyllon, one of Nigeria's major art collectors, also affirmed that photography has taken a prime position in the creative arts in the country. He said focal areas of entries include, but are not limited to, head attires, dressing and traditional attires, body adornment and traditional dances and festivals. Other areas of interest are royalty and its paraphernalia, musicians, traditional craftsmen, traditional customs and portraits of faces across Africa.
Submission of entries is open till June 15, 2010 and will lead to a photography exhibition. The 30 final best entries will be showcased at the OYASAF Annual Photo Exhibition which holds on October 1 every year.
Right medium
At the conference, attended by Sidney Akaphiare, Nathaniel Ajibola, Jude Anogwhi, Ariyo Oguntimeyin and other winners of the last completion, Akaphiare, chair of the team organising this year's contest, stated that there is a need for photojournalists to showcase their works. He added that the OYASAF competition is the right medium for them.
Akaphiare explained that nearly 16,000 images on Nigeria are stored in America's Smithsonian Institute while the National Archives of Nigeria can only boast of about 300images. 'We need images from across Nigeria to build a worthy photo banks and then we will stop borrowing from the Smithsonian Institute,' he said.
Last year's winning photos were displayed on the grounds of the OYASAF premises for viewing after the conference while the photographers discussed their works.
Some members of the media will be part of the jury to select the initial 15 works out of which the OYASAF jury will select the final five.
Submission of entries is open online until June 15. Along with the completed application forms obtainable at www.oyasaf.org, interested contestants are to send not more than five photos each to [email protected] on a JPEG format.
Copies of selected works will thereafter require physical delivery to the foundation.
The competition carries a cash prize of N150, 000, N100, 000 and N50, 000 for the overall three winners. There will be consolation prizes of photo printers and flash drives for other participants.