Winner of APO Invitation to AfricaCom 2012 Revealed
John Churu from Botswana wins APO invitation to participate in the AfricaCom 2012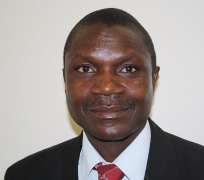 DAKAR, Sénégal, October 1, 2012/African Press Organization (APO)/ -- APO today announced that ICT journalist John Churu from Botswana won APO invitation to participate in the AfricaCom 2012, the premier Pan-African communications event, taking place in Cape Town, South Africa, from 13 to 15 November 2012.
Photo John Churu: http://www.photos.apo-opa.com/plog-content/images/apo/photos/john-churu.jpg
APO will offer transport, accommodation and perdiem for Churu to travel to Cape Town and cover the entire event.
For three years, Churu has been Botswana Bureau Chief for Biztechafrica.com (http://www.biztechafrica.com) and has written extensively on ICT issues.
"We are delighted for John and hope that this experience at the AfricaCom 2012 will benefit not only him, but also Biztechafrica.com and its readers", said Eloïne Barry, APO Executive Director.
Churu has written for the Sunday Tribune and Mmegi Newspapers in Botswana. He is a member of the Botswana Editors' Forum.
More information about AfricaCom 2012: http://africa.comworldseries.com
Media contact:
Aïssatou Diallo
+41 22 534 96 97
About APO
The African Press Organization (APO) (http://www.apo-opa.org) is the leading press release wire in Africa, and the global leader in media relations related to Africa.
With headquarters in Dakar, Senegal, APO owns a media database of over 25,000 contacts and the main Africa-related news online community.
It offers a complete range of services such as press releases wire and monitoring services, online press conferences, interactive webcasts, media interactions, strategic advice, public diplomacy, government relations, and events promotion. To know more please visit, http://www.apo-opa.org.