Bodies Of About 50 Fresh Plateau Killing Victims Discovered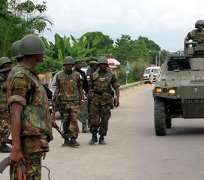 JOS, July 08, (THEWILL) – The bodies of at least 50 people who were burnt to death in the house of a pastor of the Church of Christ in Nigeria (COCIN) in Matse village, Riyom Local Government Area of Plateau State, have been discovered.
There were conflicting reports on the circumstances of the death of the victims, most of whom were women, children and old people.
An account has it that they ran into the church house for safety after learning of Saturday morning's massacre in Barakin Ladi Local Government, but their assailants followed them to their hiding and set the house ablaze. They were also said to have prevented the victims from escaping by standing at the exit and gunning down anyone who attempted it.
The Police has been involved in the evacuation of women, children and the aged from the villages after the attackers threatened more killings.
Meanwhile, the Special Task Force (STF) has said it killed 21 of the gunmen in a shootout but lost two of its men. Its spokesman, Capt Salihu Mustapha, confirmed that the attackers were heavily armed with different assault uniforms bulletproof vests.
Lomang also confirmed the death in the church house, saying the victims were holed up in the church before they were spotted by the hoodlums.