THINGS FALL APART AS NFF DISMISS SAINTFELT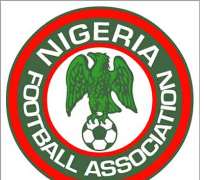 Nigeria's Super Eagles technical director Tom Saintfeit has expressed his suprise at news that the Minister of Sports Bolaji Abdullahi instructed the NFF not to hire a technical director.
Saintfelt has reiterated that he has a valid agreement with the NFF and that he had already embarked on organising the structures and plans for development .
" I am surprised about the news that the Minister of sport decided that a foreign technical director was not needed. I had an agreement with the Nigerian Football federation, spent 3 months waiting, started already to make and organise structures as well as plans for development"
"In this period I got several offers of countries and clubs, even who play Europa League football and I said no to them because of the deal with Nigeria"
"The fact that they see me as a foreigner hurts, I am an African, my fiancée is African, I have lived the last 4 years fulltime in Africa, I know and love Africa, and I am there to help the development of football. I am not one of these European coaches who has no future in Europe and come to Africa, I am in Africa by choice, and my goal to be further successful in this beautiful football loving continent.
I have my UEFA Pro License degree, a lot of experience and a good record in Africa, I want to work soon again in Africa".Saintfelt told SuperSport.com
About Nigeria's Super Eagles ,Saintfelt has encouraging words "they are a powerhouse in football, I still believe they can become the first African World Champion and wish them good luck"
Proded to reveal if he would make a comeback when called upon in the future Saintfelt was categorical "If they ask me again in the future? He posed I am convinced I am the right man for Nigeria, so if the chance comes in the future again, why not! I went to Nigeria to bring the people who love football the glory days of the '90's back, that was my goal and ambition, they deserve that, but sadly enough other people decided that I cant fulfil my duty. Now I want to have soon a new task, in Africa, that's my home"he added.
Saintfelt was appointed in March on his new post and he has in the past handled Namibia,Zimbabwe and Ethiopia in Africa.