Boko Haram Claims 'God-Given' Victory In Bauchi Church Attack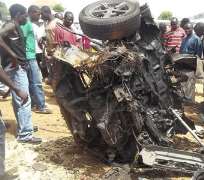 SAN FRANCISCO, June 04, (THEWILL) – Boko Haram has claimed responsibility for Sunday's suicide car-bombing of the Living Faith Church in Yelwa, on the outskirts of the north-eastern state of Bauchi, which killed at least 15 people.
The suicide bomber drove an explosives-laden car into the church forcing himself past a checkpoint and ramming it into the church to cause an explosion that killed tens of Sunday-morning worshippers and injured many more.'
"We thank God for giving us victory," Boko Haram said in an email undersigned by its spokesman, Abu Qaqa. "We successfully carried out a suicide bombing on a church at Yelwa in Bauchi state."
In the statement, the group restated its earlier threat to attack media houses, if anything untrue is written about its activities.
Boko Haram's Monday statement comes as something of a fait accompli, as natural suspicion at once fell on the predominantly northern Islamist sect following its trademark attack on government officials, education institution and Christians by bombing and shooting victims.
For the past two years, it has been battling the federal government in its bid to enthrone Islamic Sharia Law all over the country's multi-religious setting, exterminate all forms of Western education, and secure the release of its members across Nigerian prisons.