KESHI EXPLAINS FIGHT IN EAGLES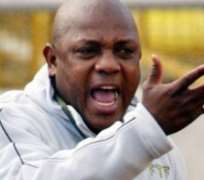 By Onochie Anibeze
Some staff of the senior national team have been telling Stephen Keshi their observation in the past two days.
Ike Uche's attitude in training has changed.  The Nigerian striker who plies his trade in Spain, they say, puts on a stronger character, fights and struggles in training more than ever before.
Some of these staff have been with the na tional team for long, dating back to the time of Berti Vogts.
'Uche has never been like this,' they told Keshi, adding 'before now, he was one of the big boys in camp and never showed the kind of seriousness that we are witnessing now.'
Uche was apparently compelled to change following what he saw of others in camp and the competition now posed by the home-based Eagles.
Keshi commented on this yesterday: 'This is what we want. The national team must be competitive. They are all fighting to be in the team. Sometimes they overdo it and I always calm them down to avoid injuries and also to make them play their normal game and not to impress anybody because when they play to impress in training something different happens in a match situation. But I like what is happening. Players must be hungry for the national team. Clemens Westerhof did it here and it worked. We are doing the same thing and I know that it will work. Building a team takes time. That's why I can't invite everybody at the same time. Any person who lacks the commitment and who doesn't show hunger  for the national team will be left out even if people see him as a super star. The team we will field against Namibia is shaping up and we'll get it right before Sunday.'
After Westerhof used home-based players in the Algiers '90 Nations Cup and won a silver many of the top Europe-based players had to struggle to return to the team and the competition to win a shirt in Eagles marked one of the turning points in the Nigeria's football.