Salami Is Confused - PDP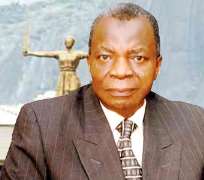 SAN FRANCISCO, May 27, (THEWILL) - The South West chapter of the Peoples Democratic Party (PDP) has asked suspended President of the Court of Appeal, Justice Ayo Salami to calm down and decide if the president or the National Judicial Council (NJC) is his employer.
In a statement by its zonal publicity secretary, Hon. Kayode Babade, PDP said the call became necessary following reports quoting him as saying that the president had no power over his job even after he (Salami) had deposed to an affidavit where he said the president and not the NJC was constitutionally empowered to sanction him.
The party said Salami's unstable position on who his employer is between the president and the NJC had exposed the reason why the Court of Appeal under him gave conflicting judgements on cases of similar facts.
"On Monday, February 13, 2012, in a motion on notice brought pursuant to section 295 (2) of the 1999 Constitution, Salami, through his counsel, Chief Akinlolu Olujinmi (SAN) claimed that NJC had no power to appoint, suspend or reinstate him, since he was not an employee of the council," the statement recalled. "He noted that NJC's involvement in his appointment was simply to recommend, adding that his salary was determined by an Act of the National Assembly.
The statement recollected that Salami had asked the Court of Appeal to determine, among other issues, 'whether having regard to the provisions of Section 238, 318 and paragraphs 13 and 21 of Part 1 of the Third Schedule to the 1999 Constitution, the plaintiff, who was appointed to a judicial office as President of the Court of Appeal under extant constitutional arrangements designed to secure the independence of the holder of a judicial office is subject of employer-employee relationship with the 1st defendant (NJC.'
PDP said it was comical and utterly embarrassing to note that the same Salami that repudiated the NJC just three months ago is now saying, through his lawyer, that the NJC is his employer.
"On Friday, May 25, 2012, Justice Salami declared that it was only the NJC, which suspended him, that could reinstate him to the office. He said that the letter written to President Jonathan by NJC reinstating him was only to inform him of its fresh position since the earlier decision to suspend him was also communicated to him."
"You cannot give what you do not have. Section 238 (4) and (5) of the 1999 Constitution does not give Mr. President powers to suspend from office and can therefore not suspend or recall a judicial officer suspended by NJC," his lead counsel, Chief Akinlolu Olujinmi (SAN) was quoted as saying.
"What are we to believe now? What Salami told the court or what his lawyer told the press? We now understand why the Court of Appeal under him gave conflicting verdicts on cases of similar facts," PDP's statement continued.
"And the confusion that permeated the Court of Appeal is responsible for a situation where today, no one is sure of the judicial precedence to follow in respect of election matters, the saving grace now being the opportunity offered by the Electoral Act, 2010 for the Supreme Court to clear the mess created by Salami in the Appeal Court by setting the precedences straight."