Health warning over water coolers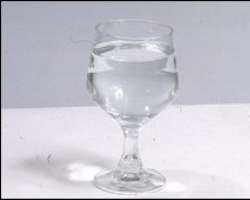 Bacteria types known to cause illness were found in the water
Dirty water coolers may be putting people's health at risk, a consumer watchdog has warned.
Consumer Focus Scotland said 23 out of 87 samples from dispensers in Edinburgh and the Lothian and Borders region showed bacterial contamination.
Coolers in leisure centres, offices, care homes and schools were among those to fail the tests.
The watchdog says some failed because of bacterial contamination and it wants the safety rules tightened up.
The survey by environmental health officers showed nine out of the 52 samples from plumbed-in coolers and 14 out of the 35 from bottle-supplied coolers failed because of bacterial contamination.
Consumer Focus said the types of bacteria found had the potential to cause illness among the frail or those who were already suffering ill-health.
'Low priority'
Mary Lawton, from Consumer Focus Scotland, said a review of the law governing the quality of water from coolers was needed.
"While there are regulations for bottled water, these are applicable at time of bottling and there is no legislation specifically for plumbed-in water coolers," she said.
"Ultimately these findings suggest that the cleanliness of water coolers has become a low priority for some organisations who have installed them.
"The time is right for an awareness campaign, not just to get organisations to make sure coolers on their premises are cleaned and maintained regularly but also to get people to use them in such a way that they don't contaminate them for the next person."
In 14 samples, scientists found coliforms, bacteria of soil and gut origin, which may indicate faecal contamination.
Some of the bacteria types found suggested there had been cross contamination, with someone perhaps drinking directly from the tap or touching it with a saliva-tainted bottle.
Other types of bacteria found suggested there was a problem with the cleaning and maintenance of the pipe work.
Consumer Focus recommended the exterior of water coolers should be cleaned once a week.
It said bottle-supplied machines should be cleaned internally every three months, while plumbed-in versions should have their filters changed every six months.
BBC