Subsidy Probe: Farouk Lawan Committee Submits Report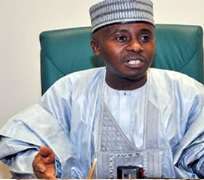 ABUJA, April 18, (THEWILL) - At last, the Hon Farouk Lawan led House ad hoc committee on the subsidy regime management wednesday morning submitted its report on the floor of the chambers.
The House is to commence consideration of the report next Tuesday.
The failure of the committee to submit the report on Tuesday as anticipated by stakeholders had fueled speculations that the leadership of the House may have caved into tremendous pressures from interests to abandon the report.
Recall that before the House proceeded on Easter break, the chairman had announced on the floor that the report was ready for submission brandishing a draft copy.
But when the House resumed from its two-week recess Tuesday, the issue was not even mentioned at the plenary just as the chairman, Hon. Farouk Lawan was conspicuously absent in the chambers.
On Tuesday, several local newspapers reported that 69 oil companies were indicted in the ad hoc committee for embezzling over N241billion of subsidy funds.
Lawan had on several occasions said the committee was under pressure to compromise on its assignment.