3 Suspected BH Terrorists Killed In Kano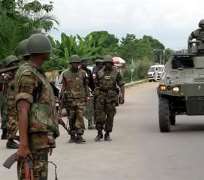 SAN FRANCISCO, April 04, (THEWILL) – Three suspected members of the Boko Haram were killed on Tuesday night by soldiers attached to the Joint Military Task Force during a gunfight in Kano metropolis.
The yet to be identified gunmen were killed at a military checkpoint as they attempted to flee with a luxury vehicle they had allegedly stolen from its owner. The army said they planned to use the vehicle for a possible bomb attack in the city during the Easter celebrations.
Army spokesman, Lt Ikediche Iweha told journalists during a briefing that the JTF received a distress call that a vehicle had been stolen during rush hour traffic, which prompted soldiers to build a ring around the location where the robbery had occurred.
"We immediately formed a ring round the radius where the incident happened putting the security agents in the affected areas on red alert to block the escape routes and the strategy paid off when the gunmen arrived in one of the checkpoints and resolved to combat their way through and unfortunately they were killed," Lt Iweha stated, adding, "It is also in line with available intelligence to the fact that criminal terrorist elements are going about desperately looking for specific vehicles to be used for suicide bombing mission in Kano metropolis.
The army said it recovered two AK47 Riffles, one pistol and another locally fabricated short gun and 53 rounds of bullets after a search on the vehicle.
Lt. Iweha urged residents to be vigilant and report anything suspicious to security agencies in the state.
The Boko Haram, a radical Islamic group has claimed responsibility for several deadly attacks in the north where it is based. More than 2000 persons have died since the group began its campaign against the Nigerian state.
Several security analysts believe the group had received training in combat from Al Shabaab in Somalia and Al-Qaeda in the north of Africa.