HARRY MOSCO DIED POOR! – EVICTED FROM HOME, ABANDONED BY FAMILY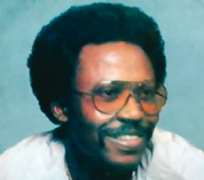 The truth has emerged that despite the fortune he made as a member of '70s/80s band, The Funkies, pop legend, Harry Mosco Agada, died poor and broken-hearted. And what's more, a top politician snatched his lovely wife, Edugie, and his immediate family abandoned him.
According to an insider who spoke to Off The Stage, Mosco's problems began after he lost his wife to Imo State politician, Arthur Nzeribe. The source who spoke on grounds of anonymity says: 'Harry died a long time ago, long before the doctors pronounced him dead in Egypt last week. He died the day Arthur Nzeribe took his wife, Edugie. He loved her so much and he never recovered from the loss.
'When a man loses his lovely wife, his life can never be the same again. That was the case with Harry Mosco; he died the day Edugie dumped him for Nzeribe.'
According to the source, before the pair got married, he and another highlife musician who is an indigene of Edo State, Edugie's state of origin and who has since embraced Christ, had advised Mosco in London not to marry her but his mind was made and there was no stopping him.
The source says the marriage had scarcely produced two kids when Nzeribe stepped into the picture and the pair developed irreconcilable differences, and the marriage crashed! 'You know, they met when Harry Mosco was a star. But stardom doesn't last forever. After two kids, Chike and Ada, the marriage took a negative turn and the pair parted ways for good. It was a no love lost situation between them. Mosco was so broke he couldn't afford to send his kids to school so, when they parted ways he couldn't stop Edugie from taking custody of the kids but he still tried to play the role of a father but the woman made sure the kids never got to see their father again thus depriving Mosco the joy of watching his kids grow.'
Things got so rough for the music star; he couldn't afford to pay his rent and was evicted from his home located at Aba Johnston Crescent, Adeniyi Jones, Lagos.
The source further says: 'The day he was evicted was the darkest day of his life. When he was thrown out of that apartment at Adeniyi Jones, he was totally shattered and his world came crashing like a pack of dominos. Imagine a man of his caliber who has seen and done it all suddenly having to relocate to a ghetto like Akute, that was a crushing experience to him.'
According to the insider, on a couple of occasions he had even attempted a musical comeback hoping to remake the magic of the '70s that transformed him into one of Nigeria's most sought after musicians with hit tracks like Sugar Cane Baby and Country Boy, however, the attempts failed.
The insider added thus: 'After he moved from upscale Adeniyi Jones, his music studio business crashed and he lost everything. At Akute, he was living from hand to mouth and on good will. He had a relative, Paul, who was always by his side but when Paul passed on, Mosco was left alone, and totally forgotten. It was during this period that he developed diabetes and chronic arthritis. For years, Mosco struggled to manage it but he just didn't have the funds and he was such a proud man, he couldn't go out begging for money.'
The source revealed that at the time, those in the know had expected that Edugie, who is now the Chairman of Oguta Local Government Area in Imo State would have come to his rescue but she did not.
'Like they say, blood is thicker than water,' said the source, 'his son, Chike, finally came to his rescue a few years ago. Chike, who studied Law in the UK, had been trying to contact his father for a couple of years and had traced him to his Akute home where they had a tearful reunion. He was so glad to see his dad. He instantly gave him his car, a BMW, which his mum bought for him. He couldn't stand by and watch his dad suffer so much. That was the car he drove until his death.
'However, it was already too late. Despite serious medical attention, his health continued to deteriorate. Eventually, it was Chike that flew him to Egypt where he finally died. Harry Mosco's last years were very painful. All through his life, his daughter, Ada snubbed him and he just couldn't come to terms with the rejection,' the source concluded.
Legendary Harry Mosco will be laid to rest next weekend in Nsuka.