Arbitrary Air Fares: Mark Accuses NCAA, NAMA, FAAN Of Complicity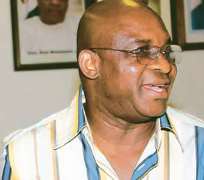 ABUJA, March 28, (THEWILL) - Regulatory agencies in the aviation sector on Wednesday came under the hammer of the Senate, whose president, David Mark accused them of colluding with foreign airlines, such as British Airways and Virgin Atlantic, to fix arbitrary high prices in Nigeria — a situation that has cost the federal government some N3.7 billion in recent times.
The regulatory agencies in the aviation industry are Federal Airport Authority of Nigeria (FAAN), Nigeria Civil Aviation Authority (NCAA), and National Airspace Management Agency (NAMA).
Speaking at the plenary after a motion, Violation of Aviation Laws and Practices by Foreign Airlines in Nigeria, was brought forward by Senator Hope Uzodinma, Mark described the arbitrary price charged by British Airways and Virgin Atlantic as exploitative and unreasonable.
The motion also condemned the huge disparity in air charges paid by air travellers in Nigeria and those in other African countries.
"The prices given are completely out of range, unreasonable and exploitative. Nobody should tell us to sit here without doing anything because Nigerians are willing to pay," he remarked. "Our regulatory agencies have done absolutely nothing. In fact, they are part of the problem because they have been colluding with them otherwise they would have been the ones to raise the issue. They have watched helplessly when they are the ones who ought to have forced British Airways to look at what they are doing."
Mark recommended a review of Civil Aviation Act 2006 because it does not stipulate reprimand for persons who flaunt aviation laws, and mandated the Committee on Aviation to investigate all issues relating to compliance and other unwholesome activities by foreign airlines.
In his motion, Sen. Uzodinma alleged that the conduct of the British Airways and Virgin Atlantic represents loss of revenue accruable to government from the statutory five per cent ticket sales charge to the tune of N3.7 Billion, in addition to huge financial losses to travel agencies and Nigerian travellers.
"The first class Lagos-London return fare is $10,816 and Abuja-London return flight is $10,144 whereas the same booking for passenger on the Accra-London route is $4, 798 while business class Lagos-London return fare is $7,370. On Accra-London route it is $4, 098," he observed. "The return economy ticket from London-New York is $625, London-Dallas $787, London-Florida $730, and London-Atlanta $772. These routes are nine-hour flights minimum while the cheapest economy class return ticket from Abuja-London, which is six hours, amounts to $1200."
He expressed worry that most Nigerian passengers now travel to London through Accra, a development that portends serious economic losses for the country.
Other senators who spoke deplored the exorbitant prices and urged the federal government to mandate public office holders, who account for 80 percent patronage of the foreign airlines, to patronise Nigerian airlines.
Sen. Enyinnaya Abaribe complained of economic downturn caused by the pricing advocated the adoption of "economic nationalism" in dealing with the situation.
Sen. Uche Chukwumerije described it as discriminatory, provocative and neo-colonialist; while Sen. Abubakar Gobir called for payment of compensation to affected Nigerian passengers.