GAYA, SIASIA TO MEDIATE IN OBASANJO, AFE BABALOLA DUEL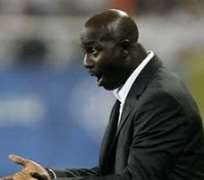 Super Eagles' former Coach, Samson Siasia and House Committee Chairman of Sports, Hon. Godfrey Ali Gaiya, would storm Ado-Ekiti, on Thursday to witness the final of the University Sports League (USL) organised football competition slated for the Afe Babalola University football pitch, Ado Ekiti.
The two universities that qualified for the final from the eight teams that participated in the football competition are: Afe Babalola University, Ado-Ekiti (ABUAD) and Bells University owned by former President of Nigeria, Chief Olusegun Obasanjo.
The President of the USL, Emmanuel Omijeh, disclosed that 'In the USL Founder's week tournament, four team sports were engaged namely, Football, Basketball, volleyball and Lawn Tennis doubles event. The grand finale would then come up in Ado-Ekiti Thursday'.
Omijeh also said that 'the USL short term strategy is to create eight clubs in any participating university and use the structure to imbibe sporting culture in the university.
The final match is a football match and would be played on Thursday at the Afe Babalola University football pitch, Ado Ekiti. Siasia, however, commended the ingenuity of Omijeh for promoting sports in the universities, adding that it was from the tertiary institutions that produced the great athletes in sports and footballers in the past.
'I sincerely commend the efforts of Emmanuel Omijeh, whom I knew for some years now and I could attest to the fact that he is passionate about sports in general and football in particular. I am an advocate of going back to the schools to develop our football and other sports. So, I am in total support of the University Sports League which I believe would help sports development and growth in the country', Siasia who has been appointed to coach in Indian league revealed. Hon. Gaiya had told Omijeh when the latter visited him in his office that he was having that programme of going back to schools and grassroots to develop sports in the country.