WHAT'S WITH EGHES EYIEYEN AND MALLAM SANUSI LAMIDO SANUSI? THE LIMITS OF PSEUDO-INTELLECTION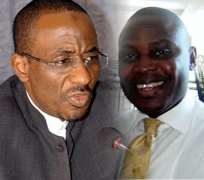 The interconnectedness that trailed the advent and subsequent popularization of internet in Nigeria changed the face of public commentary in the largest black nation. In days of yore, before a piece of writing made its way into public space through newspaper, the only available medium then, the editors subjected it to thorough professional scrutiny for intellectual rigour, content integrity and objectivity. In the same vein, feedbacks to an opinion, if it came at all, took so long that they may be inherently discouraging to start. This was the case in the formative years of public commentary in Nigeria. I sometimes imagine how the Anthony Enahoros, Babatunde Joses, Alade Odunewus, Segun Osobas, Felix Adenaikes, and other newspapermen of old went about their trade, when there was no email or short message service.
Today, thanks to the internet and its newest baby, named New Media, anybody can write just about anything, formally or informally, and make it available for public consumption. Reactions can also begin to flood in immediately. Bad as things have gone, the vast majority of press editors still do their work of trashing some of those ill-written articles in editorial bins, but with no such censorship in the blogosphere (made up of blogging sites, news sites, facebook, twitter, etc), it has become the platform for venting and vindictiveness via malicious write-ups by Nigeria's legion of pseudo-intellectuals who hide under the garb of public affairs commentary to spread hate and division.
One of such articles was that written recently by Mr Eghes Eyieyen, an Accountant, consultant and self-styled 'apostle in the market place', titled "Mallam Sanusi Lamido Sanusi, Boko Haram and Religious Extremism". I bumped into the article as I surfed the internet and my first reaction was that it would never have passed the publishability test of any credible newspaper, if for nothing else, for the glaring falsehoods and extremely purile analyses and conclusions. But alas, the article is available in his blog (www.eghes.blogspot.com) and lifted by other similar blogs for public consumption.
As a declaration, the writer of that article is not an unknown person to me. I first came across him and his activities in the cyberspace mid last year via a conversation on the Facebook wall of a popular columnist with a leading Nigerian Business daily, whom I used to respect, until he too turned out, via his comments on facebook and other informal media, to be a closet bigotry. Not being the one to keep quiet in the face of evidently misleading and bigoted comments, I have had a number of exchanges with Eyieyen in the past on the Facebook wall of the columnist mutual-friend, most of which border on his penchant for unleashing hate-filled attacks, at the drop of a hat, on the personality of Mr Lamido Sanusi, Governor of the Central Bank of Nigeria, the same thing he has done in his latest commentary. I have to say to this time around, he has taken his the level of vitriol a step too far.
The article started with a copious quoting of Mr Sanusi's Financial Times interview, where he (Sanusi) attributed rising violence in the northern part of the country (as well as that of Niger Delta before it) to poverty and flaws in Revenue allocation yardsticks in the country, and end with Eyieyen concluding/alleging, rather staggeringly, of Sanusi's complicity in the religious crises that rocked Kano in the early to mid-90s and the current Boko Haram. If Eyieyen had restricted his criticism only to Sanusi's comment on the poverty-violence causal relationship, I would not have written this article, because I also believe that the CBN boss needed not say that, even if he was right, given the current tension in the land. That poverty bears relationship with violence is indisputable. Even with exceptions like the Farouk Muttallab's misguided act, it is well-known is that most of the poorest regions of the world are also violence-ridden. Dr AbdulSalam Ajetunmobi, a University of Portsmouth law teacher, wrote in his article in The Punch (February 3, 2012) that, "In truth, poverty can certainly fuel violence. For example, most countries that are struck by economic destitution often experience political violence. From Liberia and Sierra Leone to Angola and the Democratic Republic of Congo, there are plenty of examples to draw on the causal relationship between poverty and violence. To consider a different set of events, it would be hard to dismiss the argument that the outbursts of violence in the United Kingdom in August 2011 had nothing to do with the economic inequality and social deprivation faced by the youths living in London and other big cities." This notwithstanding, in the case of Boko Haram, I personally hold that poverty only fueled it by providing, for free, an army of illiterate, easily brainwashable youth, with a misinterpretation of religious texts by the group's founders as a root cause. Also, Sanusi assumed, wrongly in my opinion, that if more funds are available for these northern governments, it will trickle down to the downtrodden masses, whereas history has shown us that this will not happen because the governors will only have more money to divert to private coffers.
But I take issue with Eyieyen's overtly-biased hate-filled diatribe, masquerading as intellectual commentary, filled with inuendoes and tenuous conclusions, at best, in a vile personal attack on the CBN governor. Having followed Eyieyen's activities on Facebook for some time, this is not surprising. Either due to complex or intellectual challenge or both, he cannot make three postings without bringing Sanusi into the matter, no matter how far off the topic on the table is, an observation equally shared by one Celestine Mel, another mutual Friend on Zuckerberg's invention. That Eyieyen has a personal axe to grind with the CBN boss is now all too predictable, thus diminishing the credibility of his commentaries.
In his latest piece, Eghes brought to notice that "Mr Sanusi was once detained in a Sokoto prison by General Sani Abacha for complicity in a religious violence in Kano in the '90s". Therefore, Eghes concludes, "Sanusi is a member of Boko Haram who should not only be relieved of his job but also be tried". This is the weightiest of the series of strings Eyieyen and his co-travellers have been pulling to bring down the CBN boss since the Islamic banking debate came up last year.
Being a public intellectual and an outspoken activist since his university days, Sanusi's antecedents are all available in the public space. But pray tell, if a confrontation with Abacha is a criterion for criminalizing anyone, then every respected Nigerian activist, from Wole Soyinka to Gani Fawehinmi to even Femi Falana, who were detained by Abacha for obviously trumped up charges, will be painted with the same Eyieyen brush as "criminals not befitting to hold public office". In fact it has become fad in Nigeria today that the criterion for knowing true progressives is their activities under the Abacha and IBB regimes. And it should come as no surprise to the millions of Nigerians who know Sanusi to be a fearless progressive who never fails to tell truth to power, that he would have spoken against Abacha's despotic regime. It is also worth reminding the reader, at this juncture, that Sanusi was part of the pro-democracy activists of the early '90s that risked their lives to speak against the continuous incarceration of Abiola and he worked with the likes of Femi Falana and Wole Soyinka in various pro-democracy movements, including being a director in Radio Kudirat, the underground platform for fighting the tyrannical Abacha then. Sanusi is no saint, but such is his impeccable pedigree in progressive politics that it is unfortunate to see all manner of vested-interest charlatans determined to spoil the man's name and character.
It seems that Eghes Eyieyen's problem with Sanusi, like that of many other critics (except the few like Henry Boyo and Ijeoma Nwogwugwu, who sometimes disagree with Sanusi purely on economic facts without the pettiness and bigotry of lacing religion and ethnicity into the matter), is the man's identification with his religion and ethnicity. This he repeats in his article in question where he, rather pathetically, asks "why Sanusi schooled in Sudan" as if that in itself was a crime.
Eyieyen, who claims to be an apostle in the marketplace and once wrote on his Facebook wall that he wanted all Nigerians Muslims to become Christians, is obviously uncomfortable with Sanusi's rising international profile. Like many of his ilk, he is yet to come to terms with a Sudan-schooled, gworo-chewing aboki man, as they condescendingly refer to them, having such superior intellect. It seems that in Eyieyen's worldview, it is a taboo for a northern Muslim, moreso one who is active in his religion, to be at the helm of high office. No public figure in Nigeria has ever been referred to as 'too Christian' but anybody with the slightest identification with Islam is seen as 'dangerously too Islamic'. Why is it acceptable for a President Obasanjo to enroll for Theology in a university but a crime for a Sanusi, the grandson of an Emir, who has never hidden his ambition of becoming an Emir in the future, to study Islamic studies? An Erastus Akingbola, an ordained pastor and CEO of a large commercial bank, who mandated morning fellowshipping in his public limited liability bank, would never have to defend his religious beliefs if he had been nominated as CBN boss at the peak of his career, whereas a Lamido Sanusi, whose superior knowledge of banking and economics is not in doubt, would be branded an Islamic fundamentalist for the same reason. In what appears like a coordinated attempt to punish the CBN boss for being an Islamic scholar, such detractors have fabricated all forms of lies, including claiming (pitiably, by a columnist friend too) that Sanusi re-introduced Arabic lettering in the Nigerian currency. At the point where critics resort to blatant lies and innuendo, they unfortunately lose the plot and discredit whatever argument they may have wanted to put across.
Eghes, in his article, also called attention to Sanusi's past writings on Gamji website, using that to label him a Muslim fundamentalist. The problem with commentary that is devoid intellectual rigour and objectivity is that the writer selects and twists what suits them in Sanusi's writings to achieve their premeditated conclusion. Pray tell, is it not the same Sanusi that fought to standstill Kano's most revered Islamic preacher, the late Sheikh Adam Jaafar (suspected to be killed by Boko Haram members in 2007) for what he (Sanusi) called 'Islamic demagoguery'? Is it not the same Sanusi that wrote articles like 'The Adultress' Diary', 'In defence of Father Martin Kukah' and 'Muslim leaders and the Myth of Marginalization' where he carpeted not only religious leaders but also northern political leaders for hiding under Islam to pauperize the people? I challenge Eghes and other Sanusiphobes to read those articles and tell me whether a Muslim bigot would write that.

A more classic example of Sanusi's quote on religion and politics, excerpted from his article 'Issues in restructuring Corporate Nigeria (1999)' is reproduced thus:
"Very recently, the KatsinaState Government tried to pass Bills banning the sale of alcohol and the operation of whore-houses in the metropolis. As a consequence of this move (and, it is said, failure of the House to approve the Bill), irate Muslim youth, shouting Allahu Akbar decided to burn not just beer parlours, hotels and whorehouses, but also Christian churches.
"Now, the Qur'an (Hajj. (ch. 22): 40) specifically forbids tearing down monasteries, churches, synagogues and mosques. Yet the leaders of Muslims have not come out strongly enough to condemn this violation of the rights of Christians, nor considered the implications of Christians in turn burning mosques in retaliation. It is also worthy of note, that christian morality does not approve of alcoholism and prostitution. "A second example is the recent furore over Obasanjo's appointment of northern Christians into his cabinet. I have elsewhere made my views on this known although several people have branded me, and others like Col. Umar, anti-Islamic or anti-north for not joining this hypocritical farce
"In failing to rise above bigotry and chauvinism, northern Muslims act against injunctions of their faith. The Qur'an expressly preaches freedom of religion [see, for example: Al-Baqarah (ch.2): 256; Yunus (ch.10): 108; Hud (ch.11): 121-122; Kahf(ch18):29; andAl-Ghashiyah (ch.88) :21-24]
It is also pertinent for those who criticize us to recall that Allah specifically instructed that trust and leadership should be given only to those worthy of them and to judge between men with justice (Al-Nisa (ch.4): 58). Also, if anyone believes that false witness should be given for or against a man simply because he is a Muslim or Non-Muslim, he should read [Al-Nisa (ch4): 135; also 105and Al-Ma'idah ((ch.5): 6]. Finally for those who object to our inviting good muslims and good christians to come together and give the poor people of this country the good government preached by both faiths, please read [Al-Imran (ch3): 64] which provides a basis for coming together on common ground."
There are tons of other comments by Sanusi against religious violence in the last two decades on the internet which are readily available to any objective researcher. However, such is the crass hypocrisy and disenginuity of the pseudo-intellectuals that they vehemently attack Sanusi for writing on religion and ethnicity in the first place, while in their own blogs and columns they not only write freely on religion and ethnicity, but also chauvistinically project their faiths.
I could go on and on about the illogicality of Eyieyen's campaign against the CBN boss but there is little point rehashing the obvious. On two occasions recently, I resisted the temptation to respond to his rantings, the latest being his article in Thisday newspaper (January 24, 2012) where in a bid to defend the indefensible, he only succeeded in dancing the same macabre dance. Being one of the preachers of the ridiculous 'divine luck theory' that sentimentally ushered in a Jonathan presidency, he has been struggling in recent times to justify his theory as it is being shredded with every act of incompetence from his 'messiah'. To deceive the ill-informed readers, this crop of pedestrian intellectuals who dominate the blogosphere have always resorted to flaunting their credentials when they run out of logic. I am an FCA, I am an ex-this or that, all in order to validate their obviously warped write-ups.
I sincerely hope that this intervention will make Eghes Eyieyen think twice before releasing another hate-filled and divisive piece in the future. Even in the face of pervasive ignorance in the Nigerian cyberspace, some of us still discern pseudo-intellection when we see one.
Written by Suraj Oyewale, Victoria Island, Lagos.

Disclaimer:

"The views/contents expressed in this article are the sole responsibility of

thewillnigeria.com

and do not necessarily reflect those of The Nigerian Voice. The Nigerian Voice will not be responsible or liable for any inaccurate or incorrect statements contained in this article."
Articles by thewillnigeria.com