Slash No Of Nigerian Embassies, Foreign Missions, Says Mark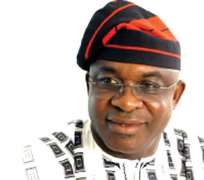 ....As Senate confirms Maduekwe, Njeze, Audu, 80 others as ambassadors-
.... Sifawo, Okafor fail Screening

ABUJA, February 08, (THEWILL) - President of the Senate, Senator David Mark on Wednesday called for reduction in the number of Nigerian embassies and missions abroad for effective and adequate funding.
Also, the Senate today confirmed a former Foreign Affairs Minister, Chief Ojo Maduekwe, a former Minister of Aviation, Mrs. Fidelia Njeze, Esther Audu and 80 others as ambassadors.
However, senators dropped two nominees of President Goodluck Jonathan -- Mathias Okafor from Ebonyi State and Sifawu Inu-Umoru from Edo State. The duo were asked to appear before the Foreign Affairs Committee next week while wife of late Dim Chukwuemeka Ojukwu; Bianca is to face the panel at a convenient time due to the mourning of her late husband.
Addressing the floor after the confirmation process, Mark said he doesn't believe "we must keep all the missions."
"Personally I don't believe we must keep all the missions. When you travel out, you are confronted with myriads of problems. You have a situation an ambassador's car breaks down on the road all because of inadequate funding. If we are the Giant of Africa, we must live up to it by ensuring that our ambassadors project the nation's image positively.
"The Committee on Foreign Affairs should take critical look at the embassies and High Commissions and recommend for closure those that are not viable," he said.
Briefing newsmen at the end of plenary, Chairman of the Senate Foreign Affairs Committee, Senator Matthew Nwagwu said the committee would be through with the final screening of Okafor and Inu-Umoru who initially were unable to answer questions satisfactorily, within the next seven days.
On the means of sustaining the large number of ambassadors and foreign missions, Senator Nwagwu stated that the number is not out of place as missions are very important to a nation's foreign policy.
He said the decision to give the nominees a second chance was the sole responsibility of the Senate going by the level of sensitivity of the task at hand.
Others who were confirmed as non-career Ambassadors are, Hon. James Barka, Adamawa; Chief Asam Asam(SAN), Akwa Ibom; Mr. Okwudili Nwosu, Anambra; Mr. Okeke Chukwuemeka, Anambra; Mr. Eric Aworahbi, Bayelsa; Chive Kaave, Benue; Dauda Danladi, Borno; Mrs. Katherine Okon, Cross River; Hon Nwofe Alexander, Ebonyi; Princess Victoria Bosede Onipede, Ekiti; Sen. Haruna Garba, Gombe; Mrs. Nonye Rajis-Okpara, Imo; Chief Eddy Onuoha, Imo; Mr. Adamu Babangida Ibrahim, Katsina; Alhaji Tukur Mani, Katsina; Mr. Biodun Olorunfemi, Kogi; Mr. Olatokumboh Kamson, Lagos; Dr. Sam Jimba, Nasarawa; and Mr. Cornelius Oluwateru, Ondo.
Others are Col. Roland Omowa, Ondo; Mr. Akinyemi Faroubi, Osun; Alhaji Taofeek Arapaja, Oyo; Mrs. Matilda Kwashi, Plateau; Senator Abdalah Wali, Sokoto and Senator Lawan Guba, Yobe.
The entire career Ambassadors nominated were cleared by the committee, and the Senate at plenary confirmed 56 of them.