Djokovic Denies Nadal Yet Again In Marathon Final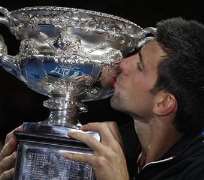 Novak Djokovic waged war against Rafa Nadal for almost six hours in the longest grand slam final ever played to claim a third Australian Open title and leave the tortured Spaniard empty-handed yet again.
The world number one, who has now beaten Nadal in the last three grand slam finals, looked dead and buried in a dramatic fifth set but dragged himself back from the brink to close out the match 5-7 6-4 6-2 6-7 7-5.
Djokovic ripped open his shirt and tore it from his shoulders after the final point, letting out a primal roar in front of the players box where his management team had cajoled him to victory throughout the five hours, 53 minute marathon.
The match smashed the previous record of four hours, 54 minutes set when Mats Wilander beat Ivan Lendl in the 1988 U.S. Open final.
The gallant Nadal has now lost in seven successive finals to Djokovic and knows the Serb has something special.
"Now he's the best in the world," the Spaniard told reporters. "That's how great he is. His returns are probably the best in history. I never played against a player who's able to return like this every time."
While Nadal and Roger Federer have enjoyed what many call the greatest rivalry in tennis, it is clear Nadal will have to solve his Serbian conundrum to add to his 10 grand slam titles.
Djokovic has quickly become the standardbearer of success, compiling a 70-6 record in 2011 and becoming just the fifth man to win three consecutive grand slams.
ENJOYING THE PAIN
With the Norman Brookes Challenge Cup sitting on the table next to him at the post-match news conference, Djokovic revealed the depth of pain he had been pushed through.
"You are in pain, you are suffering, you're trying to activate your legs, you're trying to push yourself -- another point, just one more point, one more game," he said.
"You're going through so much suffering your toes are bleeding. Everything is just outrageous but you're still enjoying that pain."
Nadal, who came into the year's first grand slam under an injury cloud due to shoulder and knee problems, struggled to settle and his sputtering second serve was picked apart by the steely Serb's crisp, clean ground strokes.
However, the Spaniard's battling qualities helped him grab the opening set after breaking in the 11th game and holding serve when Djokovic blocked a backhand return long.
The Serb turned on the style in the second and third sets, finding a home for his booming forehand and driving Nadal on to the back foot with consistent depth and pace.
Despite playing an exhausting five-set semi-final against Andy Murray on Friday that had left him doubled over and gasping for breath, Djokovic was full of running on Sunday.
Nadal betrayed no sign of the gut-wrenching disappointment he must have been feeling when the match was finally over.
"Good morning everybody," he said to the cheers of the crowd at Rod Laver Arena. "Congratulations to Novak and his team, they are doing something fantastic, so congratulations.
"Even though I lost it was something very special for me."
MENTAL PAIN
Nadal has confessed Djokovic got into his head last year and while he came out on the losing side yet again he did not think the psychological aspect had any impact on Sunday.
"I didn't have mental problems against him today. In 2011 I had all these mental problems," he said. "So that's another positive thing.
"Probably I've never said this many positive things after I lost."
In a tight fourth set, Nadal was hanging on by his fingernails while serving down 4-3 as Djokovic moved in for the kill. Facing three break points, he saved them all with a burst of inspiration, beating Djokovic with forehands, backhands and a suddenly resurgent serve.
Celebrating wildly, the Spaniard's fist punched the air like a piston as the pro-Nadal crowd began to believe he could pull off the unlikely victory.
A 10-minute delay as the arena roof was closed for a passing rain shower failed to suck the excitement out of the crowd and Nadal fed on the energy, leveling the match at 2-2 when Djokovic lost his cool and smacked a forehand into the net.
Nadal raced to a 4-2 lead in the decider but Djokovic's spirit refused to break and the Serb turned the tables, putting the Spaniard back under pressure and leveling the set at 5-5.
The Serb then got the crucial break when Nadal's chopped backhand caught the net and sealed the match -- and his fifth grand slam title -- with a winner that gave Nadal no chance to return.
In the mixed doubles final, Bethanie Mattek-Sands and Horia Tecau beat Elena Vesnina and Leander Paes in a 'super tiebreak' after splitting the first two sets 6-3 5-7.
REUTERS