ANTP: Jide Kosoko denies 2nd term bid As election starts January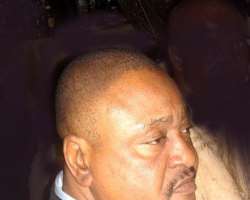 The incumbent president of Association of Nigerian Theatre Arts Practitioners (ANTP), Prince Jide Kosoko has denied rumours making the rounds that he wants to go back on his word by vying for a 2nd term. In a national stakeholders meeting of the association which was held at the cultural center, Ibadan on Wednesday Jide Kosoko said it was a baseless rumour that he still had interest in the top seat.
He further said his utmost concern now is to conduct a free and fair election and not how to contest a second term.
Meanwhile as contenders for different posts of the association across the nation have gone all out to outshine one another in the forthcoming election, criticisms have also started trailing each member vying for leadership post in the association.
With the incumbent president out of the race the big wigs gunning for the presidency of ANTP, The Herald Arts learnt, are the incumbent vice-president, Prince Bamidele Odule, comrade Victor Ashaolu and Yemi Solade
Odule, who allegedly stepped down for Kosoko and subsequently became h is vice-president, may not have an easy battle ahead of him. He is alleged to have performed below expectation as vice-president of the association in the present administration.
Again, analysts believe that the man to watch out for in this simmering race is comrade Ashaolu. This is because as a former secretary general of the association Ashalou is said to have single handily held the association hostage for almost nine years.
Another relevant element that would come to play in the ANTP presidential election is the interests of Marketers. Whoever emerges as president of ANTP will be of immense concern to the Marketers as only active movie stars can be intimidated. In this area, Ashaolu is less likely to get the blessings of the Marketers who see him as a thorn in the flesh.
For Yemi Solade, the coast may not be too clear for him to be recognised as ANTP's helmsman, since, according to sources, he is considered a president that is probably going to intimidate and subjugate his subordinate.
He had once disclosed that the association will be hot for the illiterates among us. And if you really want to be sincere not all of us are educated, so he may not win, a member opined.
In the Kwara state chapter of the association, three candidates are supposedly ready to slug it out; Chief Ishiaq Olubisi aka Awopegba, Chief Olu Amusan aka Torotoro and Ogungbesan.
A primary election recently conducted in Ilorin East between Torotoro and Abdulrasheed Adeoti aka Adeyi was said to have been won by To rotoro but the chairman of the association in the local government with some elders of the association are said to be against the outcome of the primary. Keen observers believe they are working for Adeyi but did not do their home work well and are now crying foul.
A new twist to the ANTP election story in Kwara is the renewed call on the incumbent governor, Alhaji Abdulmalik Olorunfemi to reconsider his stance. Earlier, at the onset of the race, Alhaji Olorunfemi has declared that he had no interest in a second term in office but proponents of this call have begun pasting posters and handbills in a bid to lure the governor back into the race. This, according to them, is because of the constitutional clause that an aspirant must be, at least, a secondary school leaver.
The governor is now under pressure to come back or at best prevail on someone else, like Alhaji Abdulfatai Adeniyi popularly known as Dankazim to contest so as to save the association from those who would want to present forged certificates.
In the Lagos chapter of the association, Rammy Shitta-Bey, seems to be highly favoured, but if criticisms accruing from his past tenure as governor of the chapter are considered, there could be fire on the mountain for him.
Alhaji Ade Adenrele, a former referee with the Nigerian Football Federation, who is also contesting for the post, has a slim chance of winning the election as members still consider him as old-skool candidate. Also, Chief Timothy Agboola a.k.a. Ereke ni Shop's aspirations may be thwarted due to his relationship with other members. Most of them believe he is not a popular candidate.
And in the Ogun State chapter, Bolaji Amusa, a.k.a. Mr. Latin is believed by some of the members of the association to have an upper hand over Ebun Oloyede, popularly known as Olaiya. While Mr. Latin is the present governor in the state and can rely on the power of incumbency, Olaiya is said not to be very popular.
Indeed, it is going to be an exciting outing in ANTP come January.
By Rowland-Timi Olonishuwa EXCLUSIVE FOR WWW.NIGERIAFILMS.COM
Story by www.nollywoodgists.com