QUOTE OF THE DAY: Fame, money ruin celebrity marriages - Fashanu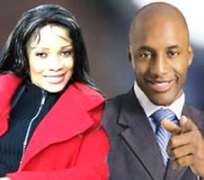 "The problems associated with broken marriages are not far-fetched, money is one of the major factors that kill marriages. Another is the inability to manage success and at times, it could be the issue of children," Fashanu began.
"Most couples who are well placed, have the opportunity of touring the globe and in the process, they meet different kinds of people and could be tempted to go into other relationships with the people they met on the way.
"For me, marriage is all about understanding and patience. Thank God for my present wife in whom I've found true love and anything one looks for in marriage. Aside outward beauty, she is the most charming woman I've ever come across. I regret not meeting her earlier, probably I would not have been among the people, who had failed marriages," he reasoned.
"My wife is my angel. I have found in her true love. Maybe I did not see that in my first marriage because of my inability to understand the realities of life due to my popularity." He counselled: "If any celebrity wants his or her marriage to work, he or she needs to be patient with his or her spouse. Be tolerant and learn how to control your money and manage success.
"I would advise any celebrity, who wants to marry not to look at facial beauty, which could be deceptive. Instead, they should focus on internal beauty, which is eternal."Above all, a God-fearing woman or man is the ultimate jewel for marriage. And I must advice intending couples to ensure that when they marry, they should try as much as possible to keep their marriages."