Three Killed In Gun Attack In Nigeria's Plateau State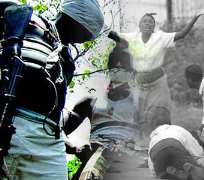 Armed Fulani herdsmen shot dead three members of a family in an attack in Nigeria's ethnically and religiously mixed Plateau state on Wednesday, witnesses and officials said.
Plateau is a tinderbox of ethnic and religious rivalries over land and power between local people and migrants from other areas. These often take the form of sectarian strife between the state's Christian and Muslim communities.
Women wept and wailed in anguish over the bodies of a husband and wife in their thirties and their baby child, all of which were riddled with bullet holes.
"When the Fulani herdsmen came around late in the night, I managed to escape through the window before they killed my son, daughter-in-law and grand-daughter with guns," said Mary Pam, the mother of Philip Francis, one of the victims.
Initial reports from state government spokesman Abraham Yiljap to local broadcaster Plateau Radio Television in the morning suggested four people had been killed in a machete attack.
A series of bombings by Islamist militants across Nigeria on Christmas Day killed more than two dozen people, raising fears they are trying to provoke a sectarian civil war.
The attacks included a bombing at a church in the Plateau state capital of Jos which killed no one, although a policeman died in a subsequent shootout with militants.
There was no suggestion the killings had any link to Sunday's church bombings. The radio station said the victims were Christians from the local Berom tribe and the attackers suspected to be Fulani herdsman, who are normally Muslims.
Northern Nigerian Christians said on Tuesday they feared that the Christmas Day bombings could lead to a religious war in Africa's most populous country.
However, so far there has been no violent backlash from Christian communities.
The Boko Haram Islamist sect, which aims to impose sharia Islamic law across Nigeria, claimed responsibility for the blasts, the second Christmas in a row it has caused carnage.
The most deadly attack killed at least 27 people in the St Theresa Catholic church in Madalla, a town on the edge of the capital Abuja, and devastated surrounding buildings and cars as faithful poured out of the church after Christmas mass.
Analysts say the attacks risk reviving tit-for-tat sectarian violence between the mostly Muslim north and Christian south, which has claimed thousands of lives in the past decade.
So far, however, Jos's violence has usually been driven more by local concerns than any tensions in the wider nation.
REUTERS