…EAGLES' NATIONS CUP FAILURE WRECKS INVESTMENT IN E/GUINEA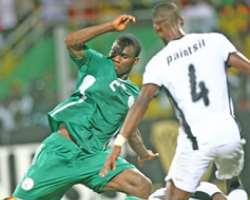 Yobo in action
The teeming Nigerians residence in Equatorial Guinea have lamented that they were the major casualties in the Super Eagles' failure to pick a ticket for the 2012 African Nations Cup, disclosing that they lost millions of naira they invested in anticipation of Nigeria's participation in the tournament.
Disclosing this to Daily Sunsports on telephone from his base in Equatorial Guinea, an Enugu State-born businessman and football enthusiast, Mr. Felix Nwafor, maintained that Nigerians were still battling to withstand the sarcastic and scornful attacks from the Guineans since the Super Eagles missed the Nations Cup ticket.
Nwafor further stated that it would be difficult to quantify in monetary terms how much Nigerians lost in investment and arrangements for the tournament, lamenting that the poor attitude of Nigerian players ruined businesses for many of them.
'When it was certain that the Equatorial Guinea would be one of the host countries for the Nations Cup, many Nigerians resident in the country (Equatorial Guinea) started investing in one business or the other with the optimism that Nigeria must be among the participating countries at the tournament. Some of the investments ran into millions of both the local and foreign currencies.
'We were even boasting about the possibility of the Super Eagles winning the trophy. It took the grace of God for us to overcome the reality that Nigeria would not be part of the tournament.
'We know that anything can happen in football, but in our wildest imagination, we never thought the country would miss the ticket, especially with the calibre of players at our disposal. What really affected most us was that we invested in the products for Nigerians.
'We have already formed supporters club and finalised every arrangement, only to get the shock. Now, the verbal attacks and mockery from the indigenes on Nigerians have been unbearable.
'It was understandable because we boasted so much about the Super Eagles winning trophy.'
We are very sad over the incidence,' Felix lamented.